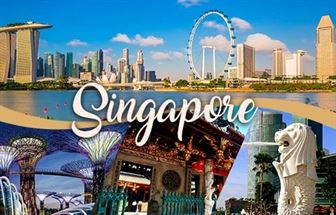 13
Dec
Singapore Tour Package From Chennai
Dec 13,2022
Singapore Tour Package From Chennai - The Singapore Tour Package from Chennai offers you the ideal chance to visit the "City in a Garden," which is a melting pot of various cultures, faiths, delectable cuisines, and brilliantly designed buildings with just the right amount of antiquity.
---
Singapore is renowned for both its exciting nightlife and cultural tours of Little India and Chinatown. You may find a wide range of goods on Orchard Road's streets, making it the ideal place for a shopping spree. It is undoubtedly a destination for individuals who enjoy the commotion of a metropolitan crowd, a city with the possibility of a dazzling future. Take a trip around Gardens of the Bay, a futuristic botanical park.
The Marina Bay Sands offers theatres, retail centres, and cultural art centres for your amusement. Experience Singapore's breathtaking skyline from the Singapore Flyer, and spend the night with nocturnal animals at the Singapore Night Safari. The Merlion Park, famous for its merlion statues, should be visited.
Frequently Asked Questions about Singapore Tour Packages from Chennai
How long will you need to spend in Singapore?
If you want to see as much as you can in Singapore, you should budget at least 4-5 days there. This would give you time to see Singapore's diverse areas including Chinatown, Little India, Kampong Glam, and Tiong Bahru as well as its famous landmarks like the Merlion, Gardens by the Bay, and Marina Bay Sands.
Which language is most popular in Singapore?
The four official languages of Singapore are English, Malay, Mandarin, and Tamil. But when traversing the streets of Singapore, one could hear any number of other languages due to its intensely multicultural nature. The majority of Singaporeans who work in travel and hospitality are fluent in English.
Ideal Season to Visit
Singapore is among the top vacation spots due of its normal temperatures, which are pleasant virtually all of the time. It has humid weather, which is to be expected, therefore it is best to pack appropriately.
Dry Monsoons (February-April)
There is some moisture during the dry monsoon season. Rainfall may occur at unforeseen periods, but it will only last briefly. Singapore is best visited between February and April. Because of the haze from the cleaning fires from the Sumatra islands, you should stay away from the months of May through August. It's not the best time to go sightseeing due to the air quality, so you may need to adjust your plans. One of the greatest times to visit Singapore is in March, and July is the driest month with rains that frequently end as quickly as they start. Wear only airy, relaxed attire. Be sure to bring your umbrella.
The Monsoon Rains (August to February)
Due to the prolonged rainfalls, the rainy season may not be the ideal time to travel. When visiting Singapore at this time of year, be sure to bring an umbrella and wear lightweight attire.
Do's and Don'ts of Singapore Tour Package from Chennai
Show decency and conservatism
To show respect for the people, try to be as traditional as you can. Given that Singaporeans are a diverse group of Christians, Buddhists, Hindus, Muslims, and Taoists, it is best to avoid discussing religion or politics in order to avoid offending anyone. Asking permission before taking pictures of individuals, mosques, or temples, as well as taking off your shoes when entering a home, are considered common courtesy in Singapore. Try to refrain from tipping because it is disrespectful in Singapore.
Avoid chewing gum
As chewing gum is prohibited in Singapore, it is advised that you leave it behind when you pack your bags. For first-time offenders, chewing it or simply carrying it in Singapore is punishable by a fine of up to $1000. Singapore's police department takes hygiene seriously. Even though gum may seem inconsequential to the majority of us, this law was created after the government encountered numerous maintenance issues in high-rise apartments and public spaces, which necessitated time-consuming and expensive measures to clean them.
Don't smoke in public.
Smoking is forbidden in the majority of Singapore's public spaces. Never try to smoke or drop a cigarette in a public transport, elevator, cab, theatre, or any air-conditioned government building, business, or dining establishment. This legislation is aggressively enforced by the police, who can issue immediate fines of up to S$1000.
Best Things to do in Dubai
Visit Orchard Road to shop
Visit Gardens by the Bay to see the flower dome and cloud forest of the future.
Have brunch at the Singapore Zoo with orangutans
For some multicultural action, go to Campong Glam, Little India, and China Town.
Explore the National Orchard Garden and the Singapore Botanical Garden.
Visit Universal Studios.
Try a Singapore sling, their national drink.
The Singapore Flyer offers the city's greatest views.
Take a look at the recognizable and distinctive merlion in Marina Bay and ride the cable car to Sentosa Island.
Dream Travel Yaari
When you take one of our Singapore vacation packages from Chennai, get ready to indulge in the finest cuisine. Why not, then? You don't find yourself in the country of cheese and chocolate every day. The best delicacies, from fondue to risotto, will keep you craving more long after your vacation is over.
Don't let concerns about having to follow a carefully planned diet, having allergies, or needing a limited diet due to a medical history keep you from having fun on your trip! Organizing your meals will be our top priority if you let us know in advance.
DTY has proved to be one of the best travel agency in India. We provide the best tours within your budget and guarantee satisfaction. We pay attention to each and every detail of the trip and try to make it the best experience of your life.
Contact Details
Name: Dream Travel Yaari
Phone No.:+91 9662696269, +91 9625524840
Address: E-147 SEC 23-24 MAIN RD, Punjab Rolling Chowk, Haryana, Faridabad, India, 121004
Email: [email protected]