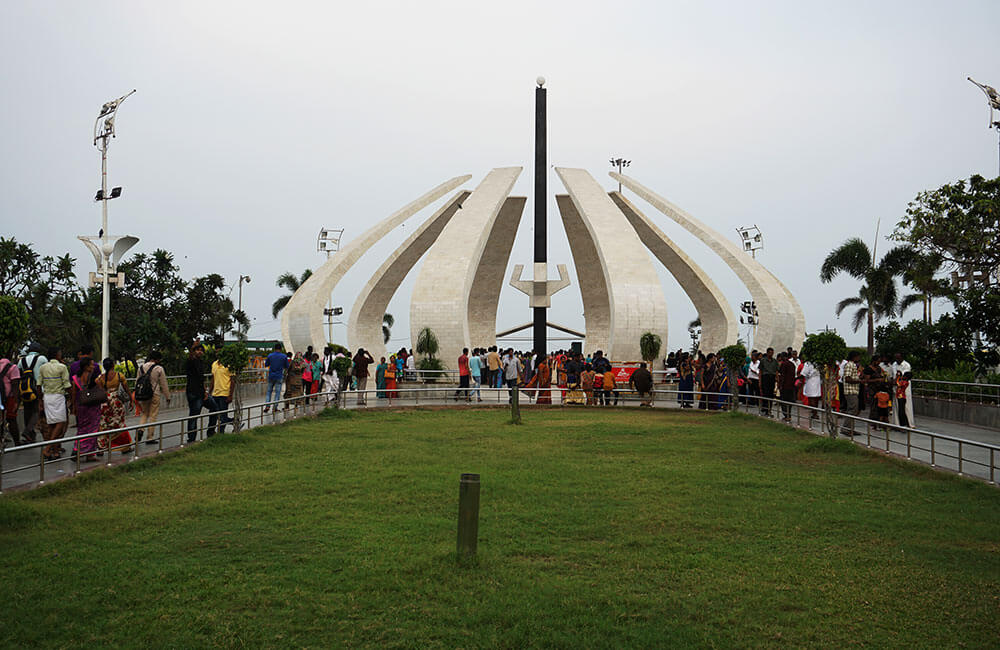 09
Oct
Explore the Best Places to Visit in Chennai with DreamTravelYaari
Oct 09,2023
Welcome to DreamTravelYaari, your trusted travel agency for unforgettable journeys around the world. In this comprehensive guide, we're thrilled to take you on a virtual tour of Chennai, one of India's most vibrant and culturally rich cities. Whether you're a history enthusiast, a food lover, or a beach bum, Chennai has something to offer everyone.
Our mission is to help you make the most of your visit to Chennai by providing valuable insights into the top attractions, hidden gems, and local experiences that this bustling metropolis has to offer. So, let's embark on this exciting journey and discover the best places to visit in Chennai!
Marina Beach:
Our Chennai adventure begins with a visit to Marina Beach, one of the longest urban beaches in the world. Stretching for 13 kilometers along the Bay of Bengal, Marina Beach is a favorite spot for both locals and tourists. Take a leisurely stroll along the promenade, enjoy the gentle sea breeze, and witness the mesmerizing sunrise or sunset.
Pro Tip: Don't forget to savor the delicious street food offerings, such as crispy bhaji and piping hot corn-on-the-cob from the numerous vendors lining the beach.
Kapaleeshwarar Temple:
Chennai is steeped in history, and one of its most iconic landmarks is the Kapaleeshwarar Temple. Dedicated to Lord Shiva, this ancient temple boasts stunning Dravidian architecture, intricately carved gopurams (towers), and a serene temple tank. Visitors can witness the vibrant rituals and immerse themselves in the spiritual ambiance.
Pro Tip: Plan your visit during the Arubathimoovar Festival to witness a grand procession of 63 bronze idols of saints and poets.
Fort St. George:
History buffs will be captivated by a visit to Fort St. George, the first English fortress in India. Built-in 1644, this historical site now houses the Tamil Nadu Legislative Assembly and a museum showcasing colonial artifacts, paintings, and documents. Explore the fort's architectural marvels and delve into the city's colonial past.
Pro Tip: Don't miss visiting St. Mary's Church, the oldest Anglican church in India, located within the fort's premises.
Santhome Basilica:
For a spiritual and architectural treat, head to the Santhome Basilica, a revered Catholic pilgrimage site. This neo-Gothic church stands on the supposed burial site of St. Thomas the Apostle and exudes serenity and grandeur. Explore the basilica's stunning stained glass windows and take in panoramic views from the nearby Lighthouse.
Pro Tip: Visit the museum adjacent to the basilica to learn more about St. Thomas and the history of Christianity in India.
Read Also:
DakshinaChitra:
Chennai's rich cultural heritage comes alive at DakshinaChitra, an open-air museum showcasing the traditions, crafts, and architecture of South India. This immersive experience allows you to step back in time and witness the diverse cultural heritage of the region.
Pro Tip: Participate in workshops, watch artisans at work, and savor traditional South Indian cuisine at the on-site restaurant.
Guindy National Park:
Escape the hustle and bustle of the city at Guindy National Park, a serene oasis in the heart of Chennai. This protected area boasts diverse flora and fauna, including spotted deer, blackbucks, and various bird species. It's a perfect spot for nature lovers and birdwatching enthusiasts.
Pro Tip: Explore the Snake Park adjacent to Guindy National Park to learn about reptiles and witness snake-handling demonstrations.
Elliot's Beach:
If you're looking for a quieter beach experience compared to Marina Beach, head to Elliot's Beach (also known as Besant Nagar Beach). This laid-back destination is a favorite among locals for its peaceful ambiance, beachside cafes, and stunning views of the Bay of Bengal.
Pro Tip: Enjoy a leisurely evening at one of the beachside cafes, sampling delicious seafood and sipping on fresh coconut water.
Valluvar Kottam:
Valluvar Kottam is a monument dedicated to the renowned Tamil poet and philosopher, Thiruvalluvar. This iconic structure features a massive stone chariot and a 39-meter-tall replica of the Thirukkural, Thiruvalluvar's literary masterpiece.
Pro Tip: Visit in the evening to witness the monument illuminated, creating a mesmerizing spectacle.
Birla Planetarium:
For a journey through the cosmos, visit the Birla Planetarium in Chennai. This modern facility offers immersive shows and exhibitions on astronomy and space science, making it an educational and entertaining experience for all ages.
Pro Tip: Check the show schedule in advance and plan your visit around an interesting astronomy presentation.
MGR Film City:
Chennai is synonymous with the Indian film industry, and a trip to MGR Film City is a must for movie buffs. This film studio complex offers guided tours, allowing you to explore film sets, and costumes, and even witness live film shoots.
Pro Tip: Keep an eye out for celebrities; you might just spot a Bollywood or Kollywood star in action!
Conclusion:
As your trusted travel companion, DreamTravelYaari has taken you on a captivating journey through the best places to visit in Chennai. From the picturesque Marina Beach to the spiritual sanctity of Kapaleeshwarar Temple, from the historical charm of Fort St. George to the serenity of Elliot's Beach, Chennai offers a diverse range of experiences for every traveler.
Remember to plan your itinerary based on your interests and preferences. Whether you're a history buff, a nature enthusiast, a foodie, or a film fanatic, Chennai has something special in store for you.
Our goal is to make your Chennai visit truly memorable, and we hope this comprehensive guide has provided you with valuable insights and tips to help you explore this incredible city. So, pack your bags, embark on this adventure, and let DreamTravelYaari be your trusted guide to the wonders of Chennai.