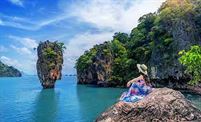 15
Sep
Thailand Packages From Mumbai
Sep 15,2022
Thailand packages from Mumbai- One of the best historical locations in the world is Thailand. It is a beautiful natural setting. It is nothing less than a fantastic entry point for travel, a honeymoon, etc. There are numerous adventure activities available in Thailand. Bangkok is a lively city with several hotels and resorts that are well worth seeing. With Thailand vacation from Mumbai, you may see some of the most beautiful places on earth.
---
Best Time to visit Thailand
The best time to visit Thailand is when the weather is cool and dry, i.e, between the month of November and April, because the temperature is between 29 degrees and 34 degrees celsius. Although the temperatures vary throughout the different regions of the country and you can visit any time of the year. In the south region of the country, the weather in the western region differs from the eastern coast.
The west coast is much better in winters if you want go for snorkeling and diving. The eastern range experiences a favorable climate throughout the year. Rainfall is lowest in the months of January and February and highest in the month of November.
Thailand travel advice & Tips
If it is your first time going to Thailand and don't know how you should act or expect from the country, this is the right place for you. Even the "Land of smiles" can be a scary place if you aren't prepared well for it. Hope this helps you prepare for your wonderful trip to Thailand.
Animals and plants
Many areas of Thailand can still be enjoyed in unspoiled tranquilly thanks to its national parks, mountain ranges with their indigenous hill tribes, and pristine beaches where local fishermen bring in their catch each day.
We can create an itinerary specifically for you, taking you to off-the-beaten-path locations to look for the greatest hidden resorts and hotels, whether you are looking for adventure, beach, or culture.
food and beverage
Thai cuisine, which is bursting with the mouthwatering flavours of exotic herbs like lemongrass and kaffir lime, is undoubtedly one of the pleasures of visiting Thailand. The best food may frequently be found in the neighborhood's unremarkable eateries and at open-air street stalls where patrons typically eat while perched on tiny plastic seats.
Mekhong or Sangthip, two regional whiskies, are worth trying. There are several strengths of the regional beer. Fruit juices should also be tried. During the harvest season, coconut milk is available directly from the shell.
Tipping
Tipping is customary everywhere for good service. Although it is becoming more common in Thailand and will always be appreciated, it is not a part of everyday Thai society, so you shouldn't feel obligated to do it. In restaurants, 10% is standard. This 10% service charge will be applied to your bill at many other hotel restaurants and upscale diners.
Respecting the Royals
One must always treat any portrait of the King or any member of the royal family with the utmost respect. This also applies to money; make careful to pick up any Thai coins or bills you drop. If you see a coin or bill on the ground, never stand on it. Additionally, it is forbidden to lick stamps. A little sponge will often be offered to apply the stamp to a letter. Many Thai people wear yellow t-shirts, especially on Mondays, to honor the King's 60 years as monarch and to demonstrate their love for him. The fact that "farang" (foreigners) follow suit makes Thais very delighted.
Places you can visit in Thailand Packages from Mumbai
| | |
| --- | --- |
| Famous Places | Famous For |
| Bangkok | Khao San Road and Chao Phraya River |
| Pattaya | The Sanctuary of Truth and Pattaya Floating Market |
| Krabi | Railay and Tiger Cave Temple |
| Phuket | Patong Beach and Big Buddha |
| Phi Phi Islands | Phi Phi Viewpoint and Koh Phi Phi Leh |
| Chiang Mai | Wat Phra Singh and Doi Inthanon National Park |
| Koh Phangan | Full Moon Party and Thong Sala Night Market |
| Hua Hin | Cicada Market and Hua Hin Train Station |
| Ayutthaya | Ayutthaya Historical Park and Wat Mahathat |
| Koh Samui | Wat Phra Yai and Ang Thong National Marine Park Tourism |
Thailand packages from Mumbai
Dream Travel Yaari has a number of very exciting Thailand packages you can choose from. Top Thailand Packages are-
Vibing in Bangkok & Pattaya
Duration- 5 days/4 Nights
Price- INR 16320 per person
Amazing Bangkok
Duration- 4Day/3 Nights
Price- INR 37240 per person
Thailand Tour
Duration- 5 Days/4 Nights
Price- INR 42179 per person
You can also get a customized package according to your preferences and interests. We are open to making changes according to your budgets.
Why choose Dream Travel Yaari?
Dream Travel Yaari has grown to be one of the best travel agency in India in a short span of time. This has made us gain trust of our clients through our detailed planning and worry free tours. We know how important it is for you to take a break from the hustle of the regular life and work. So we make sure that you get the best tension free experience on your trips. We provide the well-planned trips so that you do not have to do the part of travelling and vacationing that is less fun.
We are known for our hospitality and customer service all over India. Our clients keep coming back after every tour as they can't get any better than this anywhere else.
Contact us for information on Thailand Packages from Mumbai.
Contact Us
Mobile - +91 8285062900, +91 9662696269
E-mail- [email protected]
Website- www.dreamtravelyaari.com
Frequently Asked Question Thailand Packages From Mumbai
How much money do you need for a week in Thailand?
In general, a delightful week-long holiday in Thailand can be had for as little as $445 (15,000 THB). Budget travellers and backpackers might spend between $175 and $245 per week.
Is Thailand pricey for Indians?
A one-way trip to Thailand from India should cost between Rs 4000- Rs 8000.
Can we travel to Thailand without a passport?
A visiting foreigner is required by Thai law to carry his or her passport as proof of identity.
When is the best time to travel to Thailand?
Although the climate in Thailand fluctuates, you can visit all year. Thailand is best visited between November and early April. This is the point at when the rain stops and the sky clears.