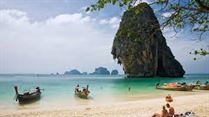 22
Oct
Best Places To visit In Thailand
Oct 22,2022
Best Places To visit In Thailand- Thailand has earned the moniker "Land of Smiles" for good reason. There is something for everyone, including white-sand beaches, breathtaking rainforests, and temples, as well as night markets, stores, and the bustle of large cities. This blog is about Best Places to visit in Thailand.
---
You have a wide range of options, from exploring the countryside to bar-hopping in Bangkok to scuba diving around some of Thailand's 1,430 islands. Here, we've compiled a list of a few of the top tourist destinations to assist you make a decision.
Best Places To visit In Thailand
This is the list of the best place to visit Thailand. Check these out for your next visit to Thailand.
Ko Hong
Instead of going to the Phi Phi islands, choose Ko Hong. If you reserve the proper boat, its captain will take you swimming in the hidden lagoon surrounded by a rock face at the island's center before dropping you down on beautiful, gold sand beneath commanding, vine-covered cliffs. Going in the shoulder season will increase your chances of finding the beach empty (late November or May). Spend the remainder of the day doing nothing but kayaking into the jade bay, finding shelter beneath floppy trees or protruding rocks, and having a picnic with your party. You'll have a hard time leaving by 4 o'clock, but everyone must return to the mainland. Fortunately, there are more beaches there that are a little less heart-stopping than the one you just left.
Ko Mook
The beach of Hat Morakot was a pirate hideout until the early 20th century. It was surrounded by tall limestone cliffs, washed by a Listerine-green lagoon, and could only be reached at low tide by swimming or taking a small boat through a dark and dripping sea tunnel. A few tourists now come here on day tours from the far-off island of Ko Lanta, but you can avoid them by setting up camp just a short swim from this very spectacular stretch of sand. Ko Mook island, which is bordered by crystal-clear waters and tall limestone cliffs, makes for a picturesque pit break on a longer vacation. Before the Ko Lanta boats arrive, get up early, rent a long-tail boat for a few dollars, and quickly travel from your accommodation to the uninhabited Hat Morakot in the cool morning breeze.
Ko Samui
Ko Samui, one of the most well-known Thai islands, is the kind of place that can be anything you want it to be: a relaxed beach paradise, a fitness destination, a gathering spot for families, or a jet-paradise. setter's There is no shortage of things to do, from sailing through the Ao Thong National Marine Park to dining at night markets to participating in Muay Thai boxing matches and spending hours in the spa at some of the top wellness retreats in the world. Select a resort on the pristine beaches of Bo Phut or Mae Nam, or in the highlands of the island's quieter south or west. Despite Samui's abundance of bohemian bars and boutique hotels, the most famous beaches (at Chaweng and Lamai) might feel congested.
Ko Phangan
To experience the Thai wilderness, you don't need a bag and a good attitude for mosquitoes anymore. Haad Yuan's half-moon of fine white sand, which is tucked away in a remote area of Ko Phangan island and only reachable by boat, has a wild, untidy beauty to it without even a trace of discomfort. Here, it's simple to reconnect with nature: wake up in your upscale villa to the sound of cicadas in the trees and the pounding of the ocean; stroll a short distance along the sand to wave-sculpted granite rocks where a rainbow of reef fish awaits snorkelers; or climb up winding mountain paths that snake through the untainted forest directly behind Haad Yuan, where you'll soon find tinkling waterfalls and cool freshwater pools.
Phuket
Although Thailand has smaller, more isolated islands, its largest island, Phuket, stands out for its diversity in terms of food, wildlife, tranquil sands, and design hotels. Jet-setters and celebrities have long been drawn to The Pearl of the Andaman, where they hang out in cutting-edge luxury hotels, get polished and massaged in posh spas, and sip champagne cocktails aboard gleaming white yachts. Some of Asia's nicest beaches may be found there, with boulders and palms lining the shore.
Ko Khao Phing Kan
James Bond Island is the more distinctive name for this toothy protrusion in the waters of Phang Nga Bay, northeast of Phuket. Since it played the lead in the 1974 movie The Man with the Golden Gun, it has become popular among tourists who want to relive Roger Moore's adventures with Britt Ekland along beautiful beaches and chasing Francisco Scaramanga, the villainous assassin played by Christopher Lee, through dense jungle. A day excursion by boat is a peaceful way to view the scenery, which is every bit as dramatic as it is in the movie.
Bangkok
Bangkok is a bustling, perplexing, and hypnotic blend of the old and the new, palaces and temples, dazzling skyscrapers, and congested lanes. Wander around the Grand Palace's gilded roofs and elaborate frescoes, the nearby Wat Phra Kaew (Temple of the Emerald Buddha), with its famed massage school, and Wat Pho, with its enormous reclining Buddha. After that, go out to a bar or shop along Khao San Road, which is a haven for travellers.
Chiang Mai
Chiang Mai, Thailand's second city, is located 90 minutes north of Bangkok and is proudly everything that Bangkok is not: it is smaller, colder, artier, bordered by verdant hills with temples on top, and overflowing with stunning and unique wooden structures. For the better spa hotels with picturesque views of the Ping River, stay on the peaceful eastern border of the city. Wander about the wooden temples and peruse the craft and night markets (Wat Chedi Luang is covered in filigree sculpture that rivals Versailles' rococo in riotousness). Watch the saffron-clad monks collecting alms at the Doi Suthep mountaintop shrine in the early morning mist. Then head for the mountains; Chiang Mai walks through cool hill forests have been a mainstay since the 1970s.
Dream Travel Yaari
Dream Travel Yaari is India's fastest growing and most trusted travel agency. We have established a firm customer base in very short period of time because of our constant efforts and the sturdy goal of providing our customers with the best services possible. You can feel free to contact us for information and guidance about your next tour. DTY also provides customized travel packages to suit your budget.
Contact Details
Name: Dream Travel Yaari
Phone No.:+91 9662696269, +91 9625524840
Address: E-147 SEC 23-24 MAIN RD, Punjab Rolling Chowk, Haryana, Faridabad, India,121004
Email: [email protected]