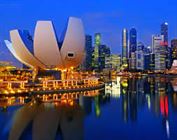 08
Sep
Singapore Packages From Bangalore
Sep 08,2022
Singapore packages from Bangalore -Bangalore and Singapore both experience no winters, which is a comparable climate. However, for a variety of reasons, people actively look for Bangalore to Singapore travel packages. Singapore is a well-known tourist destination because it has many fascinating things to do as well as historic landmarks and highly revered locations. Singapore is a fantastic location for you to visit in many ways, whether you're organizing a family holiday or searching for the ideal scenery for your honeymoon.
---
---
---
Singapore tour packages transport tourists to the well-known tourist destinations that we will examine in more detail in this post. A visit to Little India and Chinatown is also a very fantastic experience for anyone planning a wonderful trip to this stunning country. Due to its multi-ethnic and multicultural population, Singapore has many different languages; however it recognizes Mandarin, Malay, English, and Tamil as its four main languages. Because English is widely spoken and understood, travellers don't have any communication issues.

The ideal time to visit Singapore
Singapore is a year-round travel destination, but the ideal months to go there are from December to June. Singapore's climate is generally reliable and suitable for tourists to visit all year round for sightseeing. The best season to visit Singapore is from July to November, though, if you want to avoid any crowds.

• The summer months of June to August are the finest times to visit Singapore if all you want to do is relax on Sentosa Island with a beach and outdoor activities nearby.
• One of Singapore's biggest festivities, the Chinese New Year occurs either in January or February. Depends on the year's first full moon. Mid-autumn festivities, which take place in October, Hari Raja, which occurs in June, and Singapore's National Day, which occurs in August, are further important events to attend.
• Visit Singapore between June and August if you're a shopaholic and intend to travel there only for your passion for retail therapy. The Great Singapore Sale is held then, making that the greatest time to visit Singapore if you like to shop.

You have the chance to score some of the finest flight and hotel prices during the months of July and August because this is not a particularly popular time to visit Singapore. Singapore has a lot to offer every month, so if you're a solitary traveler, you don't need to worry about when would be the greatest time to go.
Singapore's Top Destinations
The number of visitors arriving in Singapore via Singapore Packages from Bangalore to experience the city's vibrant nightlife all year long undoubtedly reflects the country's booming tourism industry. One of Singapore's must-see attractions is this.

1. Singapore Flyer
The Singapore Flyer, one of the biggest observation wheels in the world, will transport you above the skies. This enormous wheel is around 30 meters taller than the London Eye, standing at 165 meters high. You may enjoy a beautiful view of the Singapore River, Raffles Palace, Marina Bay, Empress Palace, and much more during a ride on the Singapore Flyer.
2. Gardens by the Bay
The Gardens by the Bay are available for those of you who want to discover a tranquil side of Singapore. a sizable, futuristic park that is home to the well-known super tree sculptures and provides tourists with an excellent pathway. This serene garden in the middle of the city provides a sharp contrast to the outer world.
3. The Merlion
The Merlion is undoubtedly one of Singapore's must-see attractions because it is renowned throughout the world as a representation of the city-pride. state's This position, which has a beautiful view of the city, is also one of the most popular for taking photos. Tourists have traditionally considered the statue to be a "must-see" location.
4. Marina Bay Sands
The Marina Bay Sands is a stunning piece of architecture that has added a touch of opulence to the Singapore cityscape. You can also travel to the Skypark and eat at the restaurant on the rooftop. The Marina Bay Sands is a one-stop destination for all guests, including everything from a luxury hotel to a mall filled with premium brands.
Things to do while Singapore Packages from Bangalore
When you take a trip of Singapore, you may see the surreal skyline, explore historical buildings, go to theme parks, stroll along gorgeous beaches, and see various fish species in enormous aquariums. Sentosa Islands, Marina Bay Sands, Peranakan Museum, Henderson Waves, and Gardens by the Bay are a few of the well-known tourist destinations in Singapore that you can include in your itinerary.
Dream Travel Yaari Singapore Packages from Bangalore

A variety of cultures and architectural styles coexist in Singapore. It is a well-liked tourist destination and has some wonderful wildlife parks, malls, historical sites, and lively nightlife. Singapore is one of the most expensive vacation spots, but if you plan ahead, pick your lodging carefully, and use public transportation frequently, you'll find it to be fairly affordable.
• Package name - Amazing Singapore with Amazing Cruise
• Duration - 6 Nights / 7 Days
• Price (Per Person) - 67620
• Package City Routes - 1D Singapore,
Without a doubt, one of the top travel companies in India is Dream Travel Yaari. In order to fit your budget, we provide specialized travel packages. DTY makes sure that every aspect of your vacation is carefully prepared for simple implementation and so that you may enjoy yourself without any hassles. We want to make sure that our customers get the finest travel experience possible. Due to the high caliber of our work and services, we have a devoted clientele.

Contact Us
Mobile - +91 8285062900, +91 9662696269
E-mail- [email protected]
Website- www.dreamtravelyaari.com