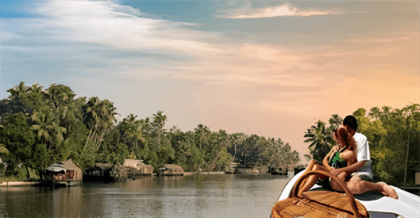 04
Aug
Top 10 honeymoon Destinations In Kerala
Aug 04,2023
Top 10 honeymoon Destinations In Kerala - Congratulations on your wedding! The honeymoon is a special time to celebrate your love and create cherished memories together. Kerala, situated in the southwestern part of India, is a breathtaking destination known for its lush green landscapes, serene backwaters, and beautiful beaches, making it an ideal choice for a romantic honeymoon getaway. In this article, we will explore the Top 10 honeymoon Destinations In Kerala, each offering a unique and unforgettable experience.
---
Kerala offers a wide range of options for a romantic honeymoon because of its rich cultural heritage and different scenery. Kerala has it all, whether you prefer tranquil backwaters, foggy highlands, or sun-kissed beaches. Prepare to go out on a voyage of love and passion in one of Kerala's top 10 honeymoon spots.
Top 10 honeymoon Destinations In Kerala
Munnar - The Enchanting Hill Station
Munnar, nestled amidst the Western Ghats, is a picturesque hill station known for its tea gardens, mist-covered mountains, and pleasant climate. Take a leisurely stroll through the tea plantations, visit the Mattupetty Dam, and experience the pristine beauty of the Eravikulam National Park, home to the endangered Nilgiri Tahr.
Things to Do:
Tea Garden Tour: Take a guided tour through the lush tea gardens and learn about the tea-making process.
Trekking: Embark on a trekking adventure to spots like Anamudi Peak and Echo Point for breathtaking views.
Kundala Lake: Enjoy a peaceful boat ride in the serene waters of Kundala Lake.
Alleppey - Houseboat Romance
Alleppey, often referred to as the "Venice of the East," is renowned for its backwaters and houseboat cruises. Sail along the tranquil backwaters with your partner on a traditional Kerala houseboat, enjoy the scenic beauty, and relish delicious local cuisine prepared on board.
Things to Do:
Houseboat Stay: Spend a night on a luxurious houseboat, drifting along the calm and captivating backwaters.
Alleppey Beach: Walk hand-in-hand along the sandy shores of Alleppey Beach and witness the mesmerizing sunset.
Village Tour: Explore the nearby villages and experience the rustic charm of Kerala's rural life.
Kumarakom - Tranquility by Vembanad Lake
Kumarakom is another mesmerizing backwater destination situated on the banks of Vembanad Lake. Experience the luxury of waterfront resorts, enjoy birdwatching at Kumarakom Bird Sanctuary, and indulge in a rejuvenating Ayurvedic spa session.
Things to Do:
Birdwatching: Witness a variety of migratory birds at the Kumarakom Bird Sanctuary, a paradise for bird lovers.
Vembanad Lake Cruise: Take a boat cruise on Vembanad Lake, the longest lake in India, and soak in the serenity.
Ayurvedic Massage: Rejuvenate your senses with traditional Ayurvedic spa treatments.
Wayanad - Nature's Abode
For nature-loving couples, Wayanad offers a perfect blend of wildlife, lush forests, and adventure. Trek to the picturesque Chembra Peak, explore the Edakkal Caves, and enjoy a peaceful time amidst the scenic beauty of Wayanad's landscape.
Things to Do:
Chembra Peak Trek: Embark on a challenging trek to Chembra Peak, the highest peak in Wayanad.
Edakkal Caves Exploration: Discover ancient cave paintings and engravings at the Edakkal Caves.
Banasura Sagar Dam: Enjoy a scenic boat ride and take in the panoramic views of Banasura Hills.
Kovalam - Beach Bliss
Kovalam is a popular beach destination in Kerala, offering golden sandy shores and sparkling blue waters. Walk hand-in-hand with your partner along the Lighthouse Beach, enjoy water sports, and witness the stunning sunset views.
Things to Do:
Lighthouse Beach: Relax on the sandy shores and bask in the beauty of the iconic lighthouse.
Water Sports: Engage in thrilling water sports like parasailing, surfing, and jet-skiing.
Catamaran Ride: Take a traditional catamaran ride with local fishermen and experience the sea's tranquility.
Varkala - Cliffs and Beaches
Varkala is unique with its red cliffs overlooking the Arabian Sea. It offers a serene beach experience along with a chance to experience the natural mineral springs, which are believed to have medicinal properties.
Things to Do:
Varkala Beach: Relax on the sandy shores and enjoy the scenic beauty of the red cliffs.
Papanasam Beach: Take a dip in the holy waters of Papanasam Beach, believed to cleanse sins.
Janardhana Swamy Temple: Visit the ancient temple dedicated to Lord Vishnu and admire the architectural marvel.
Thekkady - Wildlife and Spice Plantations
If you and your partner are wildlife enthusiasts, Thekkady is the place to be. Explore the Periyar Wildlife Sanctuary on a boat cruise, take a guided tour of spice plantations, and embrace the natural beauty surrounding you.
Things to Do:
Boat Safari: Go for an exciting boat safari on Periyar Lake and spot wildlife like elephants, deer, and birds.
Spice Plantation Tour: Learn about various spices and their cultivation during a plantation tour.
Nature Walk: Take a leisurely nature walk through the forests and revel in the serenity.
Poovar Island - A Hidden Gem
Poovar Island, situated at the southern tip of Kerala, is a hidden gem offering tranquility and privacy. Enjoy a stay at the floating cottages, go for a romantic walk on the pristine beaches, and witness the meeting point of the river, sea, and backwaters.
Things to Do:
Floating Cottage Stay: Experience luxury and seclusion with a stay in the beautiful floating cottages.
Golden Sand Beach: Walk hand-in-hand on the golden sands of Poovar Beach and enjoy the solitude.
Neyyar Wildlife Sanctuary: Explore the nearby Neyyar Wildlife Sanctuary and spot wildlife amidst nature.
Bekal - Fort and Beaches
Bekal is renowned for its majestic Bekal Fort, a historic monument with panoramic views of the Arabian Sea. Spend quality time with your loved one on the unspoiled Bekal Beach, relishing the scenic beauty and tranquility.
Things to Do:
Bekal Fort Visit: Explore the grand Bekal Fort and admire the stunning views from the observation deck.
Bekal Beach Walk: Enjoy a peaceful walk on Bekal Beach and witness the untouched beauty of nature.
Kappil Beach: Visit Kappil Beach, a secluded spot perfect for a romantic evening by the sea.
Athirapally - The Niagara of India
Located in Thrissur district, Athirapally is known for its magnificent waterfalls, often referred to as the "Niagara of India." Embrace the beauty of Athirapally Falls and enjoy a memorable time in the lap of nature.
Things to Do:
Athirapally Waterfalls: Visit the majestic Athirapally Falls and take in the breathtaking views.
Vazhachal Waterfalls: Explore the nearby Vazhachal Waterfalls and enjoy a scenic picnic.
Thumboormuzhi Dam: Experience the lush greenery and tranquility at Thumboormuzhi Dam and Butterfly Garden.
Conclusion
Kerala, with its diverse landscapes and cultural richness, offers a myriad of choices for an unforgettable honeymoon experience. Whether you prefer serene backwaters, misty hills, or sun-kissed beaches, Kerala has it all. So, get ready to embark on a journey of love and romance in one of the top 10 honeymoon destinations in Kerala.
FAQs
Q: What is the best time to visit Kerala for a honeymoon?
A: The best time to visit Kerala is during the months of October to March when the weather is pleasant and ideal for sightseeing.
Q: Can I experience houseboat stays in Munnar?
A: While Munnar is famous for its tea gardens and hill stations, houseboat stays are more popular in Alleppey and Kumarakom.
Q: Are there any adventurous activities in Wayanad?
A: Yes, Wayanad offers several adventurous activities like trekking, zip-lining, and wildlife safaris.
Q: Is Kovalam suitable for families with children?
A: Yes, Kovalam is a family-friendly destination with shallow waters and various recreational activities for kids.
Q: How far is Poovar Island from Thiruvananthapuram?
A: Poovar Island is approximately 30 kilometers away from Thiruvananthapuram, making it easily accessible for a day trip.