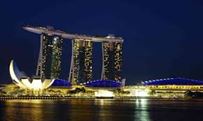 16
Dec
Singapore Honeymoon Package
Dec 16,2022
Singapore Honeymoon Package- Singapore, often known as the Garden City and the Lion City, is the only island city-state in Southeast Asia. Singapore Honeymoon Packages are ideal for travelers seeking both rest and action. Many Singapore honeymoon package make it easier for newlyweds to take advantage of the many attractions that this island city-state has to offer.
---
Take a trip to this alluring location for an ideal fusion of colorful culture, architecture, delectable foods, and more. And, enjoy a seductive time with your spouse amidst Singapore's beautiful beaches and lush surroundings.
Frequently Asked Questions about Singapore Honeymoon Package
What dishes are included in Singapore honeymoon packages?
You may savour the best seafood as part of your Singapore honeymoon package. On your vacation, make sure to sample Hainanese chicken rice (one of the country's staple foods), chilli crab, bak kut teh, and laksa. Couples can also enjoy fish head curry, Hokkien prawn mee, and barbecued stingray. Restaurants like The Tippling Club, Waku Ghin, and CUT by Wolfgang Puck provide these meals. In the nation, dishes from India including appam, dosa, and naan are highly well-liked. In addition, Singapore is well-known for its mouthwatering desserts like bubur cha cha and its tourist-favorite tropical fruits. Ice cream sandwiches are another delicious treat that couples can enjoy on Singapore's streets.
How many days is enough for Singapore?
If you want to see as much as you can in Singapore, you should budget at least 4-5 days there. This would give you time to see Singapore's diverse areas including Chinatown, Little India, Kampong Glam, and Tiong Bahru as well as its famous landmarks like the Merlion, Gardens by the Bay, and Marina Bay Sands.
Best Time for Singapore Honeymoon Package
Singapore is a year-round travel destination, but the ideal months to go there are from December to June. Singapore's dry season runs from February to April, and they are often the months with the least amount of rain, the lowest humidity, and the most sunshine. Singapore's climate is generally reliable and suitable for tourists to visit all year round for sightseeing. The best season to visit Singapore is from July to November, though, if you want to avoid any crowds.
The summer months of June to August are the finest times to visit Singapore if all you want to do is relax on Sentosa Island with a beach and outdoor activities nearby. One of Singapore's biggest festivities, the Chinese New Year occurs in either January or February. The first full moon of the year determines it. The mid-autumn festivals in October, Hari Raja in June, and Singapore's National Day in August are further important events to attend.
The Climate of Singapore
Early March to December
Throughout this season, there has been consistent rainfall, particularly from late December to early January.
Average temperature: 30° high to 24° low
Weather: December is Singapore's wettest month, with rainfall ranging from 63 to 766 millimetres. However, you should not fear if you are considering visiting during this period. Without any inconvenience, you may still visit Singapore's major attractions.
Significance: Christmas, the ZoukOut Music Festival, Pongal, the Marina Bay Singapore New Year's countdown, Chinese New Year, Singapore Carnival, the Fringe Festival, etc. are important occasions that take place during these months.
Why you ought to go right away: Due to Christmas, the mood is highly festive and joyous at this time. Chinese New Year and New Year both fall in December and January. During this period, one may see and experience Singapore's colorful side. The most exciting carnivals, New Year's Eve celebrations, and fireworks are held in Singapore.
Before you go, be aware of: Singapore has monsoons from December to March, with December having the heaviest rainfall. In general, the weather is windy, gloomy, with little sunshine, and humid. In these months, there is a probability of thunderstorms. It is advised to always have an umbrella throughout these months, especially at night when the rain is more intense. Bring suitable clothing because it's humid and windy at the same time.
Dream Travel Yaari
Dream Travel Yaari is one of the leading travel and tour Company in India today. This has been possible because of our efforts and hardwork. Our team at DTY knows how important honeymoon is for newlyweds, and their must not be a single place for inconvenience. We provide the best packages according to your budget, the satisfaction of our clients is our number 1 goal.
We pay attention to every detail and work in advance to ensure a great experience for our clients. So, if you are looking for Singapore trip for your honeymoon, you should contact us!
Contact Details
Name: Dream Travel Yaari
Phone No.:+91 9662696269, +91 9625524840
Address: E-147 SEC 23-24 MAIN RD, Punjab Rolling Chowk, Haryana, Faridabad, India, 121004
Email: [email protected]