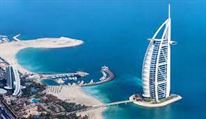 16
Aug
Dubai Tour Packages from Delhi
Aug 16,2022
Dubai Tour Packages from Delhi - In the United Arab Emirates, the city and emirate of Dubai is well-known for its upscale shopping, cutting-edge buildings, and vibrant nightlife. The 830m-tall Burj Khalifa tower dominates the skyline of skyscrapers. Dubai Fountain, with its musically synchronized jets and lights, is located at its base. Atlantis, The Palm is a resort with aquatic and marine animal parks located on artificial islands near offshore.
---
Frequently Asked Questions About Dubai
Ques 1) How tall is Burj Khalifa?
Ans 1) Burj Khalifa is famous for being the tallest building in the world with a height of 2,722 ft (829.8 meters).
Ques 2) What are the most famous items to shop for in Dubai?
Ans 2) The best things you can buy from Dubai and bring back as souvenirs are the following-
Gold Jewellery
Dubai has the largest gold market in the world. It is called the "city of gold". So, the best thing to bring back would be Gold Jewellery and artifacts.
Oudh and Bakhoor
If you enjoy the distinctive scent that permeates Dubai's streets and want to recreate it at home, Oudh or Bakhoor are your best bets. One of the special items to buy in Dubai is Oudh, a pricey fragrance oil made from the wood of the Southeast Asian agar tree.
Pashmina Shawls
Middle Easterners are familiar with pashmina. It is a lovely but little pricy item to purchase in Dubai made from goat hair and silk. It is imperative to make sure you acquire genuine goods and pay the proper amount for them given the prevalence of fakes in today's market.
Persian Rugs and Carpets
When deciding what to buy in Dubai, there is no question about the elegance of Persian rugs and carpets. These carpets are quite a beautiful artefact to adorn the flooring of your home, despite being slightly more expensive and thicker to transport.
Arabian Coffee and Coffee pots
If you're a coffee fanatic, this is one of the best things to buy in Dubai since coffee enthusiasts will discover a peculiar delight in the bitter yet reviving taste of Arabian coffee. The coffee in this region is renowned for having a strong flavour and is frequently served with a sweet dessert to balance the flavors.
Ques 3) What is the currency of Dubai?
Ans 3) Dubai's currency is AED or more commonly known as dirham.
Things to do in Dubai
Thanks to its spectacular, contemporary architecture, top-notch shopping, international food, and adventure activities, Dubai is becoming a more and more popular tourist destination. But if you're only staying a short while, you'll want to make a schedule so you can see and do everything Dubai has to offer.
Sightseeing
Whether you're a first-time visitor to Dubai or a seasoned traveler, there is so much to see in this populated emirate that you'll learn something new every time. This is the perfect time to visit the city because you might want to spend your first day becoming oriented. For a bird's-eye perspective of the skyline, you should absolutely get a ticket to the top of the Burj Khalifa. This iconic structure is the tallest in Dubai at 829.8 metres, and it has a renowned observation deck on the 124th level that should not be missed.
Museums and Heritage Sites
It would take more than a week to see all of Dubai's museums, but allocating one day to the ones that most interest you isn't a bad idea. The major museum of the emirate, the Dubai Museum, is housed in the Al Fahidi Fort, which is the city's oldest standing structure, so you might wish to start there. Old maps of Dubai, regional antiques, Asian and African artifacts, and emirate records are all kept at this museum. Additionally, you'll see representations of desert life, such as a Bedouin tent, a model mosque, and maritime artifacts.
Adventures
There are many sports and adventure activities in Dubai, from camel racing to car rallies in the sand dunes. There is something for everyone. Families of all ages can engage in activities like archery, laser shooting, and horseback riding in the desert at some of the top resorts in the world, which can be found in the United Arab Emirates. Rock climbers can practice their abilities or thrill-seekers can relax on a jet ski.
Unique Shopping
The experience is unique, and Dubai's retail malls are very different from those in Paris or New York. The Mall of Emirates with its indoor ski slope has previously been mentioned, but that is only the beginning. For instance, the Souk Madinat inside the Madinat Jumeirah Hotel has a special river that ferries customers between restaurants and shops to close-by hotels.
Shop 'til you drop at The Dubai Mall, one of the biggest and most opulent malls in the UAE. A haven for brand enthusiasts with more than 1,200 stores covering 1.1 million square metres. Designer shops, the magnificent Dubai Fountain, and the exciting Dubai Aquarium—home to tens of thousands of aquatic creatures representing over 140 species—can all be found there. Experience the authentic Arabian market by going to the adjacent Souk Al Bahar.
Hatta
Dubai is more than just upscale restaurants and entertainment parks; the stunning natural setting that surrounds the city is also well worth visiting. Visitors can drive to Hatta, located 134 kilometres east of Dubai in the foothills of the Hajar Mountains, to enjoy its Heritage Village, which is made up of restored traditional mountain dwellings, as well as to climb sand dunes in a 4x4 and cool off in its lake and rock pool.
Other sites you won't want to miss include the Emirates National Auto Museum, the Antiques Museum, Heritage House, the Sheikh Mohammed Centre for Cultural Understanding, and Hatta Heritage Village.
Dubai Tour Packages From Delhi
Dream Travel Yaari
Leading online travel agency DreamTravelYaari provides discounts for intelligent travelers looking for both quality and value. DTY, which was introduced in August 2018, is currently renowned for offering a one-stop shop for all travel requirements. Millions of low-cost flights, including those in business and first classes, hotel rooms, bus tickets, and affordable vacation packages to popular locations throughout the globe are available to customers.
Here are some of the best Dubai Tour Packages that you can avail from Dream Travel Yaari.
Best of Dubai-
It is 3 Days and 2 Nights long. The cost of this package is just INR 12,000 including sightseeing, transfer, and hotel stay.
Dazzling Dubai- It is 5 days and 4 nights long. It starts from INR 15,888 including sightseeing, transfer, and hotel stay.
Conclusion
These were some of the important things you need to know for your Dubai tour from Delhi. Hope you find it helpful. Have a happy trip!
Contact Us!
Call us- +91 8285062900, +91 9662696269
Mail- [email protected]
Website- www.dreamtravelyaari.com