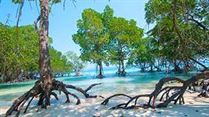 10
Oct
Best Places To Visit In Andaman
Oct 10,2022
Best Places To Visit In Andaman- A place where true beauty truly mesmerizes is Andaman. In addition to having absolutely stunning beaches, it is also India's biodiversity greatest achievement. Visitors come from all over the world to this ecological haven. Let us talk about the Best Places To Visit In Andaman.
---
For some, it is a haven of exhilarating experiences, while for others, it is a place to take in the breathtaking beauty of nature and find comfort. Some people use it as motivation to produce incredible works of art, while others use it as a place to treasure their shared moments.
Best Places to Visit in Andaman

Although it's no surprise that Andaman is full of pretty scenes and photogenic landscapes, still we have listed the most beautiful and interesting places you can visit in Andaman.
Havelock Island
The most well-known island in the Andaman Sea is Swaraj or Havelock Island. Beautiful coral reefs, white beaches, and verdant forests make up this lovely paradise. Radhanagar Beach, Vijayanagar Beach, and Elephant Beach are three of its beautiful beaches. It's a scenario you can only find in your fantasies or in movies, with the magnificent Andaman Sea all around, azure waves, sparse crowds, and lush tropical vegetation. For a calm beach vacation in the Andaman, you must visit Havelock Island if you're searching for a remote location with plenty of beauty and peace.
Barren Island
Do you know that Barren Island is home to the only active volcano in India? One of the most unusual tourist destinations you will ever see is Barren Island, which is situated amid the Andaman Sea's active tectonic plates. This island cannot be visited; it is only visible from a distance. Here, a volcano last erupted somewhere between 1994 and 1995. You will see a smoking volcano from your cruise, which is an amazing sight. As the name implies, this location is uninhabited by people, and it will elevate your travel experience. A visiting permit issued by the forest authority is additionally required.
Cellular Jail
It's not a bad idea to take a historical tour of the country with the lovely beaches, is it? One of the top tourist destinations in the Andaman & Nicobar Islands is Cellular Jail. It is a location where the bloody past of the first battle of independence and the Indian freedom movement come to life. It was built by the British in 1906 and given the name "Kalapani" in order to imprison and punish Indian freedom fighters. For the aim of solitary confinement, it was designed with only one person in each cell, preventing communication between the inmates. This is one of the most significant historical sites and well-liked tourist destinations in Andaman.
Chidiya Tapu
Chidiya Tapu must be on your list of the top Andaman Islands attractions if you're thinking about visiting the islands. Why? because if you don't, you'll miss out on the most breathtaking spot to calm your eyes and entice your senses. Chidiya Tapu is bordered by magnificent Mangrove woods, which provide a carpet of lush vegetation all around it. This location is the finest to visit for wildlife enthusiasts due to the abundance of migrating bird species and unusual floral and faunal diversity. Additionally, there are breathtaking sunset views, lovely hiking routes, and beautiful picnic activities. Isn't this a fantastic travel spot for a spiritual family vacation?
Ross Island
One of the most well-liked tourist destinations in the Andaman is Ross Island. This location has a fascinating past. It is well known for having British and Japanese architectural remains. From 1858 until 1941, the British called this little, lovely Island home, until the Japanese invaded and turned it into a POW camp.
Wandoor Beach
For beach enthusiasts, Wandoor Beach is a top destination in Andaman. Wandoor Beach is one of the beaches that anyone who are planning a beach vacation can choose from. Less people are there. Your soul will be revitalised by the surrounding woodlands, white sand beaches, and stunning shoreline, which will let you escape the bustle of the city. There are several stores where you can buy food and mementos, which will make your day absolutely wonderful. This beach in Andaman is ideal for a family vacation.
Jolly Buoy Island
Serene and lovely, ecologically conserved and less crowded, Jolly Buoy Island is a wonderland of joyous vistas. It is one of the Andaman Islands' most pristine tourist destinations. As soon as you arrive, you'll be captivated by the area's cleanliness, calm atmosphere, lovely forests, and coral reefs. A cliff that descends into the water is seen on one side of the island. Therefore, avoid standing at the jungle's edge.
Mount Harriet National Park
Mount Harriet National Park, one of the top tourist destinations in Andaman, offers a number of breathtaking views of reserve forests, beaches, and tall mountain ranges. Happiness for everyone, including families, solitary travelers, and backpackers as well as newlyweds. This park offers gorgeous beaches that are surrounded by thick vegetation if you want to unwind on beautiful beaches.
Saddle Peak
Only by visiting Saddle Peak in Andaman can you get stunning views of the Andaman Islands. You will be amazed by the stunning wonders God has given on the Andaman Islands as you hike to Saddle Peak, which is the highest peak in the Andamans. Amazing tropical trees that are part of Diglipur National Park surround the region. Trekking through this area would be a terrifying experience as you climbed the tree roots. It is among the top adventure travel spots in the Andaman. Additionally, you will see the stunning North and Middle Andaman beaches. It would be the ideal family vacation destination and a fantastic site for nature lovers thanks to the blue seas of the Kalipur beach, Craggy Island, Lamia Bay, and seeing the dawn.
Dream Travel Yaari
Dream Travel Yaari is one of the most popular Travel Agency in India. We have successfully established a strong customer base in a short period of time. Our team makes sure that we have the best packages suited for your needs and budgets available at all times. Our topmost priority is to provide you with the services that satisfy you fully. You can contact us any time to customized packages according to your budget.
If you are looking forward to your next tour then you should definitely contact us for guidance and queries. We are always happy to help!
Contact Details
Name: Dream Travel Yaari
Phone No.:+91 9662696269, +91 9625524840
Address: E-147 SEC 23-24 MAIN RD, Punjab Rolling Chowk, Haryana, Faridabad, India,121004
Email: [email protected]