Explore Havelock - Andaman Nicobar Tour Package
Customize Tour
Customizable itineraries where you may choose transport, stay & sightseeing as per your taste & comfort
---
Stay Plan
Itineraries where you may choose transport, stay & sightseeing as per your taste & comfort
Andaman and Nicobar Islands - 5 Day
Explore Havelock - Andaman Nicobar Tour Package
Package name
Explore Havelock - Andaman Nicobar Tour Package
Duration
4 Nights / 5 Days
Price (Per Person)
14850
Package City Routes
5D Andaman and Nicobar Islands,
Package Description
Andaman Tour packages- If you are looking for a significant Andaman trip, then the Dream Travel Yaari tour Package is the best decision for you. Dream Travel Yaari offers a wide range of adjustable Andaman tours in Delhi, Mumbai, Chennai, or Bangalore to suit every type of explorer. Explore over 84 visit packages in Andaman with great arrangements and categories. Explore the fundamental Andaman touring focus with an assortment of memorable experiential tours and exercises for Dream Travel Yaari Andaman Tour Packages.
Be it a short excursion or a longer agenda, a comfortable stay, or an experience occasion, whatever the inclination of your movement, Dream Travel Yaari has the right Andaman getaway trip for you to browse through. Hoping to enjoy? Remember to check out our Andaman travel packages that offer the best inns and accommodations with an aim to spoil you on your Andaman excursion. Let's say you want to know about Andaman travel, for example, the best opportunities to visit Andaman, how to reach Andaman, what to do in Andaman, etc.
Andaman Packages from different Indian Cities
Andaman Packages from Mumbai, Andaman Packages from Bangalore, Andaman Packages from Delhi, Andaman Packages from Hyderabad, Andaman Packages from Ahmedabad, Andaman Packages from Chennai, Andaman Packages from Kolkata. Also browse popular Andaman Theme Packages like Andaman honeymoon packages, Andaman adventure packages, Andaman family packages, Andaman tour packages, 4 Nights Andaman Packages, Andaman tourism, 2 Nights Andaman Packages.
Andaman Islands – Shores of Beauty and A natural Horizon
Assuming that you get blustery shorelines, and land that offers ocean-going ventures, the Andaman travel packages come with a suitable purpose for you and your family. The Andaman Islands are a vast system of islands in the Bay of Bengal. You can expect to visit different islands on your Andaman trip. Take part in stunning viewpoints, discover new experiences, and bring home some amazing memories. Choose from a wide assortment of Andaman travel packages as per your craving. The best time to visit Andaman would be from late autumn to late spring. Andaman travel packages range from isolated encounters to amazing adventurers so that you can choose the one that best suits you. Plan your days around a perfect opportunity to visit Andaman and take an important outing.
Best places to visit in the Andaman

From sky blue seashores to orange hidden nightfalls, Andaman the travel industry is known for wonderful spots that you can appreciate. The following are a couple of Andaman's intriguing spots to visit-
Radhanagar Beach
Arranged on the south bank of Havelock and fixed with lavish coconut palms, the Radhanagar oceanside is one of the most famous seashores of Andaman because of its flawless white sand and completely clear waters. While here, one could either unwind on the luxurious sand flanking the turquoise blue water or enjoy watersports exercises like swimming and scuba plunging. .
North Bay
Broadly known as Coral Island, North Bay Island is one of the most lovely islands in Port Blair. Aside from its wonderful scene, it has a wide assortment of coral reefs and lively submerged species which appeals to travelers to visit this island. You can do different water sports like swimming, scuba plunging, swimming, fly skiing, and ocean strolling.
Package Start From
Andaman and Nicobar Islands
Inclusion
Meals
Transfer
Sightseeing
Hotel
Ferry
Themes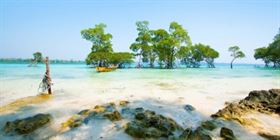 Andaman & Nicobar Island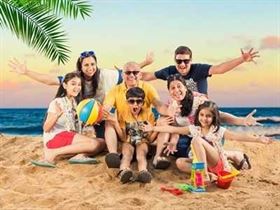 Family Vacation
Itinerary Highlights
City -

Andaman and Nicobar Islands

Meals : Meal Not Included

Airport Pick Up | Cellular Jail | Light & Sound Show

Description : Arrival at Port Blair in the morning/afternoon by flight and our representative will be waiting outside holding a placard with your name on it. You will be taken to your hotel where you relax and rest. Later proceed to attend the enthralling Sound and Light Show at Cellular Jail - where the heroic saga of the Indian freedom struggle is brought alive. Enacting of freedom fighters and their struggle for India's Independence is enacted during this trip.Post completion of this trip; we drop you back to your hotel.

Grand Paradise

MB 62, MA Rd, Port Blair, Andaman and Nicobar Islands 744101

Port Blair

City -

Andaman and Nicobar Islands

Meals : Breakfast Only

Port Blair - Havelock In Cruise - Radhanagar Beach

Description : Today we depart to Andaman Islands most amazing destination, Havelock Island. The destination is rated as the best island in India. Depart from Port Blair to Havelock Island in a ferry. Upon reaching Havelock, our representative attends you and will drop you at your hotel. Rest and Relax in a beachside resort. We at Dream Travel Yaari only share beach side resorts for exquisite experiences. Later we begin our journey to one among Asia's best beach, RadhanagarBeach. Explore this white sand beach and bask in the beauty of this natural wonder. Post this we drop you back to your resort where you relax and unwind.

Haywizz Havelock Island Resort

no 1 govindanagar havelock island HAVELOCK, Andaman and Nicobar Islands 744211

Havelock island

Remark:

Premium Pool View Room

City -

Andaman and Nicobar Islands

Meals : Breakfast Only

Day at Leisure

Description : Day at leisure. How, about relaxing in the lap of nature. Today, you can relax and spend the day enjoying white sand beaches. Additional activities such as Scuba Diving and Sea Walk can be done on this day.

City -

Andaman and Nicobar Islands

Meals : Breakfast Only

Kalapathar Beach | Havelock Island - Port Blair in Cruise

Description : Visit the Kalapathar beach and spend rest of the day at leisure enjoying white sand beaches. In the evening catch the afternoon ferry and return to Port Blair. Our representative will meet you at Port Blair and drop you to your hotel for overnight stay. Note: Do note that many hotels in Andaman Islands have early check-out timing around 8:00 AM. You may avail activities such as boat ride, snorkeling trip, scuba diving or sea walk or you can discuss with our island expert about any necessary suggestion that you may require.

City -

Andaman and Nicobar Islands

Meals : Breakfast Only

Airport Drop

Description : Drop to the Airport. Return home with sweet memories of this exotic destination, the Andaman Islands.
Inclusion,Exclusion,Cancellation & Package policy
Explore best selling packages for