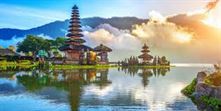 17
Oct
Bali Packages From Bangalore
Oct 17,2022
Bali Packages From Bangalore- Bali is a well-known Indonesian island that is well-known for its beaches, resorts, temples, and mountains. The island, the only Hindu island in Indonesia, is completely encircled by luxuriant vegetation. Due to its tranquil and calm atmosphere, it is a well-liked tourist destination. If you wish to travel here for an exotic vacation, a Bangalore to Bali tour package is the ideal option to select. The coral reefs and rice fields are worth visiting. Over a thousand visitors travel to Bali Packages from Bangalore each year.
---
There are several attractions on the lovely island for visitors. The island offers a wide range of water sports and adventurous activities for the entertainment of visitors. Additionally, it includes some of the top hotels that provide wonderful service, amazing food at the various restaurants that are located here, and the ideal soothing escape of exotic spas and massage clinics. The location is well-known for both yoga and meditation. All necessary things are included in a trip to Bali from Bangalore.

Frequently Asked Questions about Bali Packages From Bangalore
How much does Bali trip cost from Bangalore?
The average cost of Bali trip from Bangalore is around INR 50K to 80K per person.
How do I plan a trip to India from Bali?
To truly experience Bali, it is advised to stay at least one week. If you have the time and resources, you can stay for even more days. If you're an Indian national, your free visa on arrival will often be valid for 30 days, therefore it's best to keep your stay to a maximum of 4 weeks, unless you want to go to another nearby country and return to Bali. The Indonesian Rupiah, or IDR, is the country's currency.
What is best time to visit Bali?
August is the driest month on the island, making May, June, July, August, and September the ideal months for a traditional beach vacation in Bali. Additionally, these are the greatest months for diving and snorkeling because rain reduces visibility underwater and sunshine improves the underwater environment.

Places to visit on Bali Package from Bangalore
Here are some of the most visited places of Bali.
Uluwatu Temple
In Bali's Kuta region sits the stunning beach temple known as Uluwatu Temple. It is a Siva Rudra temple for Hindus. The temple is about 70 metres above sea level. When the crimson rays of the setting sun meet the azure waters crashing at the cliff, it creates a truly breathtaking image. The temple is a work of true devotion and art. During the eve of some events, folk dances are performed. Make sure to dress respectfully when you visit the temple.
Ubud Art Market
Ubud Art Market is the best location to go in Bali if you have a knack for locally crafted goods and art. Not only can you find artistic stuff here, but also lovely purses, jewellery, apparel, and other things. It is the perfect location to explore Bali on foot in closer detail.
Tegalalang Rice Field
The Tegalalang Rice Terrace is one of Bali's most picturesque tourist destinations. Due to its stunning appeal, it attracts not only tourists but also bloggers and vloggers. The terraced slopes of rice paddies found here provide for an amazing spectacle. The area is surrounded by beautiful vegetation.
Ubud Monkey Forest
Ubud Monkey Forest is a spiritual area as well as a natural habitat for various monkey species. There are large people visiting this ancient forest from all around the world. More than 1049 monkeys live there. This location hosts a lot of festivals on occasion.
Bali Packages From Bangalore
Dream Travel Yaari offers a bunch of really good travel packages. Some of the top packages are 7D and 6N Bali Tour (INR 39,199 /-), Bali Witness Beauty (INR 17,640 /-), and 4D 3N Bali (INR 27,930 /-) .
Dream Travel Yaari
Dream Travel Yaari is one of the fastest growing and the best travel agency in India today. We have made our impact on thousands of clients in just a short span of time. DTY takes pride in providing the best packages according to the needs and budgets of our client. We know how important it is for people to have a good vacation without worrying about the planning and other important details of their trip, so our team plans out everything ahead of time and with the best attention to details.
The foremost priority for our company is to give you the best services and the best quality travel experience.
Contact Details
Name: Dream Travel Yaari
Phone No.:+91 9662696269, +91 9625524840
Address: E-147 SEC 23-24 MAIN RD, Punjab Rolling Chowk, Haryana, Faridabad, India, 121004
Email: [email protected]