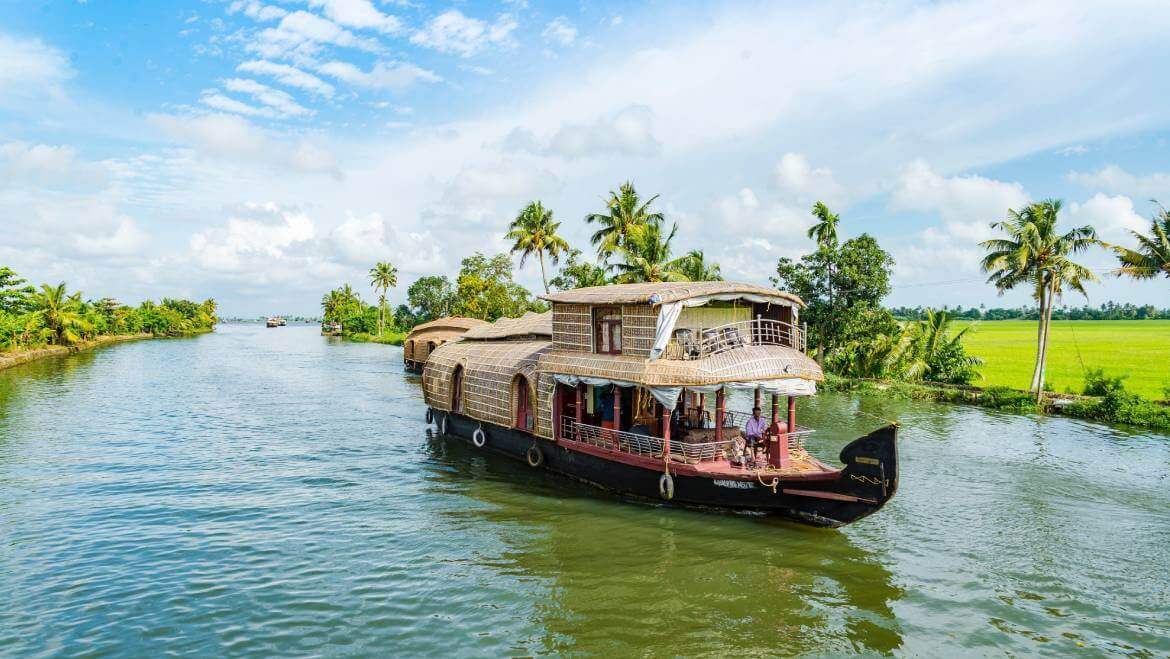 21
Sep
10 Breathtaking Tourist Places in Kerala That Will Leave You Spellbound
Sep 21,2023
724x3
Welcome to God's Own Country, Kerala. Situated in the southern part of India, Kerala enchants visitors with its captivating natural beauty and rich cultural heritage. From serene tea plantations to backwater cruises, Kerala offers a diverse range of experiences that will leave you spellbound.
In this article, we will explore ten breathtaking tourist places in Kerala that are truly awe-inspiring.

Munnar - Verdant Valleys and Serene Tea Plantations


Munnar, known for its mesmerizing landscapes, is a must-visit destination in Kerala. Here, you can immerse yourself in the enchanting beauty of verdant valleys and serene tea plantations.
Echo Point – At Echo Point, nature echoes your calls. Located amidst lush greenery, this picturesque spot allows you to shout your heart out and hear your own voice reverberate through the mountains.

Tea Museum – Dive into the history of tea cultivation at the Tea Museum. Gain a deeper understanding of the tea-making process and witness the evolution of tea production in Munnar.

Top Station – A visit to Top Station will reward you with the breathtaking sight of Neelakurinji blooms. This rare flower blooms once every twelve years, covering the hills with a mesmerizing shade of blue.
Alleppey - The Venice of the East


Alleppey, often referred to as the Venice of the East, offers a unique experience of exploring the backwaters of Kerala.
Houseboat cruises – Embark on a houseboat cruise and indulge in the luxury of a floating paradise. Drift along the tranquil backwaters, surrounded by breathtaking vistas of lush green landscapes.

Alleppey Beach – Take a break from the houseboat and unwind at Alleppey Beach. Its serene ambiance and golden sands provide the perfect setting for a peaceful seaside retreat.
Kochi - Where History Meets Modernity


Kochi, the commercial capital of Kerala, seamlessly blends its rich history with modernity, offering visitors a unique cultural experience.
Fort Kochi – Discover the colonial charm of Fort Kochi, where history comes to life. Stroll through its narrow streets, adorned with quaint Dutch and Portuguese architecture.

St. Francis Church – Step inside St. Francis Church, the oldest European church in India, and catch a glimpse of Kochi's past. This church is closely associated with the famous explorer, Vasco da Gama.

Chinese Fishing Nets – Iconic symbols of Kochi, the Chinese Fishing Nets add a touch of traditional charm to the city's coastline. Marvel at the intricate mechanism of these fishing nets and observe the local fishermen in action.

Mattancherry Palace – Dive into Kochi's rich cultural heritage at Mattancherry Palace. Admire the stunning murals and intricate craftsmanship of this palace, which served as the residence of the Kochi royal family.
Read Also:
Thekkady - Wildlife Encounters Amidst Nature's Abundance


Thekkady, nestled amidst nature's abundance, offers exciting wildlife encounters in the majestic Periyar National Park.
Boat safaris – Embark on a thrilling boat safari through the Periyar Lake, where you can witness wildlife at close quarters. Keep an eye out for elephants, tigers, and various other species that call this national park their home.

Spice Plantations – Take an aromatic journey through the spice plantations of Thekkady. Learn about the cultivation and processing of various spices such as cardamom, pepper, and cinnamon.
Wayanad - Where Nature Beckons