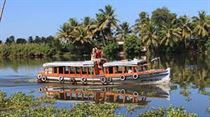 16
Dec
Kerala Tour Packages For Family
Dec 16,2022
Kerala Tour Packages For Family- One of the most popular tourist destinations in India is Kerala, which is in the southwest of the country and has an area of 38,863 km2. Let us talk about Kerala Tour Packages For Family.
---
Beaches, backwaters, temples, pilgrims, hills, waterfalls, elephants, tigers, and other wildlife, national parks, ghats, mountains, palm-lined trees, tea gardens, spices, gastronomy, monuments, traditional festivals and dances, churches, fishing, and more come to mind when we think about Kerala.
Frequently Asked Questions about Kerala Tour Packages For Family
What dish is popular in Kerala?
Idli sambar, perhaps the most well-known dish from Kerala, is a favorite dish enjoyed in homes all across India. Fermented rice cakes are the ideal complement to a mouthwateringly sour curry made with flavorful spices and veggies such
When is it possible to visit Kerala?
Kerala can be visited throughout the year, but the months of October, November, December, and January are the busiest. Low rainfall makes travel simpler and allows for sunbathing. Kerala has year-round temperatures that are really pleasant.
What are Kerala's main airports?
International airports are located in Trivandrum, Kozhikode, and Cochin in the state.
Plaves to visit in Kerala
Here are the top places you can visit in Kerala
Wildlife Sanctuary in Wayanad
Four ranges are included in the Wayanad Wildlife Sanctuary: Sulthan Bathery, Muthanga, Kurichiat, and Tholpetty. The nature park is home to rare species of birds, particularly peafowl, as well as Indian bison, elephants, deer, and tigers.
The ideal time to visit the sanctuary is thought to be during the monsoon season. The distance between the sanctuary and Kozhikode's Karipur International Airport is 125 kilometres.
Backwaters Island of Kavvayi
One of the top tourist destinations in Kerala is Kavvayi Backwaters Island, also known as Kavvayi Kayal. The River Kavvayi and its tributaries Kuppithodu, Konkol, and Kuniyan meet at this point, creating the third-largest backwater in the state.
On a houseboat cruise, one can discover the true beauty of Kerala's backwaters. The ideal time to visit this location is from October to March.
Thrissur
Onam and Thrissur Pooram festivals are well-known around the world. It is a small, tranquil town that is said to as Kerala's "culture capital." The ideal time to visit Thrissur is from October to March. Additionally, one can travel here in April and May to take in the splendour of the Thrissur Pooram festival.
The closest airport is Cochin International Airport. Additionally, Trichur has a railway station with excellent connections to all the main Indian towns.

Kochi
Kochi, formerly Cochin, is a well-known commercial city in the Indian state of Kerala. The port city, which has a rich history, is becoming more well-known for its multicultural atmosphere. Kochi is a coastal town with beaches on the island of Vypeen, which is home to significant religious monuments.
The best times to visit Kochi are generally regarded as October to February and March to June. Additionally, Ernakulam Town railway station and Kochi Airport provide service to the city.
Thiruvananthapuram
The capital city of Kerala is Thiruvananthapuram, sometimes known as Trivandrum. Trivandrum is a very well-liked tourist destination in Kerala. The city provides therapies for mind, body, and spirit renewal in addition to rare therapeutic oils.
When visiting Trivandrum, you must see a Kathakali performance at one of the city's art venues. From September to May is the ideal season to travel to Trivandrum.
Things to carry
Raincoats
Between May and November, Kerala gets drenched by the rain-producing south-west monsoon that originates in the Arabian Sea and Indian Ocean. Make it a point to take an umbrella or raincoat so that you are not caught off guard in the rain while out and about in the city. To avoid the sweltering heat in Kerala, umbrellas are very helpful.

Tropical attire
Kerala has extreme heat all year long since it is located close to the equator, where the sun's rays are drenched in a vertical plane. It is advised that you wear relaxed, free-flowing cotton clothing so that you can move about the state without being bothered.
Sunglasses
If you visit Kerala in the summer, you must have your pair of wayfarers or aviators with you. In addition to being a superb fashion piece, they will shield your eyes from any UV light damage.
Sunscreen
It is well recognized that the sun's glaring beams can be quite hazardous. They may potentially be harmful and contribute to major illnesses like skin cancer. SPF 30-70 sunscreens shield you from harmful UV radiation in addition to preventing tanning.
Sanitizer
When travelling, it's possible that you won't have access to water or soap. Not only should you eat an apple a day, but you should also avoid germs if you want to avoid the doctor. The best course of action in this situation is to use a decent sanitizer!
Candies
Long distance travel can occasionally make you feel woozy and zapped. It will be easier to get rid of the uneasy feeling if you have some candy on hand. So make sure to carry some flavor-infused toffees!
Water Containers
When travelling, water bottles are a necessity. It will slake your thirst while also preventing dehydration. Snacks Be sure to bring along a few little snacks, such as a box of wafers, chocolates, or biscuits. It is advisable to include snacks that have a lengthy shelf life that you can eat on the road.
Energy Bank
When you are travelling a new place, it is a good idea to have a portable charger because it will offer you more time to listen to music, create films, or browse the internet without interruption.
Dream Travel Yaari
If you are looking forward to having a blast on your next Kerala Tour Packages For Family, you are at the right place. DTY is one of the fastest growing companies in India, we bring you the best tour Package, at the most affordable price.
We pay attention to every detail and work in advance to ensure a great experience for our clients. So, if you are looking for Kerala Tour Packages For Family, you should contact us!
Contact Details
Name: Dream Travel Yaari
Phone No.:+91 9662696269, +91 9625524840
Address: E-147 SEC 23-24 MAIN RD, Punjab Rolling Chowk, Haryana, Faridabad, India, 121004
Email: [email protected]