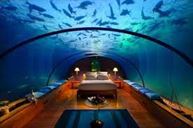 05
Dec
Top Places To Visit In Maldives
Dec 05,2022
Top Places To Visit In Maldives- The inhabited islands in the Maldives have been improved and made more visitor-friendly within the past ten years, which has also resulted in significant change. This picture-perfect combination of blue, white, and green is a veritable heaven on Earth, dotted with opulent water villas and infinite palm groves swinging rhythmically. et us learn about Top Places To Visit In Maldives.
---
Maldives is worth it all because of its unsurpassed elegance, breathtaking beaches, and exciting underwater world! endowed with extraordinary natural magnificence and beauty. This island nation, which has 1200 islands and 26 atolls, is very alluring to tourists from across the world because of its exotic islands, captivating blue oceans, shiny-sand beaches, gorgeous reefs, and a range of water activities.
Frequently Asked Questions about Top Places To Visit In Maldives
What are the top activities in the Maldives?
The Maldives are the ideal destination for you if you want an active vacation. You may try a variety of activities, including kitesurfing, parasailing, water skiing, fun tubing, and snorkeling. Additionally, you can unwind on the beautiful beaches and sample the regional cuisine.
What are the top family-friendly destinations in the Maldives?
The Maldives' Veligandu Island Beach, Alimatha Island, and Hulhumale Mosque among the top family-friendly destinations. The Maldives is a great destination for a family holiday because you can stay at an opulent resort, enjoy spa services, and spend quality time with your children there.
Top Places To Visit In Maldives
Check out the top holiday destinations in the Maldives:
Malé Atoll – For Urban Vibes
The largest city and most visited location among the top places to visit in the Maldives is North Malé Atoll, which is situated on the southern edge of Kaafu Atoll. It ranks highly among Maldives tourist attractions. It was formerly known as Mahal since it was the residence of the Royal Dynasties, but it is now better known as Kings Island. Rain falls during most of the year in Male's tropical monsoon environment. Male's constantly temperate temperature throughout the year is its strongest feature.
Sun Island – For Sparkling Beaches
Nalaguraidhoo Island in South Ari Atoll, often known as the Sun Island, is one of the most popular tourist destinations in the Maldives. Its breathtaking beaches, lovely tropical flora, and lush vegetation draw a lot of people looking to relax in the presence of the natural world. The island ensures that its visitors will have a truly wonderful time thanks to its stunningly beautiful blue waters, glittering beaches, and luxurious resorts. It is one of the most ideal locations in the Maldives to visit for honeymooners and couples due to its tranquilly and beauty.
Banana Reef – For A Great Diving Experience
Banana Reef, which is situated in North Mal Atoll, is famous throughout the world as one of the best diving locations, elevating it to the list of must-see attractions in the Maldives. In actuality, it was the first diving location in the Maldives to receive recognition for authorized diving and instruction. The reef, which has a banana-like shape, is teeming with vibrant marine life, beautiful corals, and breathtaking cliffs, overhangs, and caves. And because there are so many adventurous things here, it is a favorite destination in the Maldives for thrill seekers.
Alimatha Island – For Canoeing In Calm Waters
The Maldives' easternmost island, Alimatha Island, is situated in Vaavu Atoll. The island is ideal for a family holiday as well as a honeymoon because it is one of the best spots to visit in the Maldives for couples. Its blue, crystal clear waters are ideal for diving, snorkeling, and boating. Volleyball games played in this location's sparkling sand and sun-kissed beaches are a lot of fun. One of the top Maldives tourist destinations, the Ayurvedic massage centre, spa, bars, and restaurants make it a rejuvenating choice.
Artificial Beach – For Action-Packed Watersports
This beach, which is located in North Mal Atoll, is artificial, as its name implies. Among the best spots to visit in the Maldives, it is the swimming aficionados' favorite hangout. The Artificial Beach is an open place with some dress requirements in accordance with local law. The beach also offers a variety of carnivals, water sports, and quiet strolls, making it the ideal destination in the Maldives for kids. The music groups who congregate here to jam and perform make the evenings here gorgeous.
HP Reef – For Corals And Caves
HP Reef, located in North Mal- Atoll, is regarded as one of the best tourist destinations in the Maldives. There are many different aquatic animals present there because it is a protected marine area. The sea around here is teeming with marine life, including small, dangerous fish and brilliant coral as well as overhangs, caves, and coral with a variety of colors. It is one of the best sites to visit in Male, Maldives because the marine life is maintained with the utmost care, and because avid swimmers and divers can only enter the sea when it is entirely safe.
Fihalhohi Island – For A Thriving Marine Life
One of the most alluring and beautiful spots in the Maldives to spend your hard-earned vacation days is Fihalhohi Island, which is located at the South Kaafu Atoll. Beautiful beaches, crystal-clear waters, and shady coconut palm trees line the island's perimeter. If you're planning a honeymoon or seeking for a romantic holiday, you must go to this island. The island has mild weather, which makes it the perfect location for water sports that tourists love to partake in. It is also the most endearing addition to the list of the top honeymoon destinations in the Maldives. The reef that encircles Fihalhohi Island, which is home to a plethora of marine life, is one of its outstanding features.
One can experience the marine life on the reef and create lifelong memories thanks to the availability of scuba diving. The best tropical, Balinese, and other international therapies are also offered on this island.
Dream Travel Yaari
Thinking about heading to Maldives? Don't worry about anything other than enjoying too much on your trip when you have Dream Travel Yaari as your trip planner. We are known for our hospitality and most effective planning g. DTY makes sure that our clients get the top level satisfaction and enjoyment on their tours.
Contact Details
Name: Dream Travel Yaari
Phone No.:+91 9662696269, +91 9625524840
Address: E-147 SEC 23-24 MAIN RD, Punjab Rolling Chowk, Haryana, Faridabad, India, 121004
Email: [email protected]