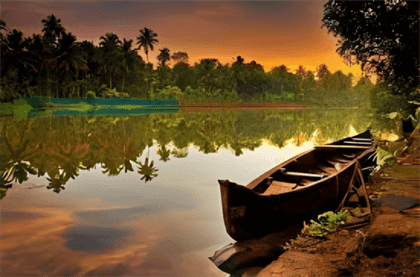 08
Aug
Top 10 Summer Destinations In South India
Aug 08,2023
Top 10 Summer Destinations In South India - Summer is the perfect time to embark on a journey and explore the beautiful landscapes and vibrant cultures that South India has to offer. From tranquil beaches to misty hill stations, South India boasts a diverse range of destinations that are perfect for a memorable summer getaway. In this article, we will take you through the Top 10 Summer Destinations In South India, each offering a unique experience and a respite from the scorching heat.
---
While these top 10 summer destinations in South India are well-known and popular for a reason, there are also hidden gems waiting to be discovered. If you're an adventurous traveler looking to go off the beaten path, consider exploring lesser-known destinations like Araku Valley in Andhra Pradesh or Wayanad in Kerala. These unexplored havens offer a unique and intimate experience, away from the crowds, allowing you to connect with nature and local culture on a deeper level. So, whether you're a seasoned traveler or a first-time explorer, South India has a plethora of options to cater to your summer wanderlust.
Top 10 Summer Destinations In South India
Munnar: The Hill Station Haven
Munnar, nestled in the Western Ghats, is a picturesque hill station that comes alive during the summer months. With its lush tea gardens, mist-covered hills, and pleasant climate, Munnar offers a serene escape from the heat.
Goa: The Beach Paradise
Goa needs no introduction. Its stunning beaches, vibrant nightlife, and water sports make it a popular summer destination. Whether you're a party enthusiast or seeking relaxation by the sea, Goa has it all.
Ooty: Queen of the Nilgiris
Ooty's cool climate and scenic beauty have earned it the title of "Queen of Hill Stations." The Nilgiri Mountain Railway, lush gardens, and serene lakes make Ooty a perfect summer retreat.
Pondicherry: Where Tranquility Meets Culture
Pondicherry, with its French colonial charm and tranquil ambiance, is an ideal destination for those seeking a mix of culture and relaxation. Explore the vibrant streets, indulge in delectable cuisine, and unwind by the azure waters.
Coorg: The Scotland of India
Coorg's misty landscapes, coffee plantations, and adventure activities make it a top pick for summer travelers. Immerse yourself in the natural beauty and enjoy activities like trekking and river rafting.
Kodaikanal: The Gift of the Forest
Kodaikanal's enchanting forests, pristine lakes, and pleasant weather create a magical atmosphere. Whether you're boating on the lake or exploring the Coaker's Walk, Kodaikanal promises a rejuvenating experience.
Alleppey: The Backwater Bliss
Alleppey's intricate network of backwaters, houseboats, and serene paddy fields offer a unique summer experience. Drift along the tranquil waters, relishing the natural beauty and tranquility.
Hampi: Where History Comes Alive
For history enthusiasts, Hampi's ruins and ancient temples are a treasure trove. The rocky landscapes and architectural wonders provide an immersive journey back in time.
Andaman and Nicobar Islands: Tropical Paradise
The Andaman and Nicobar Islands boast stunning beaches, crystal-clear waters, and vibrant marine life. Snorkeling, diving, and beachcombing are just a few of the activities you can enjoy in this tropical paradise.
Kanyakumari: Where Oceans Converge
Kanyakumari's unique location at the southernmost tip of India offers breathtaking views of the meeting point of three oceans. The Vivekananda Rock Memorial and pristine beaches are major attractions here.
Conclusion
South India presents an array of captivating summer destinations that cater to every traveler's preference. Whether you're seeking tranquility in the hills, excitement on the beaches, or a journey through history, these destinations have it all. So pack your bags and embark on a memorable summer adventure in the enchanting landscapes of South India.
Frequently Asked Questions
When is the best time to visit South India for a summer vacation?
The best time to visit South India is during the months of April to June, when the weather is pleasant and conducive for travel.
Are these destinations family-friendly?
Absolutely! Many of these destinations offer family-friendly accommodations and activities, making them perfect for a family getaway.
Can I experience water sports in South India?
Yes, places like Goa and Andaman offer a wide range of water sports, including parasailing, jet skiing, and scuba diving.
Are these destinations budget-friendly?
South India offers options for all budgets. From luxury resorts to budget guesthouses, you can find accommodation that suits your wallet.
Is it necessary to book accommodations in advance?
During peak summer months, it's advisable to book accommodations in advance to ensure you have a comfortable stay.