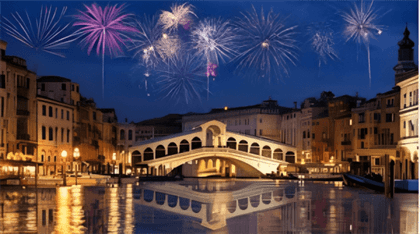 09
Aug
Top 10 New Year Destinations In The World
Aug 09,2023
Top 10 New Year Destinations In The World - As the year draws to a close, people from around the globe eagerly anticipate the arrival of the New Year. It is a time of reflection, celebration, and new beginnings. Many individuals seek to start the year on a positive note by traveling to exciting destinations that offer unforgettable New Year's celebrations. In this article, we will explore the Top 10 New Year Destinations In The World that promise a delightful and memorable experience.
---
New Year's Eve is a momentous occasion celebrated worldwide, marking the transition from one year to the next. It symbolizes hope, resolutions, and the joy of new opportunities. Different cultures have unique ways of celebrating this occasion, making it an incredibly diverse and enriching experience for travelers.
Factors to Consider When Choosing a New Year Destination
Before embarking on a New Year's journey, several factors should be taken into account to ensure a fulfilling experience.
Weather and Climate
Consider the climate of your chosen destination during the New Year. Some prefer a white winter wonderland, while others seek a sunny and warm celebration on a beach.
Budget
Your budget will significantly influence your destination choice. Some cities are more budget-friendly, while others offer luxurious experiences.
Travel Restrictions and Safety Measures
Check for any travel restrictions and safety guidelines related to the ongoing global situation to make informed decisions.
Cultural and Festive Experience
Each destination has its unique cultural traditions and festive events. Choose a place that resonates with your interests and preferences.
Top 10 New Year Destinations in the World
Times Square, New York City, USA
There's nothing quite like celebrating New Year's Eve in the heart of New York City's Times Square. The iconic ball drop, attended by thousands, is a moment of pure excitement and joy.
Sydney, Australia
Sydney welcomes the New Year with a spectacular fireworks display over the Sydney Harbour Bridge and the Opera House, creating a breathtaking sight.
London, England
London offers a vibrant and lively atmosphere, with fireworks lighting up the River Thames and world-famous landmarks as Big Ben strikes midnight.
Tokyo, Japan
In Tokyo, you can experience a blend of ancient traditions and modern festivities. The city comes alive with stunning fireworks and temple bells ringing at midnight.
Paris, France
The City of Love transforms into a dreamy New Year destination with its illuminated Eiffel Tower and celebrations along the Champs-Elysées.
Rio de Janeiro, Brazil
Rio de Janeiro hosts one of the most exuberant New Year's parties on Copacabana Beach, with live music, dancing, and a breathtaking fireworks display.
Dubai, UAE
Dubai's extravagant New Year's celebrations feature stunning firework shows and impressive light displays against the backdrop of its futuristic skyline.
Cape Town, South Africa
Cape Town offers a unique New Year experience with beachside celebrations, live music, and the chance to witness the majestic Table Mountain.
Reykjavik, Iceland
Reykjavik provides a magical setting for New Year's with its natural wonders and fireworks illuminating the night sky in this winter wonderland.
Bangkok, Thailand
Bangkok offers a vibrant and energetic New Year's celebration with street parties, traditional rituals, and colorful fireworks.
Conclusion
The New Year is a time of celebration and reflection, and what better way to embrace the future than by experiencing the diverse and enchanting celebrations across the world. Whether you choose the bustling streets of New York City, the sandy shores of Sydney, or the cultural charm of Tokyo, each destination promises an unforgettable experience to cherish for a lifetime.
Frequently Asked Questions
Q: Are New Year's celebrations safe in the listed destinations?
A: Yes, the listed destinations take safety measures seriously to ensure a secure and enjoyable celebration.
Q: What are some budget-friendly New Year destinations?
A: Bangkok, Cape Town, and Reykjavik are relatively budget-friendly while still offering fantastic celebrations.
Q: Can I witness the Times Square ball drop in New York City for free?
A: Yes, attending the Times Square ball drop is free for all visitors, but it's advisable to arrive early due to the large crowds.
Q: Are the fireworks in Sydney visible from various vantage points?
A: Yes, the Sydney fireworks are visible from multiple locations, including Circular Quay, Darling Harbour, and many city rooftops.
Q: How do I experience the best of Rio de Janeiro's New Year celebrations?
A: Head to Copacabana Beach early to secure a good spot, enjoy live music, and immerse yourself in the vibrant atmosphere.