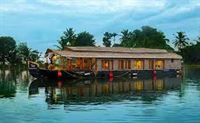 30
May
Top 10 Honeymoon Destinations In July
May 30,2023
Top 10 Honeymoon Destinations In July- It's time for newlyweds to research some of the greatest honeymoon locations in India in July, with thick inky blue clouds, sporadic light rains, and mild breezes everywhere. These locations are nice and engaging, making them ideal for couples looking to take a romantic getaway this monsoon. This blog is about Top 10 Honeymoon Destinations In July.
---
Your honeymoon in India is going to be all about the beautiful settings where you may steal your own private moments with your love, from the rough hills of Ladakh to the lush green valleys of Panchgani.
Top 10 Honeymoon Destinations In July
Here is the list of the Top 10 Honeymoon Destinations In July.
Shimla
One of the most alluring hill towns, Shimla is known for its exquisite blending of natural splendor and British opulence. It is one of the greatest locations in India to travel to for a honeymoon in July because to the mild temperatures, calming breezes, and significantly fewer tourists. It is also one of the most well-liked honeymoon hill stations in India.
Romantic Activities
Take a trip up Jakhu Hill on a date.
Enjoy delicious Tibetan cuisine and traditional coffee at hill view cafes while lounging on the Ridge.
Dalhousie
Dalhousie is one of the top honeymoon places in July in India due to its hypnotic and surreal beauty with the beginning of monsoon season. One of the most breathtaking locations in the foothills of the Himalayas, the area is calm and beautiful. Dalhousie offers a variety of romantic activities that will make your trip special.
Romantic Activities
Try exciting pursuits like zorbing, paragliding, and horseback riding while taking leisurely strolls in Khajjiar.
ascending Dainkund Peak
Explore the route of Kalatop Wild Reserve.
Spend some time relaxing by the Panchpula Falls, which burst into life during the monsoon.
Panchgani
One of the top honeymoon destinations in India in July is the picture-postcard hill town of Panchgani in the state of Maharashtra. This picturesque hill retreat is recognised for its captivating beauty, lush green strawberry orchards, and exceptionally wonderful weather. It is nestled between towering Western Ghats. This location is made charming by the monsoon air, the fresh appearance of the hills after a rain, and the raging Krishna River.
Romantic Activities
Enjoy Sydney Point and Parsi Point's breathtaking views, especially following a little shower.
Go for a stroll in Mapro Garden on a date.
Avoid skipping a stroll around strawberry farms.
Kinnaur
Kinnaur, which is close to the Tibetan border, is well-known for both its delicious red apples and Kinnaur Kailash, the home of Lord Shiva. In Himachal Pradesh's second-least populous district, there is a mixture of Hindu Aryans and Tibetan Buddhists. Its comfortable climate and magnificent scenery help it rank among the best honeymoon destinations in India in July.
Romantic Activities
Walk around the apple orchards while listening to the Satluj River babbling on the banks.
With your loved one, observe the sunset from Mount Kinnaur Kailash.
Wayanad
In July, Wayanad, also referred to as the "land of paddy fields," is one of south India's most romantic locations for honeymooners. With the arrival of the first monsoon rain, the picturesque aspect of the crystal-clear lake, surrounded by the lush green Western Ghats, is enhanced.
Romantic Activities
Visit Meenmutty Waterfalls, Thusharagiri Waterfalls, and Soochipara Falls for a stunning view.
Spend some time along the Papanashini River and travel to Lakkidi View Point and Banasura Hill
Visit Muthanga Wildlife Sanctuary for a thrilling safari and a romantic boat ride on Pookot Lake.
Ladakh

When adventure and romance are equally important to you both, travel to Ladakh for a pinnacle and fantastical romantic experience. Ladakh is one of the most popular honeymoon destinations in July thanks to the mild temperatures and beautiful surroundings, which make it the perfect season for hiking and camping.
Romantic Activities
Enjoy the paradisiacal appeal of Magnetic Hill, Khardung La Pass, Pangong Lake, Zanskar Valley, and Nubra Valley.
Enjoy a romantic getaway at Tso Moriri Lake.
Enjoy mountain biking with your significant other and dine under the stars while camping for a deliciously romantic experience.
Gangtok
The north-eastern city of Gangtok is a jewel recognised for its wonderful scenery, adventures, and cuisine. As the monsoon approaches, the lush green valley, snow-capped hills, and glittering lakes all appear sharper and more stunning. With so much beauty, it is undoubtedly among the top places in India to travel for a honeymoon in July. Additionally, since it's the off-season, couples looking to unwind are drawn to July.
Romantic Activities
Yak safaris, mountain biking, trekking, and paragliding are examples of adventurous activities
rafting on the Teesta River
Experience a beautiful sunset at Tashi View Point.
Tawang
Tawang, tucked away at 10,000 feet above sea level, is one of India's most alluring honeymoon destinations in July. Arunachal Pradesh's gorgeous honeymoon locale is home to colourful monasteries and opulent settings. Tawang offers a wide variety of other activities that you can partake in. Light showers in July enhance Tawang's natural attractiveness. Sitting on your room's balcony, you would enjoy watching the low clouds and the vibrant flowers all around you.
Romantic Activities
Couples can stroll around Paradise Lake, Pankang Teng Tso Lake, and Nuranang Waterfall in the cool, breezy weather.
Enjoy a breathtaking and romantic helicopter journey to see the small hamlet covered in rain.
Keylong
In July, Keylong, India, one of the most beautiful and outstanding places for a honeymoon, is the land of monasteries. After a rain, the vivid and velvety green valleys appear even greener and more delightful. Keylong is the perfect location for a July honeymoon because of its stunning mountains and valleys.
Romantic Activities
A passionate stroll along River Chandra
the Pin Valley National Park visit
Every couple should take a trip to Deepak Tal and Suraj Tal, two breathtaking lakes, around the time of year when the ice on the lakes starts to melt.
Goa
Goa, a location that is frequently linked with the coastline and beaches, is more than that. Goa, one of the top honeymoon places in India in July, enables couples to experience an exceptionally romantic honeymoon. Since Goa is off-season, you have the ideal amount of seclusion, which ultimately makes it romantic and serene. Hand in hand, you can stroll along the deserted beaches as the raindrops shower you both.
Romantic Activities
A passionate stroll around the rocky coastline
The most beautiful waterfalls ever
Discover Panji's mangrove woodlands.
Conclusion
With this extensive breakdown of the top honeymoon destinations in India for July, it's time to plan your incredibly passionate and unforgettable vacation. Make sure to reserve your honeymoon vacation with Dream Travel Yaari so you don't face any difficulties.
Frequently Asked Questions about Best Honeymoon Destinations in July
Which Indian city is the most romantic for a honeymoon?
One of the most seductive cities in India for a honeymoon is Udaipur. But the locations on the aforementioned list are also perfect for a romantic honeymoon in July.
Is Ooty a nice location for a July honeymoon in India?
Ooty is undoubtedly one of the most lovely honeymoon destinations in India in July. If you enjoy taking in the natural beauty, stunning sunsets, and captivating scenery, keep this in mind.
Which location—Shimla or Manali—is better for a honeymoon?
For a relaxing honeymoon, Shimla and Manali are both excellent choices. Both locations have advantages, although Shimla has more visitors overall.