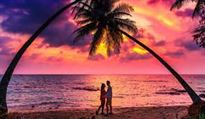 17
Aug
Top 10 Honeymoon Destinations In India For Couples
Aug 17,2023
Top 10 Honeymoon Destinations In India For Couples - Congratulations! You've tied the knot, and now it's time to embark on a romantic journey with your partner. India, with its diverse landscapes and rich cultural heritage, offers a plethora of honeymoon destinations for couples seeking unforgettable experiences. From serene beaches to lush hill stations, India has something for every type of couple. In this article, we will explore Top 10 Honeymoon Destinations In India For Couples that promise to create memories to cherish for a lifetime.
---
Hope this blog helps you decide the right Honeymoon Destinations In India For you!
Top 10 Honeymoon Destinations In India For Couples
Here is the list of Top 10 Honeymoon Destinations In India For Couples. Make sure to check these out for your next trip.
Goa - The Beach Paradise
Goa, known for its sun-kissed beaches and vibrant nightlife, tops the list of honeymoon destinations in India. Picture yourself strolling hand in hand with your loved one along the sandy shores, enjoying a romantic sunset. The beach shacks and water sports activities add excitement to your romantic escapade.
Kerala - The Backwater Retreat
Kerala's backwaters offer a serene and idyllic setting for couples seeking tranquility. A houseboat cruise through the winding backwaters surrounded by lush greenery is a dreamlike experience. Don't miss indulging in authentic Kerala cuisine while enjoying the stunning vistas.
Shimla - The Queen of Hills
For couples who adore the snow-capped mountains and chilly weather, Shimla is a perfect choice. This hill station in Himachal Pradesh boasts colonial charm and breathtaking views. Take a leisurely walk on Mall Road, hand in hand, or explore the nearby attractions like Kufri and Chail.
Andaman and Nicobar Islands - The Tropical Delight
If you and your partner are adventure enthusiasts, the Andaman and Nicobar Islands offer a mix of thrilling water sports and secluded beaches. Dive into the crystal-clear waters to witness the vibrant marine life and coral reefs, or simply relax on the pristine beaches with your loved one.
Udaipur - The City of Lakes
Udaipur, often called the "Venice of the East," is a city of romance and royalty. The stunning lakes, majestic palaces, and intricate architecture create an enchanting atmosphere. Take a boat ride on Lake Pichola and visit the City Palace for an awe-inspiring experience.
Darjeeling - The Tea Garden Haven
Nestled in the lap of the Himalayas, Darjeeling is renowned for its tea gardens and panoramic views of the mountains. The toy train ride, which passes through lush greenery, is a delightful way to explore the region with your partner.
Agra - The Symbol of Love
Agra, home to the iconic Taj Mahal, symbolizes eternal love. Witness the grandeur of this architectural marvel with your significant other and feel the romance in the air. Don't forget to explore other historical gems in the city, such as Agra Fort and Fatehpur Sikri.
Rishikesh - The Adventure Hub
For couples seeking an adrenaline rush, Rishikesh is the place to be. Known as the "Yoga Capital of the World," Rishikesh offers a plethora of adventurous activities like river rafting, bungee jumping, and trekking.
Jaipur - The Pink City
Jaipur, with its vibrant culture and majestic forts, is an excellent choice for a royal honeymoon experience. Explore the rich history of the city by visiting Amber Fort, Hawa Mahal, and City Palace.
Munnar - The Hillside Retreat
Situated in Kerala, Munnar is a hill station known for its tea estates, misty mountains, and pleasant climate. Walk hand in hand with your partner amidst tea plantations and enjoy the serene beauty of nature.
Conclusion
India offers an array of diverse and enchanting honeymoon destinations that cater to every couple's preferences. Whether you seek the serenity of beaches, the charm of hill stations, or the grandeur of historical monuments, India has it all. So, pack your bags and get ready for an unforgettable journey of love and togetherness.
FAQs
Q: When is the best time to visit India for a honeymoon?
A: The best time for a honeymoon in India is during the winter months, from October to March, when the weather is pleasant in most parts of the country.
Q: Are there any offbeat honeymoon destinations in India?
A: Yes, some lesser-known destinations like Coorg, Tirthan Valley, and Khajjiar offer unique and intimate experiences for honeymooners.
Q: Is it safe for foreign tourists to travel to India for a honeymoon?
A: Yes, India is generally safe for tourists, including honeymooners. However, like any other destination, it's essential to take necessary precautions and stay informed about the local customs.
Q: What are some romantic activities to do in Goa?
A: Couples can enjoy a romantic dinner by the beach, take a sunset cruise, or indulge in a couples' spa session in Goa.
Q: Are there any luxury resorts in Udaipur for a lavish honeymoon experience?
A: Yes, Udaipur has some luxurious heritage hotels and resorts that offer a regal and opulent stay for honeymooners.