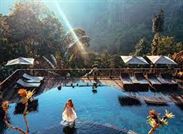 28
Jun
Top 10 Honeymoon Destinations In February
Jun 28,2023
Top 10 Honeymoon Destinations In February - With the onset of the wedding season, families get busy in planning rituals, last-minute shopping, and invitation dispersal. And the lovebirds? Well, they start dreaming about their fanciful honeymoon. And for those who wish to plan their honeymoon around the Valentine's Day, a visit to some of the best honeymoon destinations in February will be a splendid experience. Here's a list of the Top 10 Honeymoon Destinations In February. The list is a perfect blend of Indian as well as international destinations. Check it out!
---
If you're looking or the best honeymoon destinations in February, then the places discussed below will be ideal for you. These places are great for visiting for your Honeymoon and you will get to spend some of the best hours here.
Top 10 honeymoon destinations in February
These are some of the best Honeymoon Destinations for you to visit in the month of February. Hope you find it useful.
Goa
Goa, a picture postcard destination, is a honeymooner's paradise and one of the best honeymoon places in February. With its beach parties, romantic beach walks, sunbathing options, watersports, and pleasant weather during late winters, it is ranked among the top 10 honeymoon destinations in India in February for a romantic kick-start. Did we mention that the honeymoon resorts in Goa are simply stunning?
Things To Do: Enjoy a cruise or floating tent, go for a beach alfresco dinner date, try camping & bonfire, and indulge in some adventurous watersports
How To Reach: The quickest and best way to reach Goa is via an airplane. Goa International Airport is well-connected with the rest of the world via airways. One can also board a train till Vasco Da Gama for those who are on a budget-crunch.
Udaipur
Udaipur is among the top top honeymoon destinations in February for all the lover birds. Known as the "Kashmir of Rajasthan" and the "Venice of the East", this vibrant and culturally rich city make a perfect honeymoon destination to visit during winter. From sailing on the calm waters of Lake Pichola to witnessing a glorious sunset from the lush hills, there are so many romantic things one can try here.
Things To Do: Go on a romantic boat ride on Lake Pichola and explore the romantic and gorgeous architectural beauties like Lake Palace, City Palace, Jagmandir etc.
How To Reach: One can either take an airplane till the domestic airport of Udaipur or board a train till the local railway station.
Andaman Islands
May it be the famous sunset at the Chidiya Tapu or the historical cellular jail, Andaman has got a lot in store for all the love birds to give a soul-stirring experience! Andaman is that one place you cannot miss out on while planning your honeymoon! Head here to soak in the stunning sunset with your beloved.
Things To Do- Water Sports like Snorkeling, Surfing, and deep sea diving.
How To Reach: The easiest and the quickest way to travel to Andaman is by taking a flight, The best connectivity to Port Blair Airport is with Delhi, Kolkata, Bangalore, Mumbai, and Chennai.
New Zealand
New Zealand is known for its cascading waterfalls, deep creeks, hot water fountains, blistering geysers, thrilling wilds, sun-kissed beaches, and sparkling glaciers. All of this certainly makes it among the best honeymoon places in world in February. Some couples have even called in the best place for honeymoon in world in February. It is a place where you can enjoy romantic thrills, soak in eternal love while hanging around, or indulge in relaxation in thermal pools.
Things To Do: Take a dip in the thermal pools, try skiing & skydiving, or go for a whale watching tour
How To Reach: New Zealand is home to three major international airports namelu Auckland, Christchurch, and Wellington International Airports. These airports are well connected with the major parts of the world and hence, turns out to be the best way to reach New Zealand.
Mauritius
Mauritius is a stunning and charming honeymoon destination. It is known for its nearly transparent lagoons, awesome resorts, sparkling beaches, coral islands, and classy bars & shacks. And the stunning Mauritius honeymoon beach resorts make it one of the most desired places for honeymoon in February.
Things To Do: Wine & dine at Ile aux Cerfs island, pamper yourself at a Mauritian spa, try sky diving & parasailing and hire a car for a romantic drive from Pamplemousse towards Pieter Both
How To Reach: One can either reach Mauritius by a plane or cruise. The best and the quickest way is to board a flight from major cities of India till the Sir Seewoosagur Ramgoolam International Airport.
Phuket
Phuket sparkles with sizzling golden beaches, lush green highlands, vibrant shores, busting shacks, and cultural extravaganza. All these elements, along with your unending shower of love, will surely make Phuket one of the best places to go for honeymoon in February.
Things To Do: Relax on the beaches, explore the floating village, indulge in watersports, sunbathe, take a 2-sea canoe tour, and go island hopping
How To Reach: Phuket is home to the second busiest international airport in Thailand, Phuket International Airport. After reaching the airport, one can easily find taxis and cabs to reach their desired location.
Sri Lanka
Sri Lanka is a very colorful & romantic option for couples getting married in Feb. Do not forget to visit its sun-kissed beaches, Nuwara Eliya, Yala National Park, and Habarana on your romantic Sri Lanka honeymoon tour.
Things To Do: Go for dolphin & whale spotting together, take a romantic dinner of the one of the best beaches in Sri Lanka, ride in a canoe boat with your partner, and stroll hand-in-hand through the tea plantations to the Little Adam's Peak
How To Reach: The easiest and the quickest way to reach Sri Lanka is by taking a flight from India till Colombo. Most flights arrive in Sri Lanka on the same day itself.
Vietnam
The place will endow the newlyweds with the immense natural beauty of its beaches, mountains, lakes, and creeks that will help love bloom at its fullest. Imagine sitting by the beach or on the cliff of the mountain savoring jaw-dropping views of the country with your bae! Sounds awe-inspiring, right?
Things To Do: Go kayaking in the Halong bay, cruise through the Mekong Delta, bike through Muong Hoa Valley, and enjoy musical performances at Saigon Opera House
How To Reach: The best way to travel to Vietnam is by taking a flight. It might be a little expensive but it is the only way to reach from India. The best airport out of the three sitting in Vietnam is the Ho Chi Minh City Airport.
Bhutan


Bhutan is a place you cannot miss out on while looking for the best international honeymoon destinations in February! The natural beauty of best destinations for honeymoon in Bhutan such as Paro Valley, Thimphu, and Punakha will surely fascinate you.
Things To Do: Explore the various tourist places in Bhutan, enjoy the cultural vibe together, attend the Losar festival, and go trekking
How To Reach: To reach Bhutan, one can either take a bus, a taxi, a train, or a plane. It is well-connected with all the major cities of the country by all modes of transport.
Conclusion
These destinations offer a combination of natural beauty, romantic settings, and unique experiences, making them top choices for a memorable honeymoon in February. Ultimately, the best destination will depend on personal preferences and interests as each offers its own distinct charm.


Frequently Asked Questions
Is Vietnam a suitable location for a February honeymoon?
One of the wonderful honeymoon places in February is Vietnam. Enjoy the stunning beaches, mountains, and lakes' unspoiled natural splendour. Go kayaking in Halong Bay, take a boat in the Mekong Delta, or bike through Muong Hoa Valley if you and your partner are feeling brave.
What are Sri Lanka's most romantic locations for a honeymoon?
Sri Lanka is an exotic honeymoon destination with lots of colour. Visit the sun-kissed beaches, Yala National Park, Nuwara Eliya, and Habarana on a romantic honeymoon tour of Sri Lanka.
What time of year is ideal for a honeymoon in New Zealand?
New Zealand's summer months are ideal for honeymooning. Beginning in December, it lasts through the month of February. The weather is generally pleasant around this time.
How long should a honeymooner spend in Udaipur?
One of the most well-known honeymoon destinations in India, Udaipur provides a variety of romantic activities. For the finest possible honeymoon experience, combining leisure time, romantic destinations, and special activities, four days is the ideal amount of time.