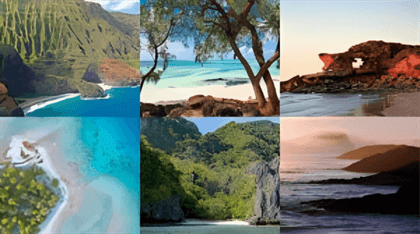 09
Aug
Top 10 Beach Destinations In The World
Aug 09,2023
Top 10 Beach Destinations In The World - Are you dreaming of the perfect beach vacation? Picture yourself lounging on soft, sandy shores, with crystal-clear turquoise waters stretching as far as the eye can see. Look no further because we have compiled a list of the Top 10 Beach Destinations In The World that will fulfill your beach getaway dreams.
In this comprehensive guide, we dive into the top 10 beach destinations that promise not just a vacation, but an unforgettable odyssey of relaxation, adventure, and exploration. Whether you're seeking romance, family fun, or a solo escapade, these pristine shores will captivate your heart and soul. So, pack your swimsuit, grab your sunscreen, and get ready for a virtual tour of the world's most captivating coastal treasures.
Top 10 Beach Destinations In The World
Bora Bora, French Polynesia
Bora Bora, often referred to as the "Pearl of the Pacific," is a tropical paradise in French Polynesia. This idyllic destination offers luxurious overwater bungalows and stunning coral reefs for snorkeling and diving enthusiasts. The turquoise lagoon and lush mountains provide a breathtaking backdrop for a truly memorable vacation.
Things to do-
Enjoy an unforgettable sunset cruise on the lagoon.
Snorkel or dive in the crystal-clear waters to explore the vibrant marine life.
Take a helicopter tour for a breathtaking aerial view of the island.
Maldives
The Maldives is a group of exotic islands known for its unparalleled beauty and luxury resorts. With its powdery white sands, vibrant marine life, and overwater villas, the Maldives offers a truly unique and romantic experience for travelers seeking a serene beach escape.
Things to do-
Go on a romantic sunset dolphin cruise.
Indulge in a relaxing spa treatment in an overwater bungalow.
Try out various water sports like snorkeling, kayaking, and paddleboarding.
Maui, Hawaii
Maui, one of Hawaii's most popular islands, is renowned for its diverse landscapes and stunning beaches. Whether you want to relax on the golden beaches of Wailea, explore the lush landscapes of Hana, or witness the sunrise from Haleakalā National Park, Maui has something for everyone.
Things to do-
Drive the scenic Road to Hana, passing waterfalls and lush landscapes.
Catch the sunrise from the summit of Haleakalā volcano.
Learn to surf on the famous waves of Maui's beaches.
Seychelles
Seychelles, an archipelago in the Indian Ocean, boasts some of the world's most pristine beaches. With its granite boulders, lush vegetation, and turquoise waters, Anse Source d'Argent on La Digue Island is a favorite among photographers and travelers seeking picture-perfect beauty.
Things to do-
Explore the Vallée de Mai Nature Reserve to see the rare coco de mer palm.
Visit Anse Lazio, one of the most stunning beaches in the world.
Take a boat tour to discover neighboring islands and their unique charm.
Bali, Indonesia
Bali, known as the "Island of the Gods," is a beach paradise in Indonesia. Besides its sandy beaches, Bali offers unique cultural experiences, vibrant nightlife, and lush rice terraces. Visit Uluwatu Temple, catch a wave in Kuta, or relax in the tranquil beaches of Nusa Dua.
Things to do-
Visit the iconic Uluwatu Temple and watch the traditional Kecak dance.
Trek through the stunning rice terraces in Ubud.
Experience a traditional Balinese cooking class.
Cancún, Mexico
Cancún, located on the Yucatán Peninsula of Mexico, is famous for its stunning beaches and vibrant atmosphere. From the energetic nightlife in the Hotel Zone to the ancient Mayan ruins in Tulum, Cancún offers a blend of relaxation and adventure.
Things to do-
Visit the Mayan ruins of Chichen Itza, one of the New Seven Wonders of the World.
Take a day trip to the nearby Isla Mujeres for snorkeling and relaxing on the beach.
Explore the underwater museum, MUSA, while diving or snorkeling.
Santorini, Greece
Santorini, a Greek island in the Aegean Sea, is renowned for its dramatic cliffside villages and stunning sunsets. With its black sand beaches, blue-domed churches, and charming villages, Santorini is a postcard-perfect destination.
Things to do-
Witness the famous Santorini sunset from Oia or Fira.
Visit the ancient ruins of Akrotiri, a well-preserved Minoan Bronze Age settlement.
Savor the local cuisine and try traditional dishes like moussaka and baklava.
Phuket, Thailand
Phuket, Thailand's largest island, offers an irresistible blend of beautiful beaches, vibrant nightlife, and cultural attractions. Whether you're looking to party in Patong, explore the Phi Phi Islands, or simply unwind in the serene beaches of Kata and Karon, Phuket has it all.
Things to do-
Take a speedboat tour to Phi Phi Islands for snorkeling and beach hopping.
Visit the Big Buddha, a revered landmark overlooking the island.
Experience the vibrant nightlife at Patong Beach's Bangla Road.
Fiji
Fiji, an archipelago in the South Pacific, welcomes visitors with warm hospitality and pristine beaches. Diving enthusiasts will be delighted by the diverse marine life, while those seeking relaxation will find solace in the luxurious beach resorts.
Things to do-
Go on a Fijian village tour to learn about the local culture and traditions.
Embark on a catamaran cruise to explore the Yasawa Islands' pristine beaches.
Dive or snorkel in the Rainbow Reef, known for its colorful coral formations.
Gold Coast, Australia
The Gold Coast in Australia is a playground for beach lovers and adventure seekers alike. Known for its golden beaches, thrilling theme parks, and vibrant surf culture, the Gold Coast promises an action-packed beach vacation.
Things to do-
Experience the adrenaline rush at the Gold Coast theme parks, such as Dreamworld and Sea World.
Relax on the famous beaches of Surfers Paradise and Burleigh Heads.
Take a scenic hot air balloon ride over the Gold Coast hinterland.
These activities will undoubtedly enhance your experience and make your beach vacation truly memorable in any of these fantastic destinations.
Conclusion
When it comes to the top beach destinations in the world, these 10 locations stand out for their natural beauty, unique experiences, and unforgettable memories they offer to travelers. Whether you seek serenity or adventure, a trip to any of these breathtaking destinations will undoubtedly be a dream come true.
Frequently Asked Questions about
What is the best time to visit Bora Bora, French Polynesia?
The best time to visit Bora Bora is during the dry season, from May to October, when the weather is more predictable and the waters are calmer.
Are the Maldives suitable for families?
Yes, the Maldives cater to all types of travelers, including families. Many resorts offer family-friendly amenities and activities.
How can I get around Maui, Hawaii?
Renting a car is the most convenient way to explore Maui, but there are also public buses and guided tours available.
Do I need a visa to visit the Seychelles?
Most travelers can obtain a visa upon arrival in Seychelles. However, it's essential to check the latest visa requirements before traveling.
Is Bali suitable for solo travelers?
Yes, Bali is a popular destination for solo travelers. It offers a welcoming and vibrant atmosphere, making it easy to meet fellow travelers.