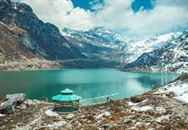 17
Jan
Sikkim Honeymoon Package
Jan 17,2023
Sikkim Honeymoon Package- Sikkim is a destination that newlyweds should consider going to because of its natural beauty, including its snow-capped mountains, panoramic views, free-flowing rivers, and lush greenery. Sikkim also has a romantic atmosphere and a wide range of entertainment options where you can spend romantic time with your spouse. You may learn more about the ideal Sikkim Honeymoon Package from this site.
---
Take your girlfriend over the rainbows and across the gloomy city skies to the magnificent northeastern treasure. For many years, Sikkim has been a refuge for honeymooners looking to disappear in the tranquilly and seclusion of the northeastern Himalayas. This hill state's cities and villages are painted in various hues by the changing seasons, giving them a mysterious and gorgeous appearance unmatched anywhere else in the country.
FAQs about
Sikkim Honeymoon Package
How many days should be allocated to a honeymoon trip to Sikkim?
The optimum trip schedule for a honeymoon in Sikkim would be 6 to 7 days. In a week, you may easily visit all the key areas in Sikkim and yet find time for some quality "we-time" in peace.
When does Sikkim get snow?
The ideal time to travel to Sikkim with family and friends is from April to June. The Himalayan Range can be clearly seen by travelers during the autumn (October and November) season. Visitors who enjoy snowfall might travel to Sikkim between December and February to experience it.
Which time of year is unsuitable for a vacation to Sikkim?
The monsoon season in the state is defined by the time from July to September. Rainfall in the area ranges from light to heavy, making it one of the least desirable periods to travel around Sikkim.
Best Time For Honeymoon In Sikkim
A year-round vacation spot is Sikkim. It has five seasons, and each of them is mystical and lovely. Over the course of the year, various tourist types are drawn to different seasons. Learn when it would be ideal for you to visit Sikkim. The options you have for the ideal time to visit this location will astound you. View this:
Winter (December to February): These are unusually chilly months in Sikkim, with morning and nighttime lows of just 4°C. Sikkim rarely receives snowfall. Despite this, most tourist destinations are reachable.
Despite being a little chilly, the months of March and April are ideal for seeing Sikkim. Despite the continued clear skies, Kanchenjunga and other snow-covered mountains can be seen beautifully. It's a fantastic time to go sightseeing and engage in adventurous activities like hiking and trekking. In Sikkim, it is also prime time.
the months of May and June): During the day, Sikkim's temperature stays about 22°C. Days can occasionally grow warm but comfortable. At night, you'll want to wear light winter clothing. It makes sense to spend your honeymoon in Sikkim in May with such a pleasant temperature.
Even though Sikkim appears very stunning during the monsoon season (July to September). For tourists, landslides make travel hazardous. During these times, some of the best celebrations, including Drukpa Tsheshi and Durga Puja, are held.
The greatest time to visit Sikkim is in the fall, from October to November. The autumn months feature exceptionally favourable weather. Towns and villages change colour to orange and red. Additionally, it's the ideal time to attempt activities like river rafting, yak safaris, and paragliding. The ideal time to visit Sikkim for newlyweds is now.
Best Places To Visit During Honeymoon In Sikkim
In Sikkim, there are numerous species of plants and animals. Everyone can find something to enjoy at the location, including shoppers, nature lovers, history fans, and photography enthusiasts. Your honeymoon will be magical in Sikkim, which is a wonderful location. Check out the following list of the top 9 honeymoon destinations in Sikkim for 2022:
Zuluk: Marvellous Beauty
Zuluk, a tiny hamlet perched at an amazing elevation of 10,000 feet, is one of the best spots to visit in Sikkim. It is a fairly recent tourist attraction close to the Indo-Tibetan border. Visitors looking for a romantic getaway often make their way to this small community. From here, one can see Kanchenjunga and the stunning Eastern Himalayan mountain range. The Sikkimese people's warmth and friendliness will astound you.
Tsomgo Lake: Serenely Pure
For couples seeking adventure, Tsomgo Lake is one of Sikkim's top honeymoon spots. Tsomgo Lake is a stunning lake with a sheer cliff that offers views of snow-covered peaks and lush pastures at a height of 12,400 feet. The lovely Primula blooms that surround the lake in late spring make it an excellent location for your honeymoon photos. Couples can also explore the area around the lake while riding on exquisitely adorned yaks. Avoid throwing trash close to the water.
Pelling: Wild Waterfalls
The charming tiny village of Pelling is renowned for its stunning views of the imposing Kanchenjunga range, Kabru, Rathong, and Pandim. This is one of the best honeymoon spots in Sikkim for couples looking for a tranquil and picturesque setting, located about 115 miles from Gangtok. The historic Pemayangtse monastery is also accessible; it is located about a kilometre from Pelling. By taking your significant other to this lovely monastery, you may take a trip back in time.
Ravangla: Incredibly Gorgeous
Everyone planning a honeymoon in Sikkim needs to go to Ravangla. Ravangla, one of Sikkim's most well-liked tourist destinations, is located on a ridge between Maenam and Tendong Hill and offers breathtaking views of the Greater Himalayas. If your journey is scheduled for August or September, you absolutely must go to the distinctive and vibrant Pang Lhabsol festival. Take part in these celebrations to fully comprehend Sikkim's traditions and customs.
Dream Travel Yaari
If you want your Honeymoon to be fun, adventurous and romantic instead of all hectic and spent worrying about organizing everything, then Dream Travel Yaari is the best place for you. DTY has the best honeymoon Packages for you, at the most affordable prices. You do not have to worry about anything on the best time of your life.
Contact us now to know more about Sikkim Honeymoon Packages.
Contact Us
Mobile - +91 8285062900, +91 9662696269
E-mail- [email protected]
Website- www.dreamtravelyaari.com