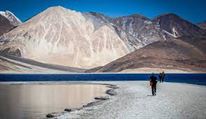 19
Jan
Leh Ladakh Tour Package from Kolkata
Jan 19,2023
Leh Ladakh Tour Package from Kolkata-Leh Ladakh, located in the northernmost region of India, is a land of breathtaking landscapes and rich culture. From the snow-capped peaks of the Himalayas to the barren deserts and serene lakes, Ladakh has something to offer for every traveler. And what better way to experience it all than with a Leh Ladakh tour package from Kolkata?
---
Our Kolkata to Ladakh tour package is designed to give you a complete and unique experience of this beautiful region. From the moment you land in Kolkata, we take care of all your travel arrangements, including your flight to Leh, accommodation, and transportation.
About Leh Ladakh Tour Package from Kolkata
As you journey through Ladakh, you'll have the opportunity to visit some of the most iconic and beautiful places in the region. You'll start your tour in Leh, the capital of Ladakh, where you'll have time to explore the local market and learn about the traditional way of life in the region. From there, you'll head to the famous Pangong Lake, a serene high-altitude lake that straddles the border between India and China. You'll also visit the Khardung La Pass, which at 18,380 feet, is the highest motorable road in the world.
In addition to these natural wonders, you'll also have the opportunity to learn about Ladakh's rich cultural heritage. You'll visit ancient monasteries, such as the Hemis Monastery and the Thiksey Monastery, where you'll learn about the history of Buddhism in the region and have the chance to observe traditional religious practices.
Dream Travel Yaari
For the best Leh Ladakh Tour Package from Kolkata, contact Dream Travel Yaari. We have the best tour packages at the best prices. We make sure that our customers get the best services and we have something great for everyone.
In short, our Kolkata to Ladakh tour package is an ideal way to experience the best of what this beautiful region has to offer. With our expert guide, comfortable accommodation, and all-inclusive travel arrangements, you can sit back, relax, and enjoy the journey. Don't miss out on the chance to explore the majestic beauty of Leh Ladakh, book your tour package today!
Frequently Asked Questions about Leh Ladakh Tour Package from Kolkata
Q: What is included in the Leh Ladakh tour package from Kolkata?
A: Our tour package includes flight from Kolkata to Leh, accommodation, transportation, guided tours, and outdoor activities such as trekking, mountain biking, and river rafting.
Q: How long is the tour package?
A: The duration of the tour package can vary, but it typically ranges from 8 to 10 days.
Q: What is the best time to visit Ladakh?
A: The best time to visit Ladakh is between June and September, when the weather is mild and the roads are open.
Q: Do I need any special permits to visit Ladakh?
A: Yes, certain areas of Ladakh require special permits, which will be arranged by our tour company.
Q: Is there a minimum age requirement for the tour?
A: No, there is no minimum age requirement, but please keep in mind that the tour may include activities that are physically demanding.
Tips for Leh Ladakh Tour Package from Kolkata
Acclimatize yourself: Ladakh is located at a high altitude, so it's important to take the time to acclimatize yourself before embarking on any strenuous activities.
Pack appropriately: Ladakh has a harsh and unpredictable climate, so be sure to pack warm clothing, a good quality jacket, gloves, and a hat, as well as sunscreen and sunglasses.
Be respectful of the local culture: Ladakh has a rich and unique culture, so be sure to be respectful of the local customs and traditions.
Carry cash: Ladakh is a remote region, so it's important to carry enough cash as credit card facilities are limited.
Drink plenty of water: With the high altitude, it's essential to stay hydrated. Drink plenty of water to avoid altitude sickness.
Get a permit: Certain areas in Ladakh require a permit, so be sure to check in advance and arrange for it.
Be aware of the political situation: Ladakh is a disputed territory, so be aware of the current political situation and avoid sensitive areas.
Make a plan and stick to it: Plan your trip in advance and stick to your itinerary to make the most of your time in Ladakh.
Take care of your health: The high altitude and harsh climate can take a toll on your health, so be sure to take care of yourself and seek medical attention if necessary.
Be prepared for the unexpected: Ladakh is a remote and rugged region, so be prepared for the unexpected and always have a backup plan.