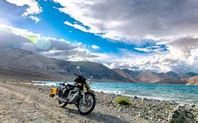 14
Feb
Leh ladakh Bike Tour Package From Delhi
Feb 14,2023
Leh ladakh Bike Tour Package From Delhi- Ladakh is a breathtaking region in India that is known for its stunning natural beauty and rich cultural heritage. There are many must-visit places in Ladakh. The capital of Ladakh, Leh is a fascinating mix of ancient Buddhist culture and modern amenities. Some of the must-visit places in Leh include the Leh Palace, Shanti Stupa, and the Sankar Gompa. Let's us take a look at Leh Ladakh Bike Tour Package From Delhi.
---
These are just some of the many places to visit in Ladakh, and the region has something to offer for everyone, whether you're interested in history, culture, or outdoor adventures.
Best Time for Leh Ladakh Bike Tour Package From Delhi
The best time to visit Ladakh depends on what you're looking to experience and enjoy in this region. Here are some general guidelines to help you decide:
Summer (April to June): This is the most popular time to visit Ladakh, as the weather is warm and sunny, making it ideal for outdoor activities and sightseeing. The temperature ranges from 20°C to 30°C during the day and can drop to below freezing at night.
Monsoon (July to September): Ladakh experiences very little rainfall, and the monsoon season is not an ideal time to visit. The skies can be cloudy, and some roads may be blocked due to landslides.
Autumn (October to November): This is another popular time to visit Ladakh, as the weather is mild and the skies are clear. The fall foliage in the surrounding mountains provides a beautiful backdrop to the region.
Winter (December to March): Winter is the harshest time to visit Ladakh, as the temperature can drop to well below freezing, making it difficult to travel and engage in outdoor activities. However, if you're interested in winter sports, this is a good time to visit the region for snowboarding and skiing.
No matter when you go to Ladakh, you should be ready for the weather to change and pack appropriately. For the most recent details on the state of the roads, the weather, and any other pertinent travel advice, it's also a good idea to contact nearby tour companies or the tourism office.
Dream Travel Yaari
Dream Travel Yaari offers a Leh Ladakh Bike Tour package from Delhi, which allows you to explore the breathtaking beauty of Ladakh on a motorcycle. The tour covers some of the most popular tourist destinations in Ladakh, such as the Leh Palace, Shanti Stupa, Pangong Tso Lake, and many more.
The exact details of the tour, such as the duration, the type of bike provided, the level of support, and the quality of accommodation, may vary. However, you can expect a comprehensive and unforgettable experience as you take in the stunning scenery, rich culture, and unique local experiences that Ladakh has to offer.
If you're interested in this tour package, it's best to contact Dream Travel Yaari directly for more information and to book your trip.
Frequently Asked Questions about Leh Ladakh Bike Tour Package From Delhi
How can I get to Ladakh?
The most common way to reach Ladakh is by air, with flights operating regularly from major cities in India to Leh's Kushok Bakula Rimpochee Airport. You can also reach Ladakh by road, with regular bus services operating from Delhi and Srinagar, or by taking a private taxi.
Is it safe to travel to Ladakh?
Tourists are generally thought to be safe in Ladakh. However, like with any place you visit, it's wise to take precautions for your personal safety, carry essential identification and documents, and purchase travel insurance.
What season is ideal for visiting Ladakh?
What you hope to see and do in this area will determine when is the best time to visit Ladakh. With pleasant temperatures and sunny skies, the summer (April to June) is the most well-liked season to travel. Another favourite season is autumn (October to November), which features pleasant temperatures and stunning fall foliage. The worst season, from December to March, features exceptionally low temperatures, yet it's a great time to travel if you like winter sports.
What do I need to bring for Ladakh?
Pack thick clothing if you're travelling to Ladakh because, even in the summer, the temperature can fall below freezing at night. Additionally, don't forget to bring a first aid kit, sunscreen, sunglasses, and a hat. Furthermore, as many sections of Ladakh are isolated and have few amenities, it's crucial to take food, water, and other supplies if you're travelling by road.
Are any particular permits required in order to visit Ladakh?
Yes, some places in Ladakh, like the Nubra Valley and the Pangong Tso Lake, require special permits to enter. The local government can provide these permissions, and it is advised that you contact the tourism office for the most recent details.