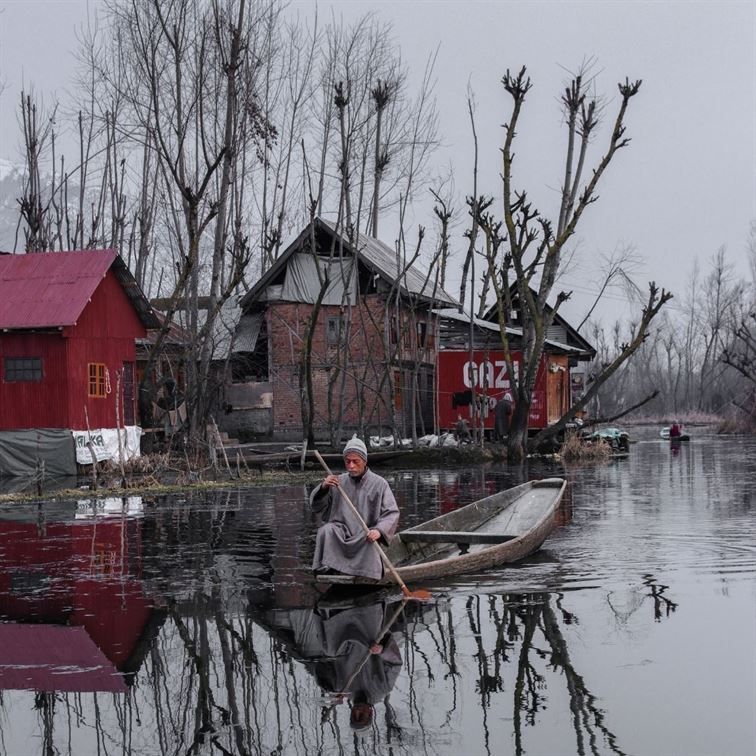 18
Feb
Kashmir Tour Package from Mumbai
Feb 18,2022
Kashmir Tour Package from Mumbai - Known as the "Paradise on Earth", Kashmir is famous for its picturesque greatness, snow-capped mountain peaks, fascinating sites, friendly local people, and handicrafts. Enjoy exploring the place of lakes, valleys, glades, and nature's paradise with any customized Kashmir tour package from Mumbai with the best tour packages from Dream Travel Yaari. Count on Gulmarg, Sonmarg, Dal Lake tours, and many more places that are considered to be a real part of the best traveler hacks.
The valley of Kashmir attracts many tourists from India as well as everywhere. During winter, the valley turns into a glow of delicate snow-capped white. Also in the middle of the year, as the snow melts, the glades begin to bloom. It looks like a wonderful work of art. A trip to this heavenly place will take you away from the turbulent urban life of Mumbai. Missing the sound of peace in the picturesque valleys of Kashmir would be like missing a quiet hustle and bustle.
Frequently Asked Questions
Which month is best for Kashmir?
The best time to visit Kashmir is from March through August. Tourists come to Kashmir valley to experience this 'paradise on earth' and all that it has to offer. Kashmir experiences two seasons throughout this time. Summer (March through early May) and Spring (early May to late August).
How many days do you need for Kashmir Trip?
You will have the opportunity to tour gorgeous hill stations, alluring rivers, mountain peaks, and much more during this 5-day vacation to Srinagar. In addition, enjoy Shikara rides on the picturesque Dal Lake, an exhilarating walk, or a pony ride.
How to go from Mumbai to Kashmir?
Dream Travel Yari offers the best packages for traveling from Mumbai to Kashmir.
Which is the best month to visit Kashmir?
The best time to visit Kashmir is from March to August. Tourists come to Kashmir Valley to enjoy beautiful valleys and peaceful lakes.
Why should you choose the Kashmir Tour from Mumbai?
Mumbai is a cosmopolitan city that is congested, thus a break for the beauty of nature with the calm waters of lakes, gardens embracing botanical species, thrilling fishing adventures, water rafting, and last but not the least of Kashmir. A houseboat cruising on the largest lake, Dal Lake, can mesmerize you. Only with Mumbai to Kashmir tour packages, you can count on all the delicacies, shopping ventures, and natural gifts
Best Time to Book Kashmir Package from Mumbai
The beauty of the state is not affected by any weather. Be it winter, summer, or storm. The weather here is pleasant in winter, yet the beautiful view of the snow-capped mountains is at its peak. As soon as the summer season comes, flowers start blooming in the gardens of the Mughal period. Lakes and rivers begin to melt and there is vegetation around them. Also, when the rain starts, the fog in the mood of Kashmir and the mist around the beautiful mountains will come in front of you. Thus, there is no real best opportunity to visit Kashmir.

Places to visit in Kashmir
1. Dal Lake is the most visited destination that no one can pass by. It is the largest lake in Kashmir with the backdrop of Pir Panjal. You can go for rides and stay in wooden houseboats to check out the stunning waters.
2. Betab Valley is found 15 km away from Pahalgam and is one of the most visited tourist places with wonderful backwoods of deodar and deodar. The foundation is covered with snow-capped mountains with valleys and a serene atmosphere.
3. The Mughal Gardens gives you the best botanical view which is spectacular. Some of the gardens you get to see include Nishat Bagh, Shalimar Bagh, and Chashme Shahi Garden in Srinagar. Similarly, the waterfalls and wells of Chashme Shahi are a feast for your open eyes!

Conclusion
Book your excursion from Mumbai with Dream Travel Yaari Tours for luxurious travel packages. Take part in a scenic ride flowing over the waters of Dal Lake, witness amazing views over the snow-capped mountains, and do much more with us on our excursion through this paradise. Our journey is not only about checking out the beauty of this place but also savoring other delicious delicacies that have been carefully assembled by the local Kashmiris. Our Kashmir tour package from Mumbai is clearly meant to measure the perception of travelers, be it food or travel. With our Kashmir travel packages from Mumbai, we give you open doors to explore the wonderful and beguiling places of Kashmir.
Top Searches Keywords
Mumbai to Kashmir tour packages
Kashmir Tour Packages from Mumbai
Tour Packages For Kashmir in Mumbai
Jammu and Kashmir Tour Packages from Mumbai
Best Tour Packages in Kashmir