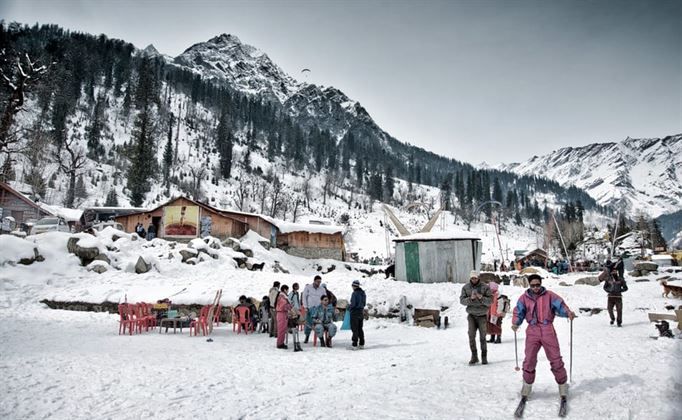 04
Aug
Himachal Tour Packages From Mumbai
Aug 04,2022
Himachal Tour Packages From Mumbai - Himachal Pradesh is not only the home of hill resorts; it is also a perfect or ideal getaway location that entices single travelers, honeymooners, and those looking for adventure sports to spend quality time amid the natural hues of the snow-clad peaks, blossoms in the meadows, the pine, oak, and cedar forests with dense greenery inhabiting a lot of beautiful species of both fauna and flora. For a lovely getaway from the bustle of a busy life and away from urban lives, you might choose this location.
The Rohtang Pass, Solang Valley, Shimla, Manali, Vashisht Village, the Mall Road, and many other sightseeing destinations are drenched in the natural sceneries from the snowy mountains to the enhanced greeneries and also the atmosphere that calms you with the charming climate awaiting you are just a few of the stunning locations that capture your attention during a Himachal Pradesh Tour.
List of Top Locations in Himachal Pradesh for Vacation -
The following list has such amazing quirky and undiscovered locations in Himachal Pradesh that you must see on your next vacation.
Malana
One of India's most beautiful villages is Malana. There are many tales about this lovely location. Malana is mentioned in numerous legends as existing for centuries. Several families who have lived here for a long time call it home. It is located in Parvati Valley.
The most intriguing detail about this strange place is that its inhabitants are thought to be direct descendants of Alexander the Great. This location has its own set of administrative laws and procedures that closely resemble the Greek management system, language, social structure, and sense of purity.
Tirthan Valley
If you have not been to Tirthan Valley yet, then I am sure that you have not seasoned nature in its purest form. Surrounded by the Great Himalayan National Park (GHNP), this beautiful valley situated beside the Tirthan River is among the hidden tourist places in Himachal.
Tirthan Valley is an incredible place to relax in the lap of nature. It tops my list of offbeat places in Himachal Pradesh any day if you have never been to it. I love this place most in the whole Himachal region for my family outings.
Chitkul
Chitkul is a small village located in Himachal Pradesh's Kinnaur district. It is the final inhabited settlement close to the Indo-Tibetan border and the last place in India where you may travel without a permit, standing at a height of 3450 meters. Most travelers stay in Sangla and arrange a return ride to Chitkul for that day.
On this journey from Sangla, the river Baspa is a continuous travel companion. Like the rest of Himachal, the surroundings are made up of snow-covered mountains, as well as many shades of apple orchards, mustard fields, and other greenery. The potatoes and peas grown in the valley are of exceptional grade. The chilly and erratic weather might be unpleasant.
The Goddess of Chitkul sits at a temple in this location that is thought to be 500 years old. It is expected of the Parikrama pilgrims to show reverence to the siren.
Pabbar Valley
The Pabbar Valley is a thriving fusion of ethereality and environment that offers something to everyone who passes through it. British Viceroys camped and took rest breaks here because of the area's charming hamlets, fast brooks, and fruit orchards. A trip through Pabbar Valley is extensive, passing through undeveloped little towns and forests of birch, cedar, and oak before arriving at valleys blanketed with snow.
Thanedar
Thanedar, which boasts exquisite apple and cherry orchards, offers unparalleled joy to those who enjoy the outdoors. You can take pleasure in picking the fruits from the numerous trees that produce thousands of cartons full of luscious apples both within India and outside, as well as enjoying the experience of biting into them, or you can enjoy the chewy slices of apples that the communities dry on their roofs. Many hotels overlook the lush orchards that let guests experience being close to nature.
Kheerganga
Kheerganga is one of Himachal Pradesh's most stunning and distinctive locations, tucked away in the sleepy Parvati Valley. To get here, one must drive to Barsaini, from where they must trek for four hours to Kheerganga.
Mumbai to Himachal Packages
The greatest times to visit Himachal Pradesh are in the winter and summer when you may enjoy its spectacular climate and a variety of outdoor activities like skiing, paragliding, hiking, ropeway rides, and white river rafting, and camping. 6 nights and 7 days from Mumbai to Himachal Pradesh tour package enables you to visit a variety of tourist attractions, experience nature at its best, and be catered by an outstanding company at the most affordable prices.
| | | |
| --- | --- | --- |
| Package | No. of Days | Price |
| Exotic Manali | 5 Days/4 Nights | 6975 |
| Manali Honeymoon Package | 4 Days/3 Nights | 11875 |
| Shimla Manali Package by car | 6 Days/5 Nights | 12967 |
| Manali Valentine's Week offer | 5 Days/ 4 Nights | 4950 |
Dream Travel Yaari
Dream Travel Yaari is your perfect travel partner. With several tour packages in India as well as internationally. You can choose the one that suits your needs the most. We provide personalized packages according to our client's needs. Your satisfaction is our number 1 priority. We at Dream Travel Yaari ensure that you get the best trip experience with the smooth planning of our staff. All the best for your next trip Travellers!
For more information on hidden tourist places and Himachal Pradesh packages contact Dream Travel Yaari.
Contact Us
Mobile - +91 8285062900, +91 9662696269
E-mail- [email protected]
Website- www.dreamtravelyaari.com