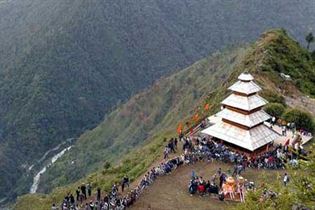 17
Aug
Himachal Tour Packages From Chandigarh
Aug 17,2022
Himachal Tour Packages From Chandigarh- Himachal is known as the "Land of Gods", the mesmerizing Himachal Pradesh is a delightful treat for all the nature lovers. The state offers one of the most scenic holiday destination in the world by its panoramic views of the snow laden mountain ranges. This blog is about Himachal Tour Packages From Chandigarh.
There are endless places that you can visit in Himachal Pradesh, from architectural gems to national parks, from beautiful open meadows to conservation areas and sanctuaries, and the pristine4 clear rivers, the beauty of Himachal's landscape is unmatched.
Frequently Asked Questions about Himachal Tour Package From Chandigarh
Ques 1) What are the Trekking Places in Himachal Pradesh?
Ans 1) The most famous and fun trekking places of Himachal Pradesh are-
Hampta Pass
Kheerganga
Malana Village
Prashar Lake
Bhrigu Lake
Pin Parvati Valley
Ques 2) What are the best places in Himachal Pradesh to go with friends?
Manali- Despite being a popular romantic destination, Manali also offers an amazing holiday experience for you and your friends. It has a number of adventure sports that you can enjoy with your friend group.
Dharamshala- This cute little hill station offers a cozy and fun stay for holidaying groups. From cozy cottage hotels to fun treks, Dharamshala is an ideal hill station to holiday in with your friend groups.
Parwanoo- Set amidst the gorgeous apple orchards, Parwanoo is a breathtaking little hill station which stays fairly undiscovered. It is frequently visited by groups that are looking for a quiet vacation.
Solang Valley- Solang Valley is known for its adventure sports in addition to its popular trekking destination. You can go for paragliding to zorbing to riding over the mountains in a helicopter. It is filled with endless fun and adventure.
Ques 3) Which are the best-unexplored places to visit in Himachal Pradesh?
Kalpa
Showing off the snow-clad peaks of Kinnaur-Kailash, this rustic hamlet is all set to leave you in awe with its raw landscapes and undiscovered paths. A major part of the village features lanes of apple orchards that perfectly complement the lush green landscapes of the Kalpa region.
Sangia
Sangla, a lovely valley located just 57 kilometre from Kalpa, is nestled on the banks of the river Baspa. As soon as you take your first step into this valley, the mesmerizing views of its snow-covered peaks and surrounding landscapes will capture your attention. Go to its other locations, such as Kamru Fort, Kilba, and Sapni, if you want to discover more of its splendor.
Barog
Barog Falls is a stunning pit stop on your approach to the city of Shimla and is the epitome of tranquilly and beauty. Tall oak and pine woods that surround the falls further enhance their allure. From the village, you can get a panoramic view of Churdhar, which will make you fall in love with it.
Barot
Want to add a bit of adventure to your Himachal stories? Take a vacation to the picturesque area of Barot and indulge in a variety of adrenaline-filled activities. You can either embark on a strenuous climb up to one of its magnificent peaks or visit the Nargu Wildlife Sanctuary to discover the fascinating world of wildlife.
Chindi
Chindi is a unique location positioned on the Shimla-Mandi route that provides you with a consistent fusion of adventure and calm. It has become the centre of religion for Shimla and Kullu locals thanks to the abundance of temples in its reserve, including the Kamkasha Temple, Mamleshwar Mahadev, and Mahunag. You could also try the Bakrote Trek from here, which will take you to the Shikari Devi Temple.
List of places to visit in Himachal Pradesh:
Here are some of the must-visit places of Himachal Pradesh.
Manali
Shimla
Kullu
Dharamshala
Spiti Valley
Mcleodganj
Dalhousie
Kasol
Kasauli
Bir-Billing
Palampur
Chail
Mandi
Malana
Naggar
Mashobra
Chamba
Solan
Narkanda
Kangra
Shoja
Tirthan Valley
Kufri
Himachal Tour Packages From Chandigarh
Some of the most budget friendly Himachal Tour packages from Chandigarh are mentioned below.
Exotic Manali
This package is 5 Days and 4 Nights long.
Price- 6,975 /- including the meals, transfer, hotel, and sightseeing.
Shimla Manali Package By Cab
This package is 6 Days and 5 Nights long.
Price- INR 12,967 /-.This includes the meals, hotel, transfer, tour guide, and sightseeing.
Manali Honeymoon Package By Cab
This package is 4 Days and 3 Nights long.
Price- INR 11,875 /-. This includes the meals, transfer, hotel, tour guide, and sightseeing.
Manali Valentine's Week Offer
This package is 4 Days and 3 Nights long at just INR 4,950 /-. This includes the meals, transfer, hotel, tour, and sightseeing.
You can further get customized packages by contacting Dream Travel Yaari.
Why Choose Dream Travel Yaari as your Tour Partner?
One of the most reputable travel agencies in India is Dream Travel Yaari. Before creating the ideal tour package for our clients, we keep their needs in mind. You don't have to worry about your budget when working with our firm because we have something for everyone. You can choose the best package for your needs and budget.
Contact Us!
Call us- +91 8285062900, +91 9662696269
Mail- [email protected]
Website- www.dreamtravelyaari.com