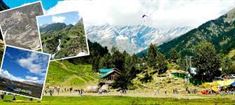 16
Aug
Himachal Tour Packages From Ahmedabad
Aug 16,2022
Himachal Tour Packages From Ahmedabad - Himachal Pradesh is known as the "Province of Snow-Laden Mountains". India's Himachal Pradesh is one of the most popular travel destinations and draws tourists from all over the world. Himachal Pradesh, which is blessed with paradisiacal beauty and mind-blowing vistas, is the ideal destination for Ahmedabad residents looking to spend their vacations in the midst of nature. Let us see Himachal Tour Packages From Ahmedabad .
---
With the Himachal tour packages from Ahmedabad, you can set out on an unforgettable vacation and discover the state's breathtaking natural beauty. You can visit some of Himachal Pradesh's top tourist attractions, such as Shimla, Manali, Solan, Chail, Kufri, Kasauli, Dalhousie, Khajjiar, Dharamshala, and Mcleodganj. Himachal has a lot of unusual locations that you can visit.
Best Things To Do In Himachal Pradesh
Himachal is one of the most beautiful states in India, and everyone at least once should visit in their lifetime. Here, we have compiled the list of things that you can do or visit in Himachal Pradesh. Scroll down to keep looking.
Triund Hill – Go Trek This Heavenly Place
Trekking at the Triund Hill, which is at a height of 2850 metres on the Dhauladhar Range, is one of the top things to do in Himachal Pradesh. For hikers, the trail is captivating and incredibly thrilling. The area offers some of the most beautiful views of the Bhagsu Waterfalls, Shiva Cafe, Gallu Devi Temple, and Shri Kunal Pathri Devi Temple.
Great Himalayan National Park – For A Nature Meet
The Great Himalayan National Park located in Kullu is spread in area over 754 sq km. It is one of the UNESCO World Heritage Sites. High alpine peaks, alpine meadows, riverine forests, as well as a number of mountain glaciers and rivers, are all present in the area. More than 375 different animal species can be found in the National Park, which has lush flora. Spend some time with the outdoors and animals.
Khajjiar Lake – Explore The Mini Switzerland Of India
Khajjiar Lake is one of the most popular attractions of Khajjiar, covered with beautiful green meadows, the entire area is very beautiful and calming, you can spend nearly an hour here without doing anything. You can see Mount Kailash from here, making it a picture perfect view. You can also go for Horse Riding, Zorbing, or Paragliding in this area.
Kullu Dussehra – Seek Blessings
Every year in October, people celebrate Kullu Dussehra, a one-week event. The tenth day of Dussehra marks the beginning of this festival, which lasts for the following seven days. The celebration commemorates the victory of good over evil. Announcing Kullu Dussehra as an international event in 1972, it now attracts over 4-5 Lac devotees annually. Experience this rustic and spiritual style of living and revive all your tension.
Dharamshala – Appreciate The Tibetan Opera
The Tibetan Institute of Performing Arts in Dharamshala, founded in August 1959, is recognised for preserving and promoting Tibet's art and culture. The focal point of the Institute is the traditional Tibetan Opera, or Lhamo, a nine-day festival. enjoying every second of the gala while watching the Tibetan Opera.
Hanuman Tibba – Go Heli-Skiing
One of the offbeat things to o in Himachal Pradesh in December is Heli-skiing. The thrill of Helii Skiing in snow-packed Himalayas is amazing. Helii-skiing in the natural snow is unbelievably beautiful.
Bir Billing – Fly High In The Skies
In Bir Billing, paragliding is among the entertaining things to do. Bir Billing, which is 2300 metres above sea level, is a captivating and alluring place for all adventure seekers. The pilots possess both skill and discipline. A once-in-a-lifetime adventure, skydiving involves leaping from a height of 8000 feet above sea level.
Green Shopping – Explore The Shops In McLeod Ganj
The streets of McLeod Ganj can be explored as one of the things to do in Himachal Pradesh. McLeod Ganj, which is well-known for its traditional handicrafts and handloom products, is the ideal location for anyone who enjoys antiques things. Singing Bowls, Buddha Statues, Tibetan Handicrafts, Colorful Notebooks, Handmade Diaries and Handmade Paper, Rugs, Paintings, Carpets, and more are some of the best items to purchase in McLeod Ganj.
Best Selling Himachal Tour Package from Ahmedabad-Dream Travel Yaari
Dream Travel is without any doubt the best partner for your trips and tours. We provide number of Himachal Tours to suit your unique needs. Some of these packages are mentioned below-
Exotic Manali
It is 5 Days and 4 Nights long at just INR 6,975 /-. This includes the meals, transfer, hotel, and sightseeing.
Manali Honeymoon Package By Cab
It is 4 Days and 3 Nights long at just INR 11,875 /-. This includes the meals, transfer, hotel, tour guide, and sightseeing.
Shimla Manali Package By Cab
It is 6 Days and 5 Nights long at just INR 12,967 /-.This includes the meals, transfer, hotel, tour guide, and sightseeing.
Manali Valentine's Week Offer
It is 4 Days and 3 Nights long at just INR 4,950 /-. This includes the meals, transfer, hotel, tour, and sightseeing.

You can also contact us personally to get a customized tour package as per your requirements.
Why Choose Dream Travel Yaari as your Tour Partner?
Dream Travel Yaari is one of the most trusted tourism Company in India. We keep the needs of our customers in our mind before designing the perfect tour package for them. With our company you don't have to worry about your budget as we provide something for everyone. You can get the right package suited to your budget.
Contact Us!
Call us- +91 8285062900, +91 9662696269
Mail- [email protected]
Website- www.dreamtravelyaari.com