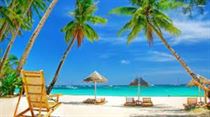 09
Nov
Goa Tour Packages From Ahmedabad
Nov 09,2022
Goa Tour Packages From Ahmedabad- Ahmedabad is located in the dry state-Gujarat and it is safe to say that it is very different from the state of Goa. It is not hyperbole to say that Goa, on India's western coast, is genuinely a paradise. The top things to do in Goa include an amazing nightlife with clubs, beautiful beaches, mouthwatering food, unlimited alcohol, and more.
---
This coastal state is well-liked by tourists from all around the world. Due to the numerous memorable experiences Goa has to offer, tourism there continues to be at an all-time high.
Frequently Asked Questions about Goa tour packages from Ahmedabad
What should be the budget for Goa Tour from Ahmedabad?

I would advise you to schedule a trip for at least five days if this is your first time to Goa. A modest 5-day trip to Goa from a city like Ahmedabad will cost little about 20,000 Indian rupees. You will be able to visit the majority of the significant locations in Goa within these 5 days.
What is the best time to visit Goa?
In Goa, the weather is ideal from November to February. This is the best time of year for tourists to travel because the weather is neither too hot nor too chilly.
Is Goa Safe for girls?
Yes, Goa is considered one of the safest states for everybody.
Food in Goa
Goa's cuisine offers a wide range of choices that may definitely be categorized as fusion dishes. Don't forget to sample the regional specialties while visiting Goa, such as fruit rice and fish curries. Goan cuisine is renowned for its variety of flavors. Another dish that should not be missed is seafood, which is made with the freshest catches. This beach state's cuisine is a significant representation of its colorful culture.
Goa was a Portuguese colony until 1961, and this is still evident in the atmosphere, mannerisms, architecture, and all other aspects of life, including the cuisine. Finger-licking food is produced when Portuguese and Indian culinary traditions are combined with aromatic spices.
There are many places to eat, including upscale eateries, lively beach shacks, tiny eateries, and street vendors. Goa offers a variety of cuisines to satisfy every palate. At Goa, there is a restaurant in every location. You can choose from a variety of cuisines, including North Indian, Mughlai, South Indian, Chinese, Continental, Seafood, native Goan, and others. Choose something that suits your palate.
Beaches in Goa
Goa is well known for its picturesque beaches, which span a length of about 125 kilometres of coastline. All types of travellers, including families, honeymooners, adventure seekers, and leisure travellers, will find Goa's beaches to be excellent. The beaches that Goa owns are a gem that embody the essence of the city.
Goan beaches can be separated into North Goa Beaches and South Goa Beaches because of the differences between them. The latter are renowned for their tranquillity while the former are more popular with tourists and offer water sports. Here are a some of Goa's well-known beaches:
Palolem beach
One of the most well-liked tourist hotspots in Goa is Palolem Beach. The atmosphere at the beach is relaxed. On the beach, you can just relax or practise yoga first thing in the morning. One of the most well-known pastimes at Palolem beach is dolphin spotting. The beachfront at the beach is serene.
Morjim and Ashvem beaches
You get a chance to come close to nature at the beaches in Morjim and Ashvem. Enjoy the beautiful view and the tranquil surroundings with your eyes. North Goa is only a short drive from these beaches. Additionally, each year, Olive Ridley turtles deposit their eggs there.
Anjuna beach
Anjuna beach is around 18 miles from Panaji and has a lot to offer. There are rocky headlands at the beach's southernmost tip. Swimming is enjoyable due to the calm sea in this area. You can take part in bungee jumping and other similar sports around the northern end. Here, a flea market is held every Wednesday night. Many well-liked beach shacks can be seen on the beach. Chapora Fort and the Albuquerque Mansion are two often visited sights close to Anjuna Beach.
Goa Tour Packages From Ahmedabad
Dream Travel Yaari has some of the best Tour Packages to Goa. You can either choose one of these or get a package customized as per your requirements.
Mesmerizing Goa
INR 14,580 /-
3 Night / 4 Days
Goa Honeymoon Package
INR 18,525 /-
3 Night / 4 Days
GOA with Airfare(Ex-Delhi)
INR 17,575 /-
3 Night / 4 Days
Goa All Inclusive By Train (Ex Delhi)
INR 13,300 /-
3 Night / 4 Days
Goa Air Tour package
INR 30,000 /-
3 Night / 4 Days
Dream Travel Yaari
Dream Travel Yaari is one of the top travel Agency in India. We provide the best tour packages that fit right in your budget and as per your liking. DTY has successfully established its name all over India with its best quality service. Our team makes sure you enjoy every second of your trip without worrying about a single thing. We value customer satisfaction over everything else.
Contact Details
Name: Dream Travel Yaari
Phone No.:+91 9662696269, +91 9625524840
Address: E-147 SEC 23-24 MAIN RD, Punjab Rolling Chowk, Haryana, Faridabad, India,121004
Email: [email protected]