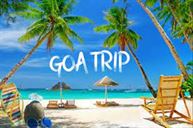 07
Nov
Goa Packages From Delhi
Nov 07,2022
Goa Packages From Delhi- Do you have any ideas for the ideal party location for you? Goa is the answer! India's favourite destination for fun, adventure, and peace is a dazzling state located near the Arabian Sea. Tourists come from all over the world to enjoy the pristine sand beaches, cool breezes, vibrant nightlife, and, of course, beach parties.
---
Hold your horses, because the state is more than just beaches and parties. There's a lot more to it than that. Goa is also well-known for its spice plantations. Don't forget about the water activities. Water sports are also popular in the enjoyable state. You can even try paragliding! The lovely state is also rich in Portuguese heritage and culture, so pay a visit to the outskirts and experience Portuguese culture for yourself.
The captivating location is also known for its temples and the mesmerizing architecture of one of Asia's most important Christian pilgrimage sites, the Basilica of Bom Jesus. Its captivating architecture will leave you speechless, and there will be so much to discover inside!
Frequently Asked Questions Goa Packages From Delhi
Which month is best for Goa?
Goa in Summers
Because Goa is in the tropical zone, the weather is hot and humid all year. It is not advisable to visit Goa during the summer, especially in May, which is the hottest month there. When the temperature rises too high, it can become unbearable, and you may even become ill. Prices are typically lower and less crowded during the summer. So, if you don't mind the heat, this could be the ideal time to visit.
Goa in Monsoon
If you enjoy the beauty of nature, the monsoon season is also a good time to visit. The area becomes less crowded, and everything appears to be greener. The smell of wet Earth will captivate you. There is no noise. There is no crowd. It's just you and Mother Nature.
Goa in Winters
Stick to the winter months of November through March. It will be an excellent time to visit Goa. These months are jam-packed with parties, ceremonies, and other events. The weather remains pleasant, and you will not be bothered by the heat. Witness the parades and fairs, and make the most of these few days. The Paradise state will be your one-of-a-kind experience, and you will not be bored during your tour.
Top Places to Visit in Goa Packages From Delhi
Panaji
Goa's state capital is home to a plethora of attractions, ranging from Portuguese churches to iconic beaches that draw visitors from all over the world. Some of the most popular places to visit on a sightseeing tour are St. Cajetan's Church, the Basilica of Bom Jesus, Miramar Beach, and Dona Paula Bay. Casinos and river cruises are also available to make your Goa vacation memorable. Panaji is included in almost all Goa tourism packages.
Old Goa
The city was designated a UNESCO World Heritage Site in 1986 and is home to a collection of 16th and 17th century Portuguese churches and convents. The ornate chapels and tall bell towers in the city, which was founded as a port on the banks of the Mandovi River, are notable attractions.
Chapora Fort
Chapora Fort, located in the town of Bardez and overlooking the Chapora River, is one of Goa's major bastions. It commands a commanding view of the Arabian Sea and the nearby Vagator Beach, known for its nightlife.
Dudhsagar Falls
This milky cascade is a short drive from the state capital, nestled in the evergreen Western Ghats. Tourists from all walks of life flock to this majestic waterfall during the monsoon season, from solo travellers to honeymooners. The waterfall can also be reached by train on the Madgaon-Belgaum route. The falls are the tallest in the country, with a drop of approximately 1017 feet.
Baga Beach
Baga Beach is always included in Goa packages because it is one of the best beaches in Goa and a popular tourist destination. This beach is always alive and energetic, and it offers a plethora of exciting and adventurous activities. This beach offers water sports such as banana boat rides, parasailing, jet skiing, and boating. Aside from water sports, the beach is lined with cafes and restaurants that serve a variety of delectable food options. The clubs on this beach are all lit up at night and offer one of the best nightlife experiences in the state.
Goa Packages From Delhi
Mesmerizing Goa
INR 14,580 /-
3 Night / 4 Days
Goa Honeymoon Package
INR 18,525 /-
3 Night / 4 Days
GOA with Airfare(Ex-Delhi)
INR 17,575 /-
3 Night / 4 Days
Goa All Inclusive By Train (Ex Delhi)
INR 13,300 /-
3 Night / 4 Days
Goa Air Tour package
INR 30,000 /-
3 Night / 4 Days
Dream Travel Yaari
Dream Travel Yaari is the fastest growing travel agency in India. We make sure that all our clients get the most relaxing and fun tour experience. DTY is known for the best travel services with the most comfortable hotel services. We assure you nothing but the best. So, if you are looking for Goa Packages From Delhi, be sure to contact us! We are always happy to help you!
Contact Details
Name: Dream Travel Yaari
Phone No.:+91 9662696269, +91 9625524840
Address: E-147 SEC 23-24 MAIN RD, Punjab Rolling Chowk, Haryana, Faridabad, India, 121004
Email: [email protected]