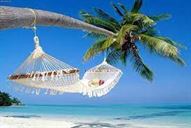 14
Nov
Goa Packages From Bangalore
Nov 14,2022
Goa Packages From Bangalore- Goa is one of India's most happening places. Goa is the first place that comes to mind when one thinks of a wonderful getaway surrounded by golden shimmering beaches. Its beautiful beaches, vibrant nightlife, delicious food, historic monuments, and thrilling adventure activities make this a must-see destination for an unforgettable vacation. Learn more about Goa Packages From Bangalore.
---
Goa has a lot to offer visitors, from seeing beautifully built age-old cathedrals and old Portuguese-style buildings to indulging in adventurous activities to feel the thrill within. This tour ensures that you fully immerse yourself in the culture of this wonderful place. Goa, as a party destination, has everything you need to have a memorable time among its beautiful beaches.
Frequently Asked Questions about Goa Packages From Bangalore
1. When Is the Best Time to Visit Goa?
During the months of November to February, the weather in Goa is ideal. This time of year is ideal for tourists because the weather is neither too hot nor too cold. This is the best time to visit Goa, with temperatures ranging from 21°C to 28°C. The pleasant weather is ideal for relaxing on Goa's beaches.
2. What is the distance from Bangalore to Goa?
Goa is around 563kms from Bangalore. You can easily book train or flight ticket.
3. Which is the best Casino in Goa?
Deltin Royale is the most popular casino among visitors and is regarded as one of the best casinos in Goa. Other casinos include DeltinJaqk, Casino Carnival, Majestic Pride, Casino Palms, Casino Paradise, and others.
4. Which are the famous churches in Goa?
Some of the well-known churches to visit on your Goa tour include the Basilica of Bom Jesus, Se Cathedral, Mae De Deus Church, Church of Our Lady of the Mount, Church and Convent of St. Francis of Assisi, and St. Cajetan Church.
5. Is Goa safe for tourists and travellers?
Yes, all tourists and travellers are safe in Goa. All popular tourist destinations and hotels have best safety practises and adequate safety measures in place. Aside from that, Goa is a safe and easy place for female solo travellers.
6. How many days are enough for a Goa trip?
A trip of 4-7 days is sufficient to experience the entirety of Goa. When visiting Goa, you must visit the azure beaches, which are truly breathtaking. Sunbathing, relaxing, and participating in thrilling water sports activities are all musts when visiting Goa.
7. Which places in Goa can one visit?
Calangute Beach, the Basilica of Bom Jesus Church, Fort Aguada, Baga Beach, Tito's Lane Anjuna Beach, and the Dudhsagar Waterfalls are all worth a visit. These are some places that visitors to Goa should not miss.
8. When does the carnival take place in Goa?
The Goa Carnival is one of the carnivals known for its colourful processions and vibrant energy, and it is usually held in mid-February. These are the most popular events in Goa.
9. What are the best things to buy in Goa?
The local Goa market sells cashew nuts, spices, handicrafts, and GoanFeni, as well as beachwear, seashells galore, coconut craft, Goan bread, and Bebinca.
10. What adventure sports can one do in Goa?
Goa is a mecca for adventure sports, particularly water sports. When on a Goa tour, one must try scuba diving, parasailing, windsurfing, kayaking, and water scooters. Goa is always a fun place to visit with friends, family, or your partner.
11. Which one is better south or north Goa?
Both south and north Goa are famous for different things, and there is no comparison as to which is superior. North Goa is crowded and has a lot of cafes, pubs, nightlife, water sports, and so on, whereas south Goa is quiet and beautiful, with empty beaches and villa stays.
12. How many days are enough for a Goa trip?
We recommend booking a Goa tour for at least 5 days. In just five days, you can experience every aspect of this land's beauty. If you start with beaches, you will never have the heart to leave and enjoy other activities.
Dream Travel Yaari
Do you want to book Goa packages from Goa? Look no further than DTY. Find a variety of Goa tour packages that can be customized, ranging from short-term weekend stays to long-term stays. Browse our offers to take advantage of seasonal discounts on domestic vacation packages that include star hotel stays. Enjoy the freedom of booking your vacation with or without flights, but remember to first define the purpose of your visit, whether it's for a honeymoon, family vacation, or solo trip.
Contact us for learning more details about your next trio to Goa!
Contact Details
Name: Dream Travel Yaari
Phone No.:+91 9662696269, +91 9625524840
Address: E-147 SEC 23-24 MAIN RD, Punjab Rolling Chowk, Haryana, Faridabad, India, 121004
Email: [email protected]