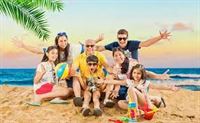 11
Nov
Goa Packages For Family
Nov 11,2022
Goa Packages For Family- The coastal state of Goa, located on the Konkan belt on India's western coast, offers a perfect blend of nature and nightlife. From idyllic beaches to a panoramic view of palm trees, the tranquil setting of Goa has it all to entice visitors from all over the world and leave them speechless. Goa Packages For Family are becoming increasingly popular due to the state's colonial architecture, scenic beaches, rich culture, and vibrant history.
---
Don't forget to read our curated information for Goa family packages and details such as how to get to Goa, where to go in Goa, what to do, where to eat, and much more.
Frequently Asked Questions about Goa Packages For Family

How much does a family trip to Goa cost?
A family trip to Goa costs around INR 10,000 to 15,000 per head.
How many days in Goa is enough?
2 Days are enough for exploring Goa. It can also depend on what you want to do there on your vacation.
Best Time For Goa Packages For Family
From mid-November to March is the best time to visit Goa. The weather is pleasant and the sky is clear during these months. It's the ideal time to relax at the beach and explore this lovely state. Goa celebrates major holidays such as Christmas and New Year's in December. Several carnivals, parades, parties, and festivals take place in Goa during the winter season. During the winter, the restaurants and streets are decked out in lights and decorations, transforming the area into a tropical winter wonderland. Because winter is also Goa's peak tourist season, it's best to book flights and accommodations well in advance.
Summer, on the other hand, is the best time to visit Goa if you want to participate in water sports or simply relax on the beach. Summer is a great time to save money on lodging and travel because it is the off season. Summer afternoons are ideal for yoga retreats and massage therapies, which will keep you fit and healthy. Enjoy some amazing festivals such as Shigmo, a street festival that depicts Goan culture through folk dances and music, Easter, Grape Escapade, a wine festival, India Bike Week, the Goa Heritage Festival, and much more!
Shopping in Goa
Here are some places where you shop your heart out in Goa.
Flea Market in Anjuna
Every Wednesday, Anjuna hosts the most well-known Anjuna flea market in Goa. Everything from clothing and home décor to Indian spices and musical instruments can be found here. What began as a way for hippies to sell their wares and earn some money to support themselves has now evolved into a platform for cool, chic brands to sell their wares. There is also a lot of food and entertainment available. This is the ultimate Goa experience and will be the highlight of your Goa vacation.
Night Market in Arpora
Every weekend, a large number of tourists visit the bustling Arpora night market. It's packed with food stalls, clothing and knickknack vendors, and entertainment options from all over the world. Souvenirs of all kinds can be found here to take home from your Goa vacation.
Tibetan Market in Baga
This market is open from October to May and features some fantastic jewellery, curios, and even furniture. If you want to put your bargaining skills to the test during your Goa vacation, this is the place to start.
Market in Mapusa
Mapusa market is popular with both locals and tourists looking for fresh produce ranging from vibrant vegetables and fruits to fresh seafood such as lobster and prawns. It also has a large number of vendors selling everything from spices and condiments to clothing and flip flops. A must-see during your Goa vacation.
Market in Panjim
Panjim market, Mapusa market's elder sister, is a city unto itself and a shopper's paradise. Visit this market at the end of your Goa vacation to bring home some of Goa's famous cashew nuts, port wine, and spices. It also has some excellent restaurants and is adorned with Mario Miranda murals.
Dream Travel Yaari
If you are planning a Goa Trip with your family without any hassle, then this is the right place for you! Dream Travel Yaari is a fast growing Travel Company. We have the best Goa Packages for Family available with us as per your requirements.
Dream Travel Yaari is one of the best Travel Companies in India. We have extended our services all over the country because of our top-notch services. We at DTY make sure that you get the best level of comfort and enjoyment when you are at a trip. We realize how important it is for you to take some time off from your busy schedule and get the best level of satisfaction. Our team cares about your satisfaction before everything else.
Contact us to learn more about your next trip, we are always happy to help.

Contact Details
Name: Dream Travel Yaari
Phone No.:+91 9662696269, +91 9625524840
Address: E-147 SEC 23-24 MAIN RD, Punjab Rolling Chowk, Haryana, Faridabad, India, 121004
Email: [email protected]