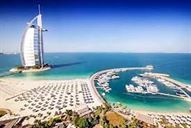 25
Apr
Dubai Tour Packages From Hyderabad
Apr 25,2023
Dubai Tour Packages From Hyderabad – If you are looking for a memorable Dubai Tour Packages From Hyderabad , Dream Travel Yaari holiday packages are the right choice for you. Dream Travel Yaari offers the widest range of customizable Dubai tour to suit every kind of traveler from Hyderabad. Explore from all types of tour packages to Dubai with unbeatable deals and discounts.
---
Dubai is a metropolis that constantly prospers. This Emirate is a fantasy that humanity have built thanks to its edgy architecture and adventurous aesthetic. You can find peace and tranquilly here whether you're an adventure junkie or not. Dubai offers some exquisite experiences, from beach clubs, chic rooftops, and belly dance centres to upscale cocktails, exclusive restaurants, and musical performances. The culture, spices, and handicrafts of this region are equally well-known.
Things to do in Dubai Tour Packages From Hyderabad
Visit the Dubai Miracle Garden
The Dubai Miracle Garden is the world's largest flower garden, featuring over 45 million flowers arranged in beautiful patterns and designs. It's a great place to take photos and enjoy a relaxing walk in nature.
Go skiing in the Mall of the Emirates
The Mall of the Emirates is home to Ski Dubai, an indoor ski resort that offers skiing, snowboarding, and other winter activities year-round. It's a unique experience that you won't find anywhere else in the Middle East.
Enjoy a dhow dinner cruise
Take a traditional wooden boat called a dhow along Dubai Creek while enjoying a delicious dinner and traditional music. It's a great way to see the city's stunning skyline from a different perspective.
Visit the Dubai Museum
Learn about Dubai's history and culture at the Dubai Museum, located in the oldest building in the city. The museum features interactive exhibits and displays that showcase Dubai's past and present.
Take a helicopter tour
See Dubai's landmarks from the air on a thrilling helicopter tour. You'll fly over the Burj Khalifa, Palm Jumeirah, and other iconic sites, while enjoying breathtaking views of the city.
Relax at Jumeirah Beach
Jumeirah Beach is one of the most beautiful beaches in Dubai, with white sand, turquoise water, and stunning views of the Burj Al Arab. It's a great place to relax, sunbathe, and swim.
Visit the Dubai Fountain
The Dubai Fountain is the world's largest choreographed fountain system, located in the Burj Khalifa Lake. The fountain features a spectacular water show with music and lights, and is a must-see attraction in Dubai.
Dubai has something for everyone, from adventure seekers to culture enthusiasts. With so many things to see and do, it's no wonder tha
Burj Khalifa
The Burj Khalifa is without a doubt Dubai's most recognizable building. Even though Dubai is well known for its numerous mega structures, it can be said that this one serves as the global representation of Dubai. With 163 floors and a height of 829.8 meters, the famous skyscraper in the shape of a sailing boat is home to hotels, spas, residences, observation decks, and fine-dining restaurants. It is undoubtedly a location and a sight to marvel at.
Ski Dubai Snow Park
Since Hyderabad to Dubai tour packages also take you to the Ski Dubai Snow Park, your wish has come true if you have ever wondered where you could go skiing in the middle of the desert. It is an amazing space built in Dubai with a wide range of activities available. Additionally, one has the option of paying for their own skiing lessons. The chairlift, mountain thriller, zorbing, penguin encounter, iFLY experience, and snow bullet ride are some of the highlights of a trip to this park. To access different benefits, one can select from a variety of passes.
The Lost Chambers Aquarium
One of the top tourist attractions in Dubai is the aquarium with an Atlantis theme. More than 65,000 marine animals reside inside this megastructure. The fact that you can swim and scuba dive with the marine life there sets it apart from other aquariums. In addition, a touch tank is available where visitors can try holding invertebrates. You can participate in events like shark safaris, dolphin scuba dives, and fish feedings at the Lost Chambers Aquarium.
Jumeirah Beach
Dubai is best known for the glorious sand dunes, but Jumeirah Beach proves that its beaches are no less. The beach has taken its name from the district surrounding it, the Jumeirah district. It is an ideal place to come for rejuvenation and find relief from the heat. One can also partake in varied water sports such as snorkeling, jet skiing, banana boat riding, parascending, scuba diving, etc. Best of all, anyone can visit this beach since there are no entry charges.
Dream Travel Yaari
Leading online travel agency DreamTravelYaari provides discounts for intelligent travelers looking for both quality and value. DTY, which was introduced in August 2018, is currently renowned for offering a one-stop shop for all travel requirements. Millions of low-cost flights, including those in business and first classes, hotel rooms, bus tickets, and affordable vacation packages to popular locations throughout the globe are available to customers.
Contact Us!
Call us- +91 8285062900, +91 9662696269
Mail- [email protected]
Website- www.dreamtravelyaari.com