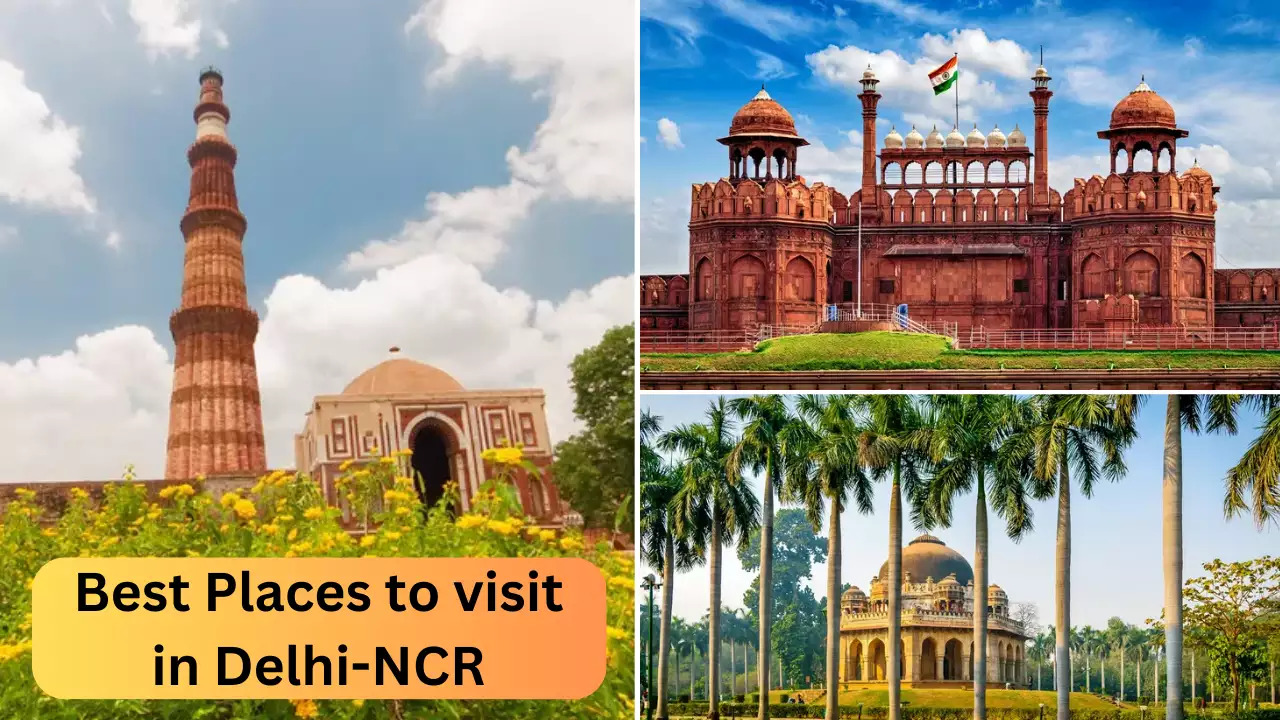 06
Sep
Delhi Diaries: Uncovering the Best Places to Visit in Delhi
Sep 06,2023
Delhi, the heart of India, is not just a city; it's an experience. Steeped in history, culture, and vibrant energy, Delhi is a treasure trove of places waiting to be explored. From the ancient monuments that whisper tales of empires to bustling markets that offer a sensory overload, there's something for everyone in this dynamic metropolis.
In this comprehensive guide, we'll take you on a journey through the best places to visit in Delhi, ensuring you have an unforgettable experience. Plus, we'll introduce you to DreamTravelYaari, your travel companion for the best tour packages from Delhi.
Introduction to Delhi
Delhi, the capital city of India, is a vibrant amalgamation of old-world charm and modern dynamism. It's a city where ancient history seamlessly blends with contemporary culture. Each corner of Delhi tells a unique story, making it a destination that caters to every traveler's interests.
Historical Marvels


1. Red Fort: The Iconic Landmark
The Red Fort, a UNESCO World Heritage Site, is the very symbol of India's sovereignty. This magnificent fort, constructed of red sandstone, has witnessed numerous historical events, including India's Independence Day celebrations. Explore its grand halls, beautifully landscaped gardens, and intricate architecture.
2. Qutub Minar: A Triumph of Architecture
Qutub Minar, another UNESCO World Heritage Site, is a towering masterpiece of Indo-Islamic architecture. The 73-meter-high minaret is surrounded by several historical structures and is a must-visit for history buffs and architecture enthusiasts.
3. Humayun's Tomb: A Glimpse of Mughal Grandeur
Humayun's Tomb, often compared to the Taj Mahal, is the final resting place of the Mughal Emperor Humayun. This garden tomb is an architectural marvel and provides a tranquil escape from the city's hustle and bustle.
4. Jama Masjid: India's Largest Mosque
Jama Masjid is not just a place of worship but also an architectural marvel. Climb its minarets for panoramic views of Old Delhi, and don't forget to explore the bustling markets of Chandni Chowk nearby.
5. Lotus Temple: Where Silence Speaks
The Lotus Temple, with its stunning lotus-shaped architecture, is a Bahá'í House of Worship known for its serene ambiance. It's a place for meditation and reflection, open to people of all faiths.
Cultural Delights


1. India Gate: A Tribute to Valor
India Gate, an iconic war memorial, honors the soldiers who laid down their lives during World War I. It's a prominent landmark and a popular spot for picnics and evening strolls.
2. Akshardham Temple: Where Spirituality Meets Art
Akshardham Temple is a blend of spirituality and artistry. Its grandeur and intricately carved interiors are awe-inspiring. The temple complex also features cultural exhibitions and musical fountain shows.
3. National Handicrafts & Handlooms Museum: A Crafted Journey
Explore India's rich textile and handicraft heritage at this museum. It's a fantastic place to learn about the country's diverse artistry.
4. Dilli Haat: Shop and Savor
Dilli Haat is where you can shop for handicrafts and savor regional delicacies from different states of India. It's a vibrant open-air market that's a favorite among tourists.
5. Kingdom of Dreams: A Theatrical Extravaganza
Experience the magic of Indian theater, arts, and cuisine at the Kingdom of Dreams. It's a one-stop destination for a cultural extravaganza.
Markets and Bazaars


1. Chandni Chowk: The Shopper's Paradise
Chandni Chowk is a bustling market with narrow lanes and a diverse range of shops. It's the perfect place to buy traditional clothing, jewelry, spices, and street food.
2. Sarojini Nagar Market: Bargain Hunter's Haven
If you're looking for trendy clothing and accessories at budget-friendly prices, Sarojini Nagar Market is the place to be. Bargaining skills are a bonus!
3. Connaught Place: The Heart of Delhi
Connaught Place, or CP, is a commercial and cultural hub. It's surrounded by shops, restaurants, and historic structures. Visit the Central Park for some relaxation.
4. Janpath Market: A World of Trinkets
Janpath Market is known for its eclectic collection of clothing, accessories, and home décor items. It's a favorite among tourists seeking souvenirs.
5. Khan Market: Upscale Retail Therapy
Khan Market is Delhi's upscale shopping district, featuring high-end boutiques, bookstores, and restaurants. It's where the city's elite shop and dine.
Serenity Amidst Chaos


1. Lodhi Gardens: Where History Meets Nature
Lodhi Gardens is a historic park with lush greenery and a collection of tombs and monuments from the Lodhi dynasty. It's a serene oasis in the heart of the city.
2. Garden of Five Senses: A Multi-Sensory Experience
The Garden of Five Senses is designed to engage all your senses. It's a peaceful place for a leisurely stroll, with art installations and themed gardens.
3. Nehru Park: A Peaceful Retreat
Named after India's first Prime Minister, Nehru Park offers a tranquil environment for a leisurely day out. It often hosts cultural events and music concerts.
Gastronomic Adventures


1. Paranthe Wali Gali: A Street Food Haven
Delhi's street food is legendary, and Paranthe Wali Gali in Old Delhi is famous for its stuffed parathas. Don't miss this culinary delight.
2. Karim's: Mughlai Culinary Delights
Karim's, near Jama Masjid, is renowned for its Mughlai cuisine. Savor kebabs, biryanis, and other Mughlai delicacies.
3. Indian Accent: A Fine Dining Gem
For a fine dining experience, Indian Accent is the place to be. It offers modern Indian cuisine in a chic setting.
4. Street Food Exploration: Chaat, Chole Bhature, and More
Delhi's street food scene is diverse. Try chaat, chole bhature, aloo tikki, and other local favorites from street vendors.
DreamTravelYaari: Your Gateway to Delhi's Treasures
As you explore the wonders of Delhi, don't forget to plan your journey with DreamTravelYaari. We offer the best tour packages from Delhi, designed to make your travel experience seamless and memorable. Whether you're interested in historical tours, cultural experiences, or culinary adventures, we have a package for you. Discover the hidden gems of Delhi with the guidance of our expert travel planners.
Conclusion
Delhi is a city that encapsulates India's diverse and colorful tapestry. It's a place where history comes alive in every monument, where cultures merge in its cuisine, and where traditions are celebrated with zest. Embrace the diversity of Delhi, explore its hidden gems, and make memories that will last a lifetime.
Plan your journey today with DreamTravelYaari and embark on a captivating adventure through the heart of India.