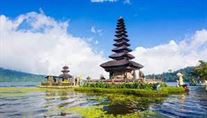 06
Apr
Bali Tour Packages From Hyderabad
Apr 06,2023
Bali Tour Packages From Hyderabad -Bali, an Indonesian island located in the westernmost end of the Lesser Sunda Islands, has become a popular tourist destination in recent years. The island's stunning beaches, picturesque landscapes, cultural richness, and friendly locals make it an ideal vacation spot for anyone seeking to escape the mundane routine of everyday life. Bali offers something for everyone, whether it is beachside relaxation, adventurous activities, cultural exploration, or spiritual rejuvenation.
If you're from Hyderabad and looking to plan a Bali vacation, several travel agencies offer Bali tour packages from Hyderabad to cater to your travel needs. Here's a rundown of what you can expect from these packages and why Bali is a must-visit destination.
What to Expect from Bali Tour Packages from Hyderabad
Bali tour packages from Hyderabad typically include flight tickets, accommodation, airport transfers, sightseeing tours, and some meals, depending on the package's type and duration. The packages are customizable, so you can add or remove activities or destinations as per your preference and budget.
Most packages cover popular tourist attractions such as Ubud, Kuta, Seminyak, Nusa Dua, Tanah Lot, and Uluwatu. These places offer a mix of beach activities, cultural experiences, and natural beauty, making them perfect for tourists looking to experience Bali's diverse offerings.
Some packages also include adventure activities such as white water rafting, snorkeling, scuba diving, trekking, and ATV rides. If you're a water sports enthusiast, you can add surfing, parasailing, and jet skiing to your itinerary.
For those seeking spiritual healing, Bali has several temples and ashrams that offer yoga, meditation, and spiritual retreats. Bali's unique blend of Hinduism and Buddhism has led to a rich spiritual culture that attracts thousands of visitors every year.
Why Bali is a Must-Visit Destination
Bali's beauty and charm are undeniable, and it's no wonder that the island is often referred to as the 'Island of the Gods.' Here are some reasons why Bali is a must-visit destination:
Beaches: Bali is home to some of the world's most beautiful beaches, including Kuta, Seminyak, Nusa Dua, and Jimbaran. The beaches offer a mix of sun, sand, and sea, making them perfect for water sports, sunbathing, and relaxation.
Natural Beauty: Bali's landscapes are diverse and breathtaking. From rice terraces to volcanoes, waterfalls to lakes, and forests to beaches, Bali has it all. The island's natural beauty is a paradise for nature lovers and adventure seekers.
Culture: Bali's unique culture is a blend of Hinduism, Buddhism, and local beliefs. The island is dotted with temples, shrines, and cultural landmarks that offer a glimpse into Bali's rich history and traditions.
Food: Bali's cuisine is a mix of Indonesian, Chinese, and Indian influences. The island's food scene is diverse and flavorful, offering everything from street food to fine dining.
Hospitality: Balinese people are friendly, warm, and welcoming. The island's hospitality is renowned, and visitors are often greeted with a smile and open arms.
Best Time to Visit Bali
Bali's climate is tropical, with two distinct seasons – the wet season (October to March) and the dry season (April to September). The best time to visit Bali is during the dry season, which offers sunny days and pleasant temperatures.
The peak tourist season in Bali is from July to August and during Christmas and New Year's Eve. If you're looking to avoid the crowds and get the best deals on Bali tour packages from Hyderabad, consider visiting during the shoulder season (April to June and September to November).
Tips for Traveling to Bali
Here are some tips to help you plan your Bali trip:
Visa: Indian nationals require a visa to visit Bali. You can apply for a visa online or upon arrival at the airport. The visa fee is around USD 35.
Currency: The currency in Bali is Indonesian Rupiah (IDR). You can exchange Indian Rupees for IDR at the airport or money changers. It is advisable to carry some cash as many places do not accept credit cards.
Language: Balinese and Indonesian are the official languages, but English is widely spoken, especially in tourist areas.
Clothing: Bali is a predominantly Hindu island, and visitors are expected to dress modestly, especially when visiting temples and other religious sites. Carry lightweight, breathable clothing as Bali can get hot and humid.
Transportation: Bali has several transportation options, including taxis, motorbikes, and car rentals. Make sure to negotiate the price before getting into a taxi or renting a vehicle.
Safety: Bali is a relatively safe destination for tourists. However, it is advisable to take precautions against petty theft and scams.
Health: Bali is a tropical destination, and visitors are advised to take precautions against mosquito-borne diseases like dengue and malaria. Carry mosquito repellent and wear long-sleeved clothing during dawn and dusk.
Dream Travel Yaari
Bali is a paradise on earth, and visiting this island is an experience of a lifetime, Choose Dream Travel Yaari to make your Bali trip the best. Our Bali tour packages from Hyderabad offer a hassle-free way to plan your Bali vacation, allowing you to focus on enjoying the island's beauty and charm. Whether you're looking for relaxation, adventure, culture, or spirituality, Bali has something to offer everyone. So, pack your bags and head to Bali for a memorable vacation.
Contact us now to learn more about our Bali Package.