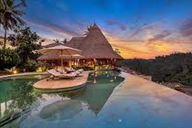 21
Sep
Bali Packages Honeymoon
Sep 21,2022
Bali Packages Honeymoon- Bali is a tiny island in the Indonesian province that is the definition of romance and is also incredibly gorgeous. Bali is a welcoming paradise for newlyweds because of its lush woods, active volcano, tranquil beaches, renowned rice terraces, and ethereal beauty. Bali is a gateway to marital happiness, and eager honeymooners and lovers from around the world who book Bali honeymoon packages primarily support Bali's tourism industry.
---
With its abundance of white sand beaches and rich culture and legacy, this destination entices visitors of all types to explore every inch of it. So embark on a honeymoon trip to this attractive location and enjoy an unforgettable experience!
Main Places to visit on Bali Honeymoon Package
Although you can be sure to see a beautiful landscape anywhere you look in Bali. Some of the best and the most beautiful places in Bali are as follows. If you go o Bali make sure to visit these places for sure.
Lembongan Island
It is famous for its beach restaurants. Visit the Lembongan Island to enjoy a one-of-a-kind experience and sweeping ocean vistas. This is one of the best locations for newlyweds to celebrate their union because of the abundance of crystal clear water and the opportunity to partake in adventurous activities like snorkelling and diving. Its Nusa location allowed tourists to both experience the surrounding natural beauty and the nearby attractions, such as Bali Marine Walk, Dream Beach, and many others.
Nusa Dua Beach
It has the most picturesque views. Get to visit this romantic getaway with offshore reef break and plenty of activities to indulge in, such as underwater scooter ride, diving, water skiing, fishing, snorkelling, and an opportunity to dive into the magical presence of this place. Nusa Dua is popular for its top-class hotels, well-maintained facilities, and shopping complex.
Kuta Beach
This beach is known for its Water Sports. Kuta Beach, which is within a short distance from the Ngurah Rai International Airport, attracts a sizable number of honeymoon travelers. In this area, which is teeming with surf schools, visitors can go surfing to experience an adrenaline rush and shop at the Kuta Art Market for a variety of alluring goods to bring back home.
Ubud
If you are going sightseeing, you must add this place to your list. Ubud in Bali is a location that should unquestionably be included in Bali tour packages for couples because it has a lot to offer couples who are in Bali for a honeymoon. Ubud encapsulates the region's authentic culture and traditions. Visits can be made to locations including Tanah Lot Temple, Tirta Empul Temple, Amed Beach, Tegenungan Waterfalls, and Ubud Art Market. The Barong and Keris dance performance, which showcases Bali culture, is available for viewing.
Mount Batur
If you are a nature lover as well as an adventure lover, then you must go trekking on Mount Batur! The 1700-meter-tall active volcano known as Mount Batur offers breathtaking views of the surrounding valley. A challenging climb to this location will take one to a stunning crater lake, hot springs, and the peak's panoramic views of the surroundings. The pair should look at Bali tour packages and select one that has a trip to this location on the agenda. If not, you might always decide to take a leisurely day to discover this pleasure.
Uluwatu
When travelling to Bali on a honeymoon package from Delhi, Bangalore, Mumbai, Chennai, or any Indian city, Uluwatu is one of the most exciting locations to visit. The Uluwatu Beach offers surfing and exquisite sunset vistas. Enjoy the Sunday night party at the Single Fin Club, visit Uluwatu Temple, which is well-known for its sacred pillars and gorgeous setting on top of a cliff, take in a fire dance at Kecak, and enjoy the fun-filled and energetic party on Saturday night at Padang Padang Beach.
Nungnung Waterfall
Nungnung Waterfall is a must-see location while visiting Bali since it's a wonderful place to revitalise and refresh your senses. About 900 metres above sea level are where the waterfall is located. It is surrounded by rich vegetation, which is a pleasing sight for those who enjoy the outdoors. Although the waterfall makes for fantastic natural views, swimming is not recommended there. To get here, one must travel a 500-step pathway. The most breathtaking Balinese natural sights are absolutely worth the effort it takes to get here. Get ready with the Bali honeymoon package and explore this location with your special someone.
Bali packages honeymoon
Bali Witness Beauty
Price per person- INR 17640Duration- 5 Days/4 Nights
Itinerary Highlights

Day 1 Airport Transfer
Day 2 Full Day Benoa Watersports + Uluwat Sunset Tour
Day 3 FULL DAY KINTAMANI VOLCANO TOUR WITH UBUD ART VILLAGE + COFFEE PLANTATION
Day 4 FULL DAY BEDUGUL + HANDARA GATE + TANAH LOT TOUR
Day 5 Airport Transfer
Dream Travel Yaari
Dream Travel Yaari is the best Honeymoon Tour provider in India. We have established a strong influence in the market with our traveling and tourism services. Our customers are loyal to our company because they know the dedication we put into planning the perfect tour for them. We put efforts in every little detail for you and ensure that you do not face any inconvenience on your dream trip to the destination of your wish.
We, at DTY also understand how special your honeymoon is for you. It is the time of your life when everything feels new and beautiful. So, to make the new chapter of your life even more special, we take care of each and everything for you and your spouse. Dream Travel Yaari provides the best packages at the most pocket-friendly price.
Contact Us!
Mobile - +91 8285062900, +91 9662696269
E-mail- [email protected]
Website- www.dreamtravelyaari.com