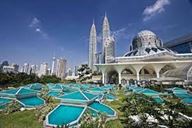 25
Apr
Top Places To Visit In Malaysia
Apr 25,2023
Top Places To Visit In Malaysia- Malaysia is a nation of contrasts, where various languages and customs coexist side by side to form a singular Southeast Asian country that is quite distinct from any of its neighbors. Beautiful coastlines, verdant islands, and sun-burned coral reefs can all be found in Malaysia. Rare wildlife can be found in abundance in Borneo's and the mainland's humid rainforests, while the mountains are always a refreshing haven from the heat. Top Places To Visit In Malaysia.
---
Top Places To Visit In Malaysia
Here are some of the Top Places To Visit In Malaysia.
Kuala Lumpur
The nation's capital and biggest city, Kuala Lumpur, is where any trip to Malaysia should begin. Although it may appear at first to be a vast metropolis, once you get your bearings, you'll discover that this is actually the centre of contemporary Malaysia. The Petronas Towers and other gleaming towers cast a shadow over ancient markets and colonial structures. In this vibrant city, you can find delicious food, fascinating museums, and a unique fusion of Malay, Chinese, Indian, and European elements.
Sipadan Island
Sipadan Island offers the finest scuba diving and snorkeling in all of Malaysia. It is the finest island in Borneo. It is a coral atoll encircled by some of the world's most unique and vibrant marine life and reefs. While the island itself is home to white sand beaches and gorgeous green palm trees, you can see all different kinds of underwater animals, both large and small, here. Being far away and uninhabited, it is not the simplest island to get to, but the additional effort required to get there is well worth it.
Taman Negara National Park
The largest national forest on the Malay Peninsula is Taman Negara. In reality, Taman Negara literally means "National Park" when translated from Malay to English. It is one of the last remaining jungle and wildlife habitats in the nation outside of Malaysian Borneo. Traveling here is best done along the river, and there are nearby towns that are linked by boat where you can spend the night before trying out the high-altitude canopy walks.
Malacca
One of the most ancient tourist spots in Malaysia is Malacca. There is a diverse range of architecture and culture to discover on the west shore. Ruins from the Portuguese imperial period, structures from the British era, and a bustling Chinatown have all helped the area earn the UNESCO World Heritage designation. Discover regional culinary treats and take a look at the unusual "floating mosque" that is perched out in the ocean on renowned Jonker Street.
Johor Bahru
Johor Bahru is the city to visit if you're looking for a place to go in Malaysia that's off the beaten route because not many people seem to travel there. Singapore, which is located across the border to the south, casts a shadow over Johor Bahru, but this city is truly one of Malaysia's largest and historically one of the most significant. You can explore the local culture and visit the opulent palaces built by the Johor Sultan, who once ruled most of the region.
Genting Highlands
Just outside of Kuala Lumpur, the Genting Highlands have long served as a wonderful getaway. In the highlands, there are vacation spots and theme parks that serve KL locals, but it's an interesting look at local tourism and a fun location to include when planning a trip to Malaysia.
Dream Travel Yaari
If you are looking forward to enjoying visiting all of these wonderful places, then Dream Travel Yaari is one of the Best Tourism Partner for you. We provide the most affordable and relaxing trips. We have different Travel Packages for you to choose from.
Contact Us now to learn more!
Frequently Asked Question about Top Places To Visit In Malaysia-
Where is Malaysia's most popular tourist destination?
KULALA LUPU. The largest and capital metropolis of Malaysia has a lot to offer tourists. KL is a very famous tourist destination and frequently makes the list of the top 10 most visited cities in the world. It is perhaps best known for the Petronas Twin Towers, the tallest twin towers in the world.
What is the name of Malaysia's most stunning location?
Off the coast of Terengganu, in the South China Sea, is a tiny archipelago known as the Perhentian Islands. They consistently rate as one of Malaysia's most stunning locations. There are seven islets altogether in the area, five of which are still uninhabited; the other two are called Besar and Kecil.
Is it expensive to vacation in Malaysia?
At almost all price points, Malaysia offers excellent value. Alcohol is one of the few items that will put a significant dent in your wallet; food, lodging, fuel, and internal transit costs are all very affordable. Here's how to travel to Malaysia on a budget for exciting experiences without the price tag.
What makes Kuala Lumpur renowned?
Kuala Lumpur is a popular tourist location because of its stunning colonial architecture and captivating city charm. Petronas Towers, Menara KL Tower, Chinatown, Batu Caves, Sunway Lagoon Amusement Park, Jalan Alor, and other attractions are just a few of the numerous locations that draw tourists here.