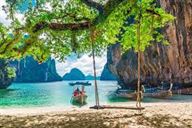 03
Nov
Thailand Tour Package From Chennai
Nov 03,2022
Thailand Tour Package From Chennai- Thailand is located in Southeast Asia's Indochinese peninsula and is bounded by the Gulf of Thailand. The destination is popular with honeymooners, family vacationers, and travel photographers.
---
Each city has its own distinct charm, as evidenced by the large number of visitors who visit each year. This Southeast Asian country has some of the most beautiful beaches and party towns. Bangkok, Pattaya, Phuket, Krabi, Ko Samui, Khao Lak, Hua Hin, and other must-see cities in Thailand include the following: Those of you who want to visit the best beaches and islands should go to Phuket, Krabi, Coral Islands, Phi Phi Islands, and so on.
Those of you who want to visit the best part of the country should go to Bangkok and Pattaya. These two cities will provide you with the best clubs, pubs, cabaret shows, and party shacks to explore Thailand's nightlife. You can explore a plethora of shopping malls, temples, wildlife sanctuaries, bars and pubs, and tropical beaches with Thailand Tour Packages From Chennai.

Frequently Asked Questions about
Thailand Tour Package From Chennai

What is the Best time to visit Thailand?
The dry and cool season, which runs from November to April, is the best time to visit Thailand. The climate in the southern part of Thailand differs from that on the eastern and western coasts. The winter season on the west coast is ideal for adventure activities like diving and snorkelling. Thailand experiences the least rainfall in January and February, making the east coast a desirable destination at any time of year. Though the climate varies across the country, the best time to visit Thailand is between November and early April, when the pleasant weather and cool breeze make a vacation more enjoyable than ever.
What is Thailand best known for?
Thailand is the only country in Southeast Asia that has never been colonized by a European power. It is known for its beautiful nature, delicious mangoes, and strict rules regarding monarchy conversations.
Why do people go to Thailand?
Thailand has emerged as one of the world's most popular tourist destinations. What are the possible reasons why people enjoy travelling to this exotic location? It could be the relaxing beaches, the exotic cuisine, the magnificent temples and scenery, the colorful history, or the cultural and archaeological sites.
Thailand Tour Package From Chennai
Thailand is tropical, vibrant, natural, spiritual, cultural, and exciting! The most visited country in South-East Asia is a wondrous blend of everything that makes for an unforgettable vacation. That is why we have created a variety of Thailand tour packages from Chennai, highlighting the country's most exciting destinations and attractions.
They allow you to see everything, from panoramic beachfronts to bustling cityscapes, stunning temples to majestic mountaintops, lush verdant forests to eclectic markets. All you have to do is choose the Thailand tour that appeals to you the most and let us handle the rest.
Dream Travel Yaari
In a short period of time, Dream Travel Yaari has grown to become one of the best travel agencies in India. This has led to our clients' trust in us as a result of our meticulous planning and worry-free tours. We understand how important it is for you to take a break from the stresses of everyday life and work. As a result, we make certain that your trips are as stress-free as possible. We plan well-planned trips so you don't have to do the boring parts of travelling and vacationing.
We are well-known throughout India for our hospitality and customer service. Our clients keep returning after each tour because it doesn't get any better than this. Contact Dream Travel Yaari for any queries about Thailand Tour Package From Chennai.
Day 1 Pattaya
You will be welcomed at the Bangkok Airport. You will meet and greet with or team and then be transferred to your hotel directly. Later on you can visit Alcazar show. You can also explore the beauty of the Pattaya beach if time allows.
Day 2 Pattaya
After the complementary breakfast, we will pick you up from the hotel and visit coral island. You can enjoy water sports after lunch and the return back to Pattaya.
Day 3 Bangkok
After breakfast, check out from the hotel and drive to Bangkok.
Day 4 Bangkok
Go for shopping and enjoy local street food in Bangkok city.
Day 5 Bangkok
After breakfast, we will transfer you back to airport for your return flight.
Contact Details
Name: Dream Travel Yaari
Phone No.:+91 9662696269, +91 9625524840
Address: E-147 SEC 23-24 MAIN RD, Punjab Rolling Chowk, Haryana, Faridabad, India,121004
Email: [email protected]