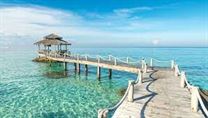 12
Sep
Thailand Packages From Bangalore
Sep 12,2022
Thailand Packages From Bangalore- Thailand is number one tourist place in the South-Asia. Otherwise known as the Land of Smiles and you will find why as soon as you land there. Everyone there greets your warmly with a smile. This blog is about Thailand packages from Bangalore.
Thai people are exceedingly devout, and Buddha statues may be found everywhere. Monks can also be found on the streets of cities, in markets, or close to temples. In Thailand, males often try becoming monks because it can be a temporary experience (lasting anywhere from a week to years) and in some ways elevates their families. When entering temples, homes, etc., it is customary across the nation to remove your shoes. We must thus do it as tourists. It is advised to wear shoes that are simple to take off on the days you visit these kinds of attractions. When entering temples or other public areas considered "holy or respectable" by Thais, it's also customary to cover one's knees and shoulders.
Always make an effort to dress in long-sleeved t-shirts, a stole, and skirts or pants that cover at least your knees. However, the majority of these places offer sarongs or shirts for rent or purchase if the apparel is inappropriate.
Things you should do on your Thailand Trip from Bangalore
These are some of the best things you can do on your Thailand Tour from Bangalore
Have water fight during Songkran
Songkran, the traditional Thai New Year, is celebrated across the entire country every April from the 13th to the 15th. Since it is believed that water can wash away sins and ill luck, it is customary to pour water around during the event. Since then, things have changed a little, and now huge water fights are common, stopping entire towns and causing many businesses to close for the time. No matter where you are in the country, prepare to get wet since there is no way to avoid the festivities during this time of year.
Attend a full moon party
Legend has it that one day a group of travelers saw the most beautiful view of the full moon at the beach of Koh Phangan and decided to party. Since that day, it became a tradition to hold a party every full moon. Today over 30000 tourists travel the beaches of Koh Phangan to celebrate every full moon with a party. The parties are full of colors, music, and nonstop drinking that seems to last till forever. If you need a break from all the dancing you can relax at the bars or go for a swim in the Gulf of Thailand.
Take a trip to Wat Arun
Although Thailand has over 31,000 Buddhist temples, this temple is named after the God of Dawn, Aruna. The temple is situated on the banks of the Chao Phraya river and is absolutely stunning site. The tower is over 79 meters tall and covered with porcelain and ceramic tiles making it even more mesmerizing. On the entrance you can see the statues of a pair of mythical giants that are said to be guarding the temple.
Visit Phang Nga Bay
When in Phuket, you must make sure to visit Phang Nga Bay, the bay is located on the region of over 40 small islands that are in the calm sea. There are so many things to see here including the mangroves, lagoons, and caves to visit, you will never have enough time to visit everything. Due to the natural design of the bay it is protected from all the elements during the monsoon so there is never a bad time to visit.
Go to Doi Suthep
Doi Suthep is a mountain that rises more than 5400 feet and is located 12 kilometers outside of Chiang Mai. Most visitors go to Doi Suthep for two reasons: first, to take in the breathtaking view of all of Chiang Mai, which is reason enough to go there, and second, to see Wat Phra That Doi Suthep, a temple that dates back to the 13th century. There is a sizable white elephant shrine at the temple, and you can learn more about its fascinating history there. Expect to spend a full day on the mountain exploring all of the different attractions because there are many steps to climb and a tram ride available.
Dive off The Coast of Koh Lanta
Koh Lanta is a beautiful Island, situated n the Andaman Sea. The island is only 20Kms in length. This is one of the most b4autifu8l places to go for deep sea diving. The most famous diving sites here are considered to be at Hin Daeng and Hin Muang in the area.
Attend Loi Krathong Festival
Loi Krathong is a national festival that is celebrated annually on the night of the twelfth lunar month. A krothang is a wsmall floating basket ib the shape of a lotus, that has a candle in it. The aim of the festival is to give tribute to the goddess of the water for all the water she has supplied over the last year. Thousand of Krathongs are are lit and left to float away on the rivers and canals, the sight is truly breathtaking to say the least. You can see entire cities covered in dance and color.
Thailand packages from Bangalore
Dream Travel Yaari
Dream Travel Yaar is known as one of the best Travel agencies in India and has earned the trust of their customers in a very short time with our exceptional planning and services. Our attention to detail is what has made us to famous among our clients. We take solace in your satisfaction and our main aim is to provide you with the best quality tour that you will remember for a lifetime.
Day 1 Pattaya
You will be welcomed at the Bangkok Airport. You will meet and greet with or team and then be transferred to your hotel directly. Later on you can visit Alcazar show. You can also explore the beauty of the Pattaya beach if time allows.
Day 2 Pattaya
After the complementary breakfast, we will pick you up from the hotel and visit coral island. You can enjoy water sports after lunch and the return back to Pattaya.
Day 3 Bangkok
After breakfast, check out from the hotel and drive to Bangkok.
Day 4 Bangkok
Go for shopping and enjoy local street food in Bangkok city.
Day 5 Bangkok
After breakfast, we will transfer you back to airport for your return flight.
Call us for more information and getting a personalized package for your next Thailand Packages From Mumbai.
Contact Us
Mobile - +91 8285062900, +91 9662696269
E-mail- info@dreamtravelyaari.com
Website- www.dreamtravelyaari.com