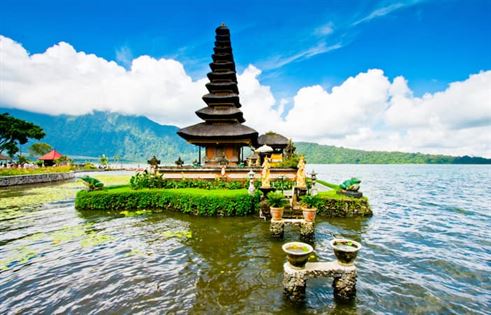 08
Sep
Bali Packages From Delhi
Sep 08,2022
Bali Packages From Delhi- Welcome to Bali, one of the world's most captivating and gorgeous islands, and one of the most tranquil retreats. Bali, Indonesia's most well-known island, will be the ideal location for you if you're looking for a spot to find tranquilly, relaxation, and a little alone time. To the west of Java sits the island of Bali. Let us discuss Bali packages from Delhi.
---
It is also known for its breathtaking beaches, lively culture and customs, and the captivating beauty of the Sonic. It has an abundance of temples, enchanted coastline, and some of the best coral reefs in the world. You can take pleasure in scenic waterfalls and retreats in addition to coral reefs and temples.
Frequently Asked Questions
What does holiday package means?
It's a product that bundles your vacation arrangements, including lodging, transportation, sightseeing, travel insurance, and any necessary visas. However, not every vacation package has to contain the aforementioned services; it all depends on the inclusions and exclusions of the package you intend to purchase.
How do I book a holiday package through Dream Travel Yaari?
You only need to communicate your requirements with one of our specialists on our website or by email, and they will respond with the finest quotations. You can select the one that best suits you and reserve your vacation by paying for it.
The Ideal Time and Duration for the trip
There are only two types of seasons in Bali, Dry season and Rainy Season. The Best time for Bali Packages from Delhi is in the month of July, August and December near New Years' till the first week of January. Although the prices are pretty high as compared to the rest of the year, so you can visit any other time of the year too.
In accordance with our tour packages to Bali from Delhi, we advise staying at least 5 days to fully explore this stunning island. Bali is a captivating island that is not particularly large, yet it is advised that you spend approximately a week there to fully explore. The days you spend on this lovely island will be worth the money you spend, and the minutes you spend travelling there. There is something and someone for everyone in Bali. It is a location with everything that various types of travelers would require. With our Bali vacation, we cordially invite you to spend some time relaxing away from the stresses of everyday life in the regions of the gods.
Bali packages from Delhi
In Bali, you can take part in a wide range of activities, such as beach water sports. Any adventurous soul will love it here. Adventures like surfing, diving, or even just a boat ride are available to you. You may even have a fantastic chance to see dolphins. Discover the island's stunning waterfalls, or perhaps just take advantage of the yoga retreats. Every type of visitor or tourist can have a good time in Bali. It offers activities for all types of visitors. It is an area of magnificent natural beauty that is indescribably beautiful.
Bali Witness Beauty
The duration of this trip is 5 Days and 4 Nights. It costs INR 17,640 per person
Day-1 Airport Transfer
Meet and Greet with our DTY team at the Airport and drive straight to your hotel, Zia Kuta.
Day-2 FULL DAY BENOA WATERSPORT + ULUWATU SUNSET TOUR
Your holiday in Bali is incomplete without visiting Tanjung Benoa beach, the beach is in southern peninsula, just north of five star enclave of Nusa Dua. Numerous water sport providers that regularly entice adrenaline enthusiasts to its tropical seashore have made it famous. It is a different tourism site where you can enjoy the most sea sport activities thanks to the mix of golden beach and noticeably quiet waves.
Day-3 FULL DAY KINTAMANI VOLCANO TOUR WITH UBUD ART VILLAGE + COFFEE PLANTATION
A Bali sightseeing highlight can be a volcano excursion. Morning after breakfast we will take you to explore Ubud as the centre of Bali's art. Mas village is known for its top-notch wood carving, while Tohpati village is well-known for its batik and hand weaving. Celuk village is well-known for its gold and silversmiths. The oldest temple in Bali, Batuan Puseh or Batuan Wisnu, can also be seen by you.
Day-4 FULL DAY BEDUGUL + HANDARA GATE + TANAH LOT TOUR
The most famous temple in Bali, Ulundanu Beratan temple or Laksmi temple of Beratan lake, will be your first stop after breakfast. It is a noteworthy temple complex that is also a gorgeous landmark, and it is situated on the western side of Beratan Lake, in the Bedugul region. It is conveniently positioned, connecting the island's north and south, and is actually a popular cool highland weekend and vacation resort for locals and visitors from the southern and metropolitan districts. Day-5 Airport Transfer
Drop you back to the Airport and take a flight back to your country or the next destination.
Why Choose Dream Travel Yaari?
Dream Travel Yaari is without a doubt one of the best travel agencies in India. We offer personalised travel packages to meet your budget. Every detail of your trip is meticulously planned by DTY to ensure ease of execution and your ability to relax and have fun. We wish to guarantee that our clients have the best possible travel experience. Our clientele is loyal because of the excellent grade of our work and services.
Contact Us
Mobile - +91 8285062900, +91 9662696269
E-mail- [email protected]
Website- www.dreamtravelyaari.com