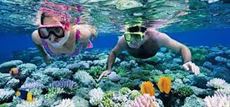 20
Oct
Andaman Tour Packages From Mumbai
Oct 20,2022
Andaman Tour Packages From Mumbai – The Andaman and Nicobar Islands, located near India's southernmost tip, are a spectacular archipelago in the Bay of Bengal. This one-of-a-kind tourist destination, known for its natural beauty and unique wildlife, will captivate you on your Andaman Tour Packages From Mumbai.
---
For this exotic beauty of islands has remained undisturbed by the breath of modernity. Crammed with lush forested interior, stunningly beautiful coastline, excellent adventure possibilities, and a remote position, whether you choose to enjoy an adrenaline rush or simply ramble along its sun-toasted beaches, you're in for a wonderful experience! With our Andaman Nicobar packages from Mumbai, you can enjoy a light and sound show within the Cellular Jail, visit Radhanagar Beach to witness a captivating sunset, explore coral reefs to appreciate their abundant sea life, and relax on picturesque beaches. What else? You can keep yourself entertained with dolphin watching, swimming, scuba diving, snorkeling, and other activities.
Frequently Asked Questions about Andaman tour packages from Mumbai
What is the Ideal Duration to visit Andaman from Mumbai?
The Andaman and Nicobar Islands are mostly known for their beaches and water sports, as well as their rich history and culture. You'll need at least five days to thoroughly enjoy these islands! Plan your vacation so that you have at least half a day to relax and rejuvenate and the rest of the day to explore and have fun. If you add two more days for transit to and from the islands, you'll have enough time for a complete week of vacation! With DTY Andaman tour packages from Mumbai, you won't have to bother about planning or scheming; we'll take care of that!
What is the best time for Andaman Tour Packages from Mumbai?
Best Time to Visit Andaman
The greatest time to visit the Andaman Nicobar Islands is between November and May, when the temperatures aren't unbearably high due to the islands' winter season. The monsoon season is not the greatest time to come due to the potential of major storms, tidal surges, and strong winds, which can make travel extremely dangerous. Summer on the islands is extremely hot and sunny, and you may not be able to enjoy your vacation! Make sure you plan your vacation during a period when the weather is ideal.
Andaman tour packages from Mumbai
Here are the best Andaman tour packages from Mumbai available at Dream Travel Yaari.
4 Nights 5 Days Magical Andaman
Price per person- INR 17100
A romantic holiday would be completed without visiting Andaman, which is adorned with picturesque wonders, crystal blue oceans, coconut grooves, sparkling white sand beaches, and much more. Take a 5 day honeymoon tour in Andaman with your loved one and see the famed Corbyn's Cove beach, Radhanagar beach, and other beaches where you can have a great time lazing around the sandy beaches.
3N 4D Andaman Package
Price per person- INR 12960
An excellent programme for hopping between islands. This voyage leads you to the top attraction of the Andaman Islands during your brief visit to the Amazing Andaman Island. Explore snorkelling, boat cruises, and white-sand beaches on this tour.
Port Blair and Havelock
Price per person- INR 14415
If you are planning a large Andaman holiday, the Dream Travel Yaari trip package is the best solution for you. Dream Travel Yaari offers flexible Andaman vacations to every type of traveller in Delhi, Mumbai, Chennai, and Bangalore. Discover over 84 vacation packages with amazing arrangements and classifications in the Andaman Islands. Explore the vital Andaman touring focus with a choice of exceptional experiencing excursions and activities for Dream Travel Yaari Andaman Tour Packages.
Explore Havelock - Andaman Nicobar Tour Package
Price per person- INR 14850
When you arrive in Port Blair by plane, our representative will be waiting outside with a sign with your name on it. You can relax and sleep after being driven to your hotel. Later, go to Cellular Jail to experience the gripping Sound and Light Show, which brings to life the brave story of the Indian liberation struggle. The struggles of the Indian independence movement's liberation fighters are reenacted during this excursion. After the expedition, we will return you to your hotel.
4N 5D Andaman Flight Package
Price per person- INR 28829
During a romantic getaway, the Andaman Islands, which are graced with beautiful beauties, crystal clear waterways, coconut groves, sparkling white sand beaches, and more, must be visited. Set out with your special someone on a 5-day honeymoon cruise of the Andaman Islands, stopping at popular beaches like Radhanagar and Corbyn's Cove to relax on the sand and create memorable memories.
Dream Travel Yaari
Dream Travel Yaari is one of India's fastest growing and top travel agencies nowadays. In a short period of time, we have had an influence on thousands of clients. DTY takes pleasure in providing the best packages based on our clients' needs and budgets. We understand how important it is for individuals to have a pleasant holiday without having to worry about the planning and other crucial parts of their trip, therefore our staff arranges everything ahead of time and with meticulous attention to detail.
Our company's first objective is to provide you with the greatest services and travel experience possible.
Contact Details
Name: Dream Travel Yaari
Phone No.:+91 9662696269, +91 9625524840
Address: E-147 SEC 23-24 MAIN RD, Punjab Rolling Chowk, Haryana, Faridabad, India,121004
Email: [email protected]