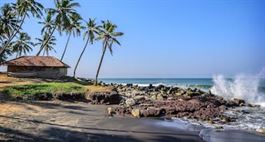 18
Oct
Andaman Tour Packages From Hyderabad
Oct 18,2022
Andaman tour packages from Hyderabad- The Indian Union territory of the Andaman and Nicobar Islands is well known for its turquoise and white sand beaches, tropical rainforests, and abundant marine life. There are over 300 islands in total, and they are home to unusual plants and animals. Let us discuss the Andaman tour packages from Hyderabad.
---
One of the specialties of the Andaman and Nicobar Islands is its evergreen forests, which contain 200 or more distinct kinds of Timber. These Islands are home to 10% of the world's biodiversity, according to a paper by the Zoological Survey of India, which estimates that there are 11,009 distinct species there. The Andaman shrew, Andaman spiny shrew, Andaman wild boar, spotted deer, and Andaman Horseshoe bat are a few of the island's natural mammals.
Additionally, there are numerous additional native species, such as the cuckoo-dove, hawk-owl, woodpecker, and serpent-eagle. Among the other uncommon items discovered here are Rudraksha and Padauk wood.
Frequently Asked Questions about Andaman Tour Packages
Which is the best time to visit Andaman?
Being an island, Andaman has a tropical climate. The best thing about Andaman is that it is a year-round vacation spot with little variation in temperature and constant comfort. Between October and May is regarded as the ideal season to visit the Andaman and Nicobar Islands since the weather is good and ideal for sightseeing, water sports, and beach excursions. The monsoon season (July to September) is not generally advised because to the high tides, persistent rain, and strong winds. There are strong tides from July to September.
How many days in Andaman is enough?
6 Day and 5 Nights are enough to cover all the main sightseeing activities in Andaman. You can extend your trip further depending on the time and money available to you and explore all islands and enjoy activities of leisure.

Andaman tour packages from Hyderabad
4 Nights 5 Days Magical Andaman
Price per person- INR 17100
A couple's getaway is incomplete without exploring the enchanting beauty of Andaman which is decorated with scenic wonders, crystal clear waters, coconut grooves, shimmering white sand beaches and many more. Embark on the 5 days honeymoon tour of Andaman with your beloved and visit the famous Corbyn's Cove beach, Radhanagar beach, and others, where you can spend a memorable time lazing around the sandy beaches.
3N 4D Andaman Package
Price per person- INR 12960
An ideal program for jumping between the islands. During your brief visit to the Amazing Andaman Island, this journey brings you to the Andaman Islands' top attraction. On this tour, explore snorkeling, boat cruises, and white-sand beaches.
Port Blair and Havelock
Price per person- INR 14415
The Dream Travel Yaari tour package is the finest option for you if you're planning to have a big Andaman vacation. Every type of traveler can find the adaptable Andaman trips Dream Travel Yaari offers in Delhi, Mumbai, Chennai, or Bangalore. Discover over 84 tour packages in the Andaman Islands with fantastic arrangements and classifications. With a variety of remarkable experiential excursions and activities for Dream Travel Yaari Andaman Tour Packages, explore the essential Andaman touring focus.
Explore Havelock - Andaman Nicobar Tour Package
Price per person- INR 14850
When you arrive in Port Blair by plane in the morning or afternoon, our representative will be waiting outside with a sign with your name. After being driven to your hotel, you can unwind and sleep. Later, head to Cellular Jail to see the riveting Sound and Light Show, where the valiant story of the Indian liberation struggle is brought to life. During this excursion, the struggles of the Indian independence movement's freedom fighters are reenacted. When the excursion is over, we return you to your hotel.
4N 5D Andaman Flight Package
Price per person- INR 28829
The Andaman Islands, which are adorned with picturesque wonders, crystal clear waterways, coconut groves, glistening white sand beaches, and more, must be explored during a romantic getaway. Set out on a 5-day honeymoon tour of the Andaman Islands with your special someone and stop at popular beaches like Radhanagar and Corbyn's Cove, where you can relax on the sand and create lasting memories.
Why Choose Dream Travel Yaari as your Tour Partner?
Dream Travel Yaari is one of the most well established Travel Companies in India right now. We have established ourselves strongly among our clients, who are loyal to us. The best thing about working with our company is that we pay attention to each and every detail. DTY has customized Tour Packages for all clients, suitable for their budget and choices.
Contact Details
Name: Dream Travel Yaari
Phone No.:+91 9662696269, +91 9625524840
Address: E-147 SEC 23-24 MAIN RD, Punjab Rolling Chowk, Haryana, Faridabad, India, 121004
Email: [email protected]